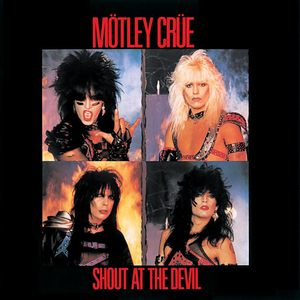 "Shout at the Devil" is a popular song by the American heavy metal band Mötley Crüe. Written by bassist Nikki Sixx, the song is the title track of their 1983 album.

This song underwent some controversy because some people saw it as encouraging devil worship. However, this was dropped when Nikki Sixx denied any Satanism in the song while playing in Reno, Nevada. This song is playable in Guitar Hero II.

The song was featured in the teen comedy/horror movie Idle Hands
Read Full Bio
"Shout at the Devil" is a popular song by the American heavy metal band Mötley Crüe. Written by bassist Nikki Sixx, the song is the title track of their 1983 album.

This song underwent some controversy because some people saw it as encouraging devil worship. However, this was dropped when Nikki Sixx denied any Satanism in the song while playing in Reno, Nevada. This song is playable in Guitar Hero II.

The song was featured in the teen comedy/horror movie Idle Hands, as well as the best selling video game Guitar Hero II for PlayStation 2 and Xbox 360, in the Opening Licks tier.

"Shout at the Devil" is also the entrance song for New York Yankees pitcher Joba Chamberlain and for Ultimate Fighting Championship mixed-martial artist Brock Lesnar.

The song was covered by Stuck Mojo during the sessions for their 1996 album Pigwalk, and can be found on the compilation album, Violate This. It featured producer Devin Townsend on guest vocals.

The song's lyrics also mention two songs by Aerosmith: "Round and Round" and "Seasons of Wither"
Genre not found
Artist not found
Album not found
Search results not found
Song not found
Shout at the Devil
by
Mötley Crüe
Shout shout shout
Shout shout shout
It shout at the devil
He's the wolf screaming lonely in the night
He's the blood stain the stage
He's the tear in your eye
Been tempted by his lie
He's the knife in your back, he's rage
He's the razor to the knife
Oh lonely is our lives
My heads spinnin' round and round
But in seasons of wither
We'll stand and deliver
Be strong and laugh and
Shout shout shout
Shout at the devil
Shout shout shout
He'll be the love in your eyes
He'll be the blood between your thighs
And then have you cry for more
He'll put your strength to the test
He'll put the thrill back in death
Sure you've heard it all before
He'll be the risk in the kiss
Might be anger on your lips
Might run scared for the door
But in seasons of wither
We'll stand and deliver
Be strong and laugh and
Shout shout shout
Shout at the devil
Shout shout shout
Shout at the devil
He's the wolf screaming lonely in the night
He's the blood stain the stage
He's the tear in your eye
Been tempted by his lie
He's the knife in your back, he's rage
He's the razor to the knife
Oh lonely is our lives
My heads spinnin' round and round
But in seasons of wither
We'll stand and deliver
Be strong and laugh and
Shout shout shout
Shout at the devil
Shout shout shout
Shout at the devil
Shout shout shout
Shout at the devil
Shout shout shout
Shout at the devil
Shout shout shout
Shout at the devil
Shout shout shout
Shout at the devil
Shout shout shout
Shout shout shout
Shout shout shout
Shout shout shout
Shout shout shout
Shout shout shout
Lyrics © Warner Chappell Music, Inc., Kobalt Music Publishing Ltd.
Written by: Nikki Sixx

Lyrics Licensed & Provided by LyricFind
To comment on specific lyrics,
highlight them