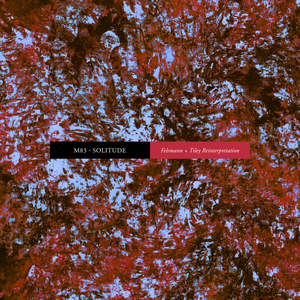 Solitude (Felsmann + Tiley Reinterpretation)
M83 is a French-American electronic music project formed in Antibes, Alpes-Marit…
Read Full Bio ↴
M83 is a French-American electronic music project formed in Antibes, Alpes-Maritimes in 2001 and currently based in Los Angeles, United States. The band's primary member is vocalist, songwriter, multi-instrumentalist and record producer Anthony Gonzalez. The band was initially formed as a duo also with Nicolas Fromageau; it has released eight albums and three soundtracks, including the Grammy Award-nominated Hurry Up, We're Dreaming.

Gonzalez and Fromageau parted ways shortly after touring their second album Dead Cities, Red Seas & Lost Ghosts. Gonzalez records primarily on his own, with other artists as guest musicians. The band is signed to Mute Records and found international success in 2011 with the single "Midnight City". Their most recent album Fantasy was released on 17 March 2023.

Anthony Gerard Gonzalez (born March 13, 1980) grew up in Antibes, France together with his brother Yann. His family had a great interest in football and Gonzalez had trials with AS Cannes, while his maternal grandfather is the French international Laurent Robuschi. At the age of 14 he got injured and turned to music instead after his parents bought him a guitar. Gonzalez developed his interest in music and American culture while at secondary school. Together with Fromageau he formed a post-rock outfit called My Violent Wish.

At the age of 17, Gonzalez bought a synth to record a demo, which he sent to a number of French labels. When the Paris-based Gooom Records appeared interested, he recruited Fromageau to "help me because I didn't feel like I had the shoulders to carry the project on my own". The band is named after the galaxy of the same name.

The band's musical aesthetic is characterized by extensive use of reverb effects and lyrics spoken softly over loud instruments. Gonzalez has been inspired by aspects of the American Dream and his songs have been outlined as themed around "adult-scripted teen dreams". Inspiration for the 1980s style found in much of Gonzalez's music includes bands such as My Bloody Valentine, Pink Floyd, and Tangerine Dream. Between various electronic music properties and album artwork, M83's style includes a mix of both contemporary pop and 1980s dream pop.
Solitude
M83 Lyrics
Jump to: Overall Meaning ↴ Interesting Facts ↴ Line by Line Meaning ↴
Somewhere back in time
I left a part of me, I wanna see if you can try
To bring it back to me
You gotta go where I cry
And take in all the tears, I wanna see if you can try
Drink a little bit of me
No
No
Just a little lonely where I am
Take me back in time, I wanna see if you can smile
If I become a better man
I need you, now I know
Just give me one more time, I'm gonna try and be your friend
So we can beat the end
No
No
No
No
No
No
No
No
No
No
No
No
Overall Meaning
The lyrics to M83's "Solitude" seem to be exploring the idea of wanting to reconnect with a part of oneself that has been lost or left behind. The first stanza sets up the idea of a past self that the singer is hoping to retrieve. The lines "Somewhere back in time / I left a part of me" suggest that the singer feels disconnected from a former version of themselves, and the repeated phrase "I wanna see if you can try / To bring it back to me" implies a desire to reunite with this lost part of the self.
The second stanza adds a layer of emotional depth to the lyrics. The lines "You gotta go where I cry / And take in all the tears" suggest that the singer has been through some difficult times and is looking for someone who can understand and relate to their pain. The repeated phrase "Drink a little bit of me" may be a metaphorical way of saying "get to know me on a deeper level," as if the singer is inviting someone to share in their emotions and experiences.
Overall, the lyrics to "Solitude" seem to be about the human desire for connection and understanding. The singer is searching for someone who can help them reconnect with a lost part of themselves and is hoping to find solace in friendship or intimacy with another person.
Interesting Facts
Note: This section uses generative AI, which can be inaccurate.


Line by Line Meaning
Somewhere back in time
There is a part of me missing from the past
I left a part of me, I wanna see if you can try
I need you to help me find my missing piece
To bring it back to me
Restore the part that belongs to me
You gotta go where I cry
Come to the place where I'm hurting
And take in all the tears, I wanna see if you can try
Absorb my pain and see if you can help me through it
Drink a little bit of me
Take a small part of me inside of you
Just a little lonely where I am
I'm slightly isolated and need some company
Take me back in time, I wanna see if you can smile
Help me travel to the past so that we can enjoy happier moments
If I become a better man
I want to change for the better
I need you, now I know
I realize how much I rely on you
Just give me one more time, I'm gonna try and be your friend
Allow me one last chance to be your friend
So we can beat the end
Together, we can overcome hardship
No
No (repetition of the word throughout the song)
Lyrics © DELABEL EDITIONS
Written by: Anthony Gonzalez

Lyrics Licensed & Provided by LyricFind
To comment on or correct specific content,
highlight it
Genre not found
Artist not found
Album not found
Search results not found
Song not found