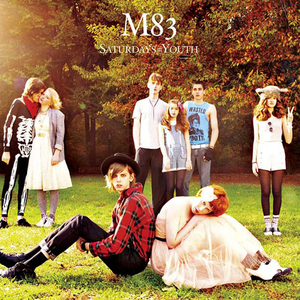 M83 is a French-American electronic music project formed in Antibes, Alpes-Marit…
Read Full Bio ↴
M83 is a French-American electronic music project formed in Antibes, Alpes-Maritimes in 2001 and currently based in Los Angeles, United States. The band's primary member is vocalist, songwriter, multi-instrumentalist and record producer Anthony Gonzalez. The band was initially formed as a duo also with Nicolas Fromageau; it has released eight albums and three soundtracks, including the Grammy Award-nominated Hurry Up, We're Dreaming.

Gonzalez and Fromageau parted ways shortly after touring their second album Dead Cities, Red Seas & Lost Ghosts. Gonzalez records primarily on his own, with other artists as guest musicians. The band is signed to Mute Records and found international success in 2011 with the single "Midnight City". Their most recent album Fantasy was released on 17 March 2023.

Anthony Gerard Gonzalez (born March 13, 1980) grew up in Antibes, France together with his brother Yann. His family had a great interest in football and Gonzalez had trials with AS Cannes, while his maternal grandfather is the French international Laurent Robuschi. At the age of 14 he got injured and turned to music instead after his parents bought him a guitar. Gonzalez developed his interest in music and American culture while at secondary school. Together with Fromageau he formed a post-rock outfit called My Violent Wish.

At the age of 17, Gonzalez bought a synth to record a demo, which he sent to a number of French labels. When the Paris-based Gooom Records appeared interested, he recruited Fromageau to "help me because I didn't feel like I had the shoulders to carry the project on my own". The band is named after the galaxy of the same name.

The band's musical aesthetic is characterized by extensive use of reverb effects and lyrics spoken softly over loud instruments. Gonzalez has been inspired by aspects of the American Dream and his songs have been outlined as themed around "adult-scripted teen dreams". Inspiration for the 1980s style found in much of Gonzalez's music includes bands such as My Bloody Valentine, Pink Floyd, and Tangerine Dream. Between various electronic music properties and album artwork, M83's style includes a mix of both contemporary pop and 1980s dream pop.
Too Late
M83 Lyrics
Jump to: Overall Meaning ↴ Line by Line Meaning ↴
I look into your eyes
Diving into the ocean
I look into your eyes
Falling
Like a wall of stars
We are ripe to fall
I look into your eyes
Diving into the ocean
I look into your eyes
Falling
Like a wall of stars
We are ripe to fall
And if you are a ghost
I'll call your name again
And if you are a ghost
I'll call your name...
You, always
Overall Meaning
The lyrics to M83's song Too Late describe the feeling of being completely entranced by someone. The singer is diving into the depths of the other person's soul through their eyes, feeling as if they are falling into an ocean or a wall of stars. This sense of awe is emphasized by the repetition of lines, emphasizing the intensity of the emotional connection.
The lyrics may also hint at a feeling of vulnerability, as the singer acknowledges the inevitability of their eventual fall. The line "we are ripe to fall" suggests that while the connection may be beautiful and powerful, it may also be fleeting and temporary. The repetition of the chorus, with the line "And if you are a ghost, I'll call your name again" only reinforces this sense of transience, reminding the listener that even if the singer's connection to the other person fades, they will still hold onto the memory and the feeling of their shared experience.
Overall, the lyrics to Too Late speaks to the intense emotions that can be felt in a romantic connection, while also acknowledging the fragility and impermanence of human relationships.

Line by Line Meaning
I look into your eyes
I am completely immersed in your gaze
Diving into the ocean
It feels like I am diving into a vast ocean when I look into your eyes
I look into your eyes
Your eyes are so captivating that I can't look away
Falling
I am losing myself in the moment
Like a wall of stars
We are shining bright, but also vulnerable and ready to collapse
We are ripe to fall
Our connection is intense and passionate, but also precarious and on the verge of unraveling
And if you are a ghost
If you are no longer with me, if our relationship is over
I'll call your name again
I will still reach out to you and try to hold onto the memory of us
You, always
You will always have a special place in my heart, no matter what happens
Lyrics © BMG Rights Management, Kobalt Music Publishing Ltd.
Written by: ASHTON

Lyrics Licensed & Provided by LyricFind
To comment on or correct specific content,
highlight it
Genre not found
Artist not found
Album not found
Search results not found
Song not found