There's something different in the world today
Looking for the words but I can't explain
I feel the worst is drawing near, feeding on our fear
Another cry from a broken home
Another soul that will walk alone
I said just one more life that will be swept away
And this is the price we pay
[Chorus:]
From the hills of California to the streets of Berlin
to the clubs in London town
Tell me where our souls have gone
and where can they be found
All the way to Venezuela down to Sao Paulo
then back up to Montreal
Tell me where have our souls gone
and where they can be found
Picked up the paper and I read this morning
Another twenty people dead no warning
Bombs go off and ignite the hate globally
It perpetuates the air is thick and the skies are burning
As the war machine keeps on turning
Just one more life that will be swept away
and this is the price we pay
[Chorus]
We drop a rhythm so we feel alright
Open our minds so we let in the light
I wanna feel love I wanna feel love I want to feel it tonight
We keep it moving so we don't get lost
Release the pressure so our our hearts don't pop
Keep looking forward to a brand new day
Where we don't have to say
[Chorus]
Contributed by James W. Suggest a correction in the comments below.
To comment on specific lyrics,
highlight them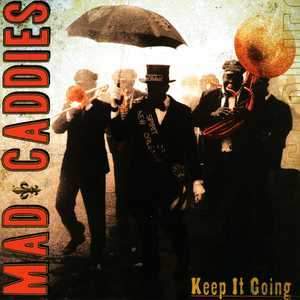 The Mad Caddies are a ska punk band from Goleta/Santa Barbara/Solvang, USA. The band formed in 1995 and has released five full-length albums, one live album, and two EP's. Their sound has influences from a wide range of genres, including ska, punk, hardcore, swing, reggae and jazz.

Founding members Chuck Robertson, Sascha Lazor, Todd Rosenberg, Carter Benson and James Malis started the group in high school but the band's membership has changed frequently since its inception.
Read Full Bio
The Mad Caddies are a ska punk band from Goleta/Santa Barbara/Solvang, USA. The band formed in 1995 and has released five full-length albums, one live album, and two EP's. Their sound has influences from a wide range of genres, including ska, punk, hardcore, swing, reggae and jazz.

Founding members Chuck Robertson, Sascha Lazor, Todd Rosenberg, Carter Benson and James Malis started the group in high school but the band's membership has changed frequently since its inception. Drummer Todd Rosenberg left the band in 1999, Benson left the band in 2002, and bassist Mark Iversen left the band in 2006. The current lineup consists of:

* Chuck Robertson (lead vocals/rhythm guitar/primary lyricist)
* Sascha Lazor (lead guitar/banjo/primary composer),
* Keith Douglas (trumpet/backing vocals)
* Ed Hernandez (trombone)
* Brian Flenniken (drums/percussion),
* Cris Badham (bass guitar).


The band used to play under the name The Ivy League, but in 1996 they changed their name after signing to the Honest Don's Records label to avoid confusion (and potential litigation) with two prior bands that went by the same moniker. The band's debut album, Quality Soft Core, was released the following year. After the release of the album, the band was signed to Fat Mike's label Fat Wreck Chords, through which the Mad Caddies have since released 4 studio albums, an EP and a live album.

Discography


* Quality Soft Core (1997)
* Duck and Cover (1998)
* Rock the Plank (2001)
* Just One More (2003)
* Songs in the Key of Eh! (Live from Toronto) (2004)
* Keep It Going (5/1/2007)
* Consentual Selections (2010)

EP

* The Holiday Has Been Cancelled (2000)
* 2007 Tour EP (Sold only on their 2007 tour, with 2 new tracks from Keep It Going, plus 4 older songs) (2007)
Genre not found
Artist not found
Album not found
Search results not found
Song not found