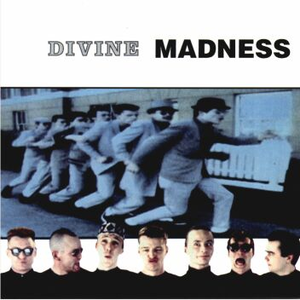 "Wings of a Dove" (also known as "Wings of a Dove (A Celebratory Song)") is a song by Madness. It was released in 1983 as a stand-alone single and later in 1984 and it was included on the American version of their album Keep Moving. The single spent 10 weeks in British charts peaking at number 2. It peaked at number 1 in Ireland.

"Wings of a Dove" was written by Suggs and Chas Smash and they also share lead vocals here. The song is quite unusual for Madness
Read Full Bio
"Wings of a Dove" (also known as "Wings of a Dove (A Celebratory Song)") is a song by Madness. It was released in 1983 as a stand-alone single and later in 1984 and it was included on the American version of their album Keep Moving. The single spent 10 weeks in British charts peaking at number 2. It peaked at number 1 in Ireland.

"Wings of a Dove" was written by Suggs and Chas Smash and they also share lead vocals here. The song is quite unusual for Madness, featuring steel drums by Creighton Steel Sounds and a gospel choir from the First Born Inspirational Church of the Living God.

The song enjoyed a brief resurgence in popularity in 1999 when it was featured in the movie 10 Things I Hate About You.
Genre not found
Artist not found
Album not found
Search results not found
Song not found
Wings of a Dove
Madness Lyrics
Take time for your pleasure
And laugh with love
Take the hand of another
And sing for the wings of a dove

Woah woah, for the wings of a dove
Woah woah, for the wings of a dove

Look up at the rooftops
When you're walking 'round
Don't think for a moment
Of looking down

Woah woah, (Yeah yeah yeah yeah yeah) for the wings of a dove
Woah woah, for the wings of a dove
Woah woah, for the wings of a dove
Woah woah, for the wings of a dove

Ha-lellujah (lellujah)
Ha-lellujah (lellujah)

Look up at the rooftops (the roof)
When you're walking 'round
Don't think for a moment
Of looking down

At a room at the top
Where we're not allowed
Cheer to the echo
Can you hear the sound

Woah woah, (Yeah yeah yeah yeah yeah) for the wings of a dove
Woah woah, (Yeah yeah yeah yeah yeah) for the wings of a dove
Woah woah, for the wings of a dove
Woah woah, for the wings of a dove

Yeah yeah yeah (etc.)
Woah woah, for the wings of a dove
Woah woah, for the wings of a dove
Et cetera

Blue Train!
Blue train taking me from you....

Lyrics © Sony/ATV Music Publishing LLC
Written by: CATHAL SMYTH, CHRISTOPHER JOHN FOREMAN, DANIEL MARK WOODGATE, GRAHAM MCPHERSON, LEE JAY THOMPSON, MARK WILLIAM BEDFORD, MICHAEL BARSON

Lyrics Licensed & Provided by LyricFind
To comment on specific lyrics,
highlight them