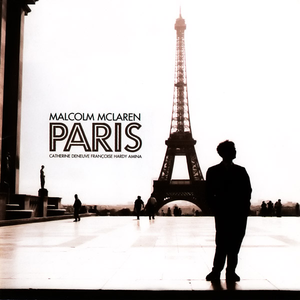 Malcolm McLaren (22 January 1946, London, UK – 8 April 2010, Switzerland) had a varied career starting from Art School dropout to Kings Road merchant, moving into band manager, socio-political instigator, quasi-musician himself, wry social commentator & influential media manipulator. In the late 1960s he started designing clothes and by 1972 he opened a clothing boutique in London with his then girlfriend, Vivienne Westwood.

In 1975, after a failed
Read Full Bio
Malcolm McLaren (22 January 1946, London, UK – 8 April 2010, Switzerland) had a varied career starting from Art School dropout to Kings Road merchant, moving into band manager, socio-political instigator, quasi-musician himself, wry social commentator & influential media manipulator. In the late 1960s he started designing clothes and by 1972 he opened a clothing boutique in London with his then girlfriend, Vivienne Westwood.

In 1975, after a failed stint at managing & relaunching the image of the notoriously hard living and chaotic band the New York Dolls, Malcolm nurtured the formation of one of the most infamous punk bands in history, The Sex Pistols. He became their manager, and controlled their contracts, as well as most importantly to him, their image in the media. The venture ended in a disastrous US tour, and a film called "The Great Rock And Roll Swindle" that featured McLaren, and glorified his untraditional Situationist PR approach and manipulative Svengali-esque role in the band's career.

In the '80s, after the Sex Pistols had long broken up, Malcolm became the manager of another band, Adam and the Ants which veered away from punk's coarse format via new romantic pirate garb and poly rhythmic African style drumming. When Adam Ant rebelled and left the band, Malcolm repackaged the musicians with a 14 year old Anglo/Burmese girl named Annabella Lwin to form the band Bow Wow Wow. He soon used his headline making skills to propel the band and their underage lead singer to the top of the charts with a nude album cover scandal.

In the early 1980's, Malcolm began producing his own records, beginning with the hits "Buffalo Gals" and "Double Dutch" from the groundbreaking 1983 album "Duck Walk" which used NYC hip hoppers and scratch DJ's The World Famous Supreme Team, as its foundation. Future members of Art of Noise performed on, produced, and/or jointly composed various tracks. He next turned to opera, masterminding a pop adaptation of "Madam Butterfly" on the album "Fans" using an assortment of female vocalists, and skilled musician Robby Kilgore on the tracks.

McLaren has released numerous other albums and tracks since, including contributions to the movie soundtracks of Carry On Columbus, and Kill Bill 2, but his musical career peaked with his 1980's works. McLaren's original "Double Dutch" era material has since been reappropriated and sampled by sucessful artists including Mariah Carey, Eminem, Amerie and De La Soul.

In his later years, McLaren occasionally contributed to newspapers and magazines, directed and produced films and appeared on British reality television programmes. He died on the morning of 8 April 2010, following a battle with cancer.
Genre not found
Artist not found
Album not found
Search results not found
Song not found
Paris Paris
by
Malcolm McLaren
I feel love, Paris Paris
Love to love, Paris Paris
Feelings so close to my heart
Barman dans le shaker, d'abord de l'élégance
Un trait de Sacré-Coeur et deux doight de Doisneau
Une Piaf, quelques moineaux et Joséphine Baker...
Là une de Prévert, mais sans raton-laveur
Prenons un dernier verre pres Bateau lavoir
Une Sinone de Beauvoir et deux singes en hiver...
Last night was made for love
Mettez trois notes de jazz dans un quatier latin
Un menu sur l'ardoise un fond d'un bar-tabac
Et la résille d'un bas sur un genou qu on croise
Oh Baby, just take my frozen hands and hear me say
Don't let me turn to sand and blow away
Though this crowded desert called Paris
I feel love, Paris Paris
Love to love, Paris Paris
Feelings so close to my heart
Un zeste de Javanaise, un tour de
Moulin Rouge et deux de Notre-Dame
Nappé de macadam, décoré d'un chaland
D'Anvers ou d'Amsterdam un canal, Arletty
Oh Baby, just hold this lonely fan and hear him say
Don't let me turn to sand and blow away
Though this crowded desert called Paris
Sans doute la seule femme qui pouvait dire
"Paname"
I feel love, Paris Paris
Love to love, Paris Paris
Feelings so close to my heart
Mettez trois notes de jazz dans un quatier latin
Un menu sur l'ardoise un fond d'un bar-tabac
Et la résille d'un bas sur un genou qu on croise
I feel love, Paris Paris
Love to love, Paris Paris
Feelings so close to my heart
Saupoudrez, pour finir, de poussière do métro
Mais n'en prenez pas trop, Paris perdrait son âme
Lyrics © Sony/ATV Music Publishing LLC
Written by: LEIGH GORMAN, DAVID MCNEIL, MALCOLM MCLAREN, DIDIER MAKAGA

Lyrics Licensed & Provided by LyricFind
To comment on specific lyrics,
highlight them