Things get clear when I feel free
When whatever's next comes easily
When gentle hands give life to me
When your eyes fill with tiny tears
When I'm this still you are my life
When I'm this still you are my life
So at ease in the midnight sky
So at ease in the midnight sky
But my insides will look like war
My insides will look like war
Paralysed except through my thought
So why so sad
You live and you love
So why so sad
Dependent on above
Searching for the dead sea scrolls
So why, so why so sad
My smile as real as a hyena's
My smile as real as a hyena's
Burns an expressway to my skull
Burns an expressway to my skull
But I'll stick myself together again
Spirit so low that I no longer pretend
So why so sad
You live and you love
So why so sad
Dependent on above
Searching for the dead sea scrolls
So why, so why so sad
So why so sad
You live and you love
So why so sad
Dependent on above
Searching for the dead sea scrolls
So why, so why so sad
So why, so why so sad
So why, so why so sad
So why, so why so sad
Lyrics © Sony/ATV Music Publishing LLC
Written by: JAMES BRADFIELD, JAMES DEAN BRADFIELD, NICHOLAS JONES, NICHOLAS ALLEN JONES, SEAN MOORE

Lyrics Licensed & Provided by LyricFind
To comment on specific lyrics,
highlight them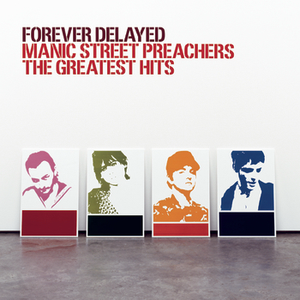 Manic Street Preachers are an alternative rock band from Blackwood, Wales, formed in 1986. Often referred to as "the Manics", they are James Dean Bradfield (vocals, guitars), Nicky Wire (bass, occasional vocals) and Sean Moore (drums, backing vocals, occasional trumpet). The band were originally a quartet: lyricist and rhythm guitarist Richey Edwards mysteriously vanished on 1 February 1995. He was declared presumed deceased in November 2008.

The Manics released their debut album Generation Terrorists in 1992.
Read Full Bio
Manic Street Preachers are an alternative rock band from Blackwood, Wales, formed in 1986. Often referred to as "the Manics", they are James Dean Bradfield (vocals, guitars), Nicky Wire (bass, occasional vocals) and Sean Moore (drums, backing vocals, occasional trumpet). The band were originally a quartet: lyricist and rhythm guitarist Richey Edwards mysteriously vanished on 1 February 1995. He was declared presumed deceased in November 2008.

The Manics released their debut album Generation Terrorists in 1992. Their combination of androgynous glam punk imagery, outspoken invective and songs about "culture, alienation, boredom and despair" soon gained them a loyal following and cult status. The band's later albums retained a politicized and intellectual lyrical style, while adopting a broader alternative rock sound. Enigmatic lyricist Richey Edwards gained early notoriety by carving the words "4 REAL" into his arm with a razor blade (narrowly missing an artery and requiring seventeen stitches) in response to the suggestion that the band were less than authentic. The dark nature of 1994's The Holy Bible reflected the culmination of Edwards' instability.

Following Edwards' disappearance, Bradfield, Moore, and Wire persisted with the Manic Street Preachers and went on to gain critical and commercial success, becoming one of Britain's premier rock bands. They have had eight top ten albums and fifteen top ten singles. They have reached number one three times, with their 1998 album This Is My Truth Tell Me Yours and the singles "If You Tolerate This Your Children Will Be Next" (1998) and "The Masses Against The Classes" (2000). The Masses Against The Classes Songfacts reports that the latter was the first UK #1 of 2000. They have also won the Best British Album and Best British Group accolades at the BRIT Awards in 1997 and 1999, and were lauded by the NME for their lifetime achievements in 2008. Their ninth studio album, Journal For Plague Lovers, was released on 18th May 2009 and features lyrics Edwards had left behind to the band weeks before his disappearance.

They came together in 1986, when James Dean Bradfield, Nicky Wire, Sean Moore and rhythm guitarist Flicker formed Betty Blue in the small South Wales town of Blackwood. Two years later, Flicker had left and Nicky's friend Richey Edwards (previously the group's driver) joined in his place. Richey would later say in Vox magazine, "If you built a museum to represent Blackwood, all you could put in it would be shit. We used to meet by this opening called Pen-y-Fan. It was built when the mines closed down but now the water has turned green and slimy. They put 2,000 fish in it, but they died. There's a whirlpool in the middle where about two people die every year". A bleak image, then, but it provided the necessary fuel to drive the band.

Inspired by the passion of The Clash, and moved by Thatcher's suppression of the miners, the band's lyrics exploded with politicised anger. Their first single, the self-financed Suicide Alley, didn't make great waves, and the band moved to London. There, they found a sympathetic character in the form of Bob Stanley: later a member of St Etienne, but then a freelancer for the Melody Maker.

Stanley released a collection of their demos as the New Art Riot EP in June 1990. It caught the attention of Philip Hall, who became their publicist and co-manager.

In early 1991 Heavenly released Motown Junk, an inspired three-minute punk blast. Later that year it was followed by You Love Us, a swaggering, arrogant self-regarding slice of brilliance.

The Manics paved the way for a resurgence of guitar bands in Wales. In the press, they were forced to live with punning headlines referring to sheep, boyos and leeks - they got all the clichés out of the way so the bands of the so-called Cool Cymru would be taken more seriously.

Yet their image often overshadowed the music. On 15 May 1991 came a turning point for the Manics. Following a gig at Norwich Arts Centre, Steve Lamacq, then writing for the NME, argued with the band that they were a cartoon band - not real punks. The band refuted this, but still Lamacq persisted. Frustrated, Richey Edwards took a razor and calmly carved the words 4 REAL into his forearm. Lamacq was horrified; Richey needed 17 stitches. Six days later the Manics signed to Sony. Richey had suffered from depression for many years, and self-mutilation had become increasingly common for him. But the Norwich incident was the first time the guitarist had aired his emotional problems in public.

In February 1992 the debut album Generation Terrorists was released. Heavily influenced by Appetite For Destruction, Richey said of it, "We wanted to sign to the biggest record label in the world, put out a debut album that would sell 20 million, and then break up. Get massive and then just throw it all away". The album sold 250,000 copies worldwide. Predictably they didn't split up, but the album polarised opinion between those that saw them as the new saviours of rock and roll, and detractors who considered them contrived and insincere. Not that the Manics cared: they were off on their first American tour, shortly after the LA riots, and singles such as Slash 'N' Burn and Motorcycle Emptiness were climbing up the charts.

The second Manics album was released in June 1993. Gold Against The Soul was overproduced and less passionate, but did contain the classic songs La Tristesse Durera (Scream To A Sigh) and From Despair To Where. However, they also chose to support Bon Jovi for a string of unwise live dates. The troubles continued with the death on 7 December 1993 of their mentor Philip Hall, who had been battling cancer for two years. Meanwhile, Richey's problems were worsening. Weighing less than six stone and subjecting his body to drinking and cutting binges, he was eventually admitted to the Priory in Roehampton.

Richey's despair was documented in what is now considered the Manics' masterpiece, 1994's 'The Holy Bible'. Unremittingly bleak, the opening song Yes contained the lines "I eat and I dress and I wash and I still can say thank you / Puking, shaking, sinking / Can't shout, can't scream, I hurt myself to get pain out". The song was about prostitution, but every line emanated from Richey's fragile state of mind. He rejoined the band for tours with Therapy? and Suede (and an early incarnation of Vitriol I.D.) in Europe, and a series of frantic shows at the London Astoria in December. The final night saw them destroying 10,000 worth of their equipment. "We'll never be that good again," said Nicky after the event. It was also their last live appearance as a four-piece.

Although they had never found transatlantic success, at the beginning of 1995 they were preparing to give America one last try. However, on 1 February Richey walked out of the Embassy hotel in London and never returned. His passport and money were found in his Cardiff Bay flat, and two weeks later his car was discovered beside the Severn Bridge - a notorious local suicide spot. The file on his disappearance remains open.

"We decided to carry on in April," said Nicky Wire in The Guardian, "after two months of waiting by the phone and feeling ill and exhausted. We thought we'd been so close, and in the end we couldn't do anything for him." September saw the band record a cover of Raindrops Keep Falling On My Head for the War Child "Help" album, and by January 1996 the Manics were recording their comeback album 'Everything Must Go'. It was released on 20 May to critical acclaim, went double platinum and yielded four top ten singles: 'A Design For Life', the title track, 'Kevin Carter' and 'Australia'. The sound represents a cross between the heavy rock of 'Gold Against The Soul' and a new, less agressive, almost Britpop like sound.

Two Brit Awards later, they released the LP This Is My Truth Tell Me Yours which gave the band their first number one single in If You Tolerate This Your Children Will Be Next, perhaps the only song that references the Spanish Civil War to ever appear on Top of the Pops.

On December 31st 1999 the band said goodbye to the 20th Century with a gig at Cardiff Millennium Stadium, attended by upwards of 50,000 people. This was followed by their second number one single, The Masses Against The Classes, which hit the top spot despite not having a video or marketing support from their record company.

Shortly afterwards, Nicky stated that "the fourth era of the Manics is beginning".
The fourth era, so far, has involved an audience with Fidel Castro in Cuba, the 2001 album Know Your Enemy, and continuing success. Their long awaited greatest hits collection, Forever Delayed, appeared in October 2002, followed in 2003 by Lipstick Traces, a two-disc collection of covers, B-sides, and outtakes including the last song recorded with Richey, 'Judge Yr'self'.

The Manics returned in November 2004 with the more reflective Lifeblood, which featured the singles The Love Of Richard Nixon and Empty Souls, both of which went straight in at number two in the charts.

Not to rest on their laurels, the band released a 10th anniversary edition of The Holy Bible in December 2004 which included a digitally remastered version of the original album, a never before heard U.S mix and a DVD of live performances and extras.

In April 2005 the Manics released a limited 3 track E.P. titled God Save The Manics as a free download but with hard copies distributed also without cost at the final date of their small, intimate 'Past Present and Future' tour at Hammersmith Apollo, London - their last show before a two year hiatus.

Later that year the band contributed the new track Leviathan to September's War Child charity album Help: A Day in the Life, becoming one of the few bands to contribute tracks to both albums.

2006 saw both James Dean Bradfield and Nicky Wire releasing solo albums, The Great Western and I Killed the Zeitgeist respectively. But both insisted that this in no way meant an end to the Manics and in December the band headlined XFM's Winter Wonderland gig in Manchester.

2007 sees the band enter yet another era with their 8th studio album, Send Away The Tigers, which was released on May 7th.

The album Journal For Plague Lovers was released in May 2009 and features lyrics left to the band by Richey before he disappeared. They released several different versions of the album, including a special edition, which has a book featuring copies of the original typed lyrics and pictures that went with them, and a bonus disc with all the original demos, recorded at Rockfield Studios in Monmouth, which they say is one of their favourite studios.

Their 10th studio album, Postcards from a Young Man, was released in September 2010. The album features several guest artists: Duff McKagan on A Billion Balconies Facing the Sun, John Cale on Auto-Intoxication and Ian McCulloch on Some Kind of Nothingness. A deluxe edition was also released containing a bonus disc with the original demos on it.

In 2011 the band released their second compilation National Treasures- The Complete Singles Collection, a release preceded by new single This Is The Day a cover of a ´¨The The song. The collection featured every single released since and including Motown Junk.

http://www.manicstreetpreachers.com
Genre not found
Artist not found
Album not found
Search results not found
Song not found