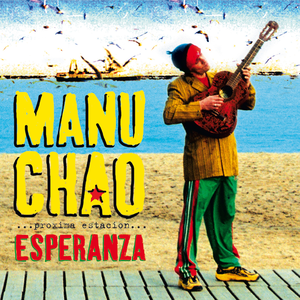 Manu Chao (⋆ 21 June 1961 in Paris, France) is a French/Spanish rock, reggae, …
Read Full Bio ↴
Manu Chao (⋆ 21 June 1961 in Paris, France) is a French/Spanish rock, reggae, punk and ska artist; well-known in the Paris alternative music scene before his international success with the band Mano Negra (active 1988-95). Well-known songs are 'Me Gustas Tu', 'Bongo Bong', 'Clandestino', 'Mr Bobby', and 'Je Ne'taime Plus'. Manu is one of the world's largest selling artists, but is less known in the English-speaking world. Much of his lyrics are about global political and social issues, but also about love, world's lifestyles, and music.

- - -

Manu Chao (born José-Manuel Thomas Arthur Chao on 21 June 1961 in Paris, France) is a singer of French and Spanish (Basque, Galician) origin.

Heavily influenced by the UK rock scene, particularly The Clash, The Jam and Dr. Feelgood, Chao and other musicians formed the Spanish/English rockabilly group Hot Pants in the mid-1980s. The group released a demo entitled "Mala Vida" in 1984, which received plenty of local critical praise but otherwise gained them little attention. By the time the group released their first album in 1986 the Parisian alternative music scene had taken flight, and Manu, his brother Antoine Chao, and friends such as Alain from Les Wampas formed Los Carayos to incorporate this sound with the rockabilly and punk styles of Hot Pants. Los Carayos remained a side project of the artists for eight years, releasing three albums in the first two years followed by a final album in 1994.

Manu Chao had been a well-known member of the Parisian alternative music scene, in bands such as Hot Pants and Los Carayos. In 1987, Chao, his brother Antoine Chao and their cousin Santiago Casariego founded the band Mano Negra, which met with success in France first with the hit single Mala Vida and then Mexico, Central and South America, where the band toured. The band split in 1995.

Chao sings in French, Spanish, Arabic, Galician, Portuguese, English, Italian, and Wolof, sometimes mixing them in the same song. He is one of the world's largest selling artists, but is less known in the English-speaking world.

Chao's music has many influences: rock, French chanson, Spanish-American Salsa, Reggae, Ska and Algerian rai. These influences were obtained from immigrants in France, his Iberian roots and his travels in Latin America following the disbanding of Mano Negra. Many of Chao's lyrics are about political issues (e.g., immigration, global social justice, conflict, and a strongly leftist critique of exploitative economic globalization) but they are also about love, lifestyles in different parts of the world, and music itself, which is hopeful for the future and at the same time dramatic. Chao is openly critical of the Bush administration in the US. He has many followers among the European left and the anti-globalization movement.

The influence of Manu Chao in Latin Rock or "Rock en Español" was crucial not only for the development and rise of new Latin bands that tried to emulate his eclectic style, but also for the self-knowledge of Latin America as a united culture. After the Latin America tour and travels, Manu Chao lyrics were more often written in Spanish than were the Mano Negra lyrics. His songs also took the lyrics or chords of some popular tunes like "El preso" from "Fruko y Sus Tesos" (in "Desaparecido") or "La Verdolaga" a traditional Colombian cumbia (in "Por el Suelo").

Manu Chao's music does not follow a logical textual narrative, but in its eclectic construction it invokes a deeper understanding of its subject than any literal form could. He sings songs about the people of the streets, the outer provinces, and the marginalised; he sings with the forgotten and uncounted billions, the underclass, and in so doing, he speaks about the fragility of human kind. His music is a bridge, exploring the common ground and means of mutual understanding that are available to us, exponating the idea that beyond superfluous differences in cultural identity, we are all the same.
Jump to: Overall Meaning ↴ Line by Line Meaning ↴
Mi vida
Lucerito sin vela
Mi sangre de la herida
No me hagas sufrir más
Mi vida
Bala perdida
Por la gran vía
Charquito de arrabal
No quiero que te vayas
No quiero que te alejes
Cada día más y más
Mi vida
Lucerito sin vela
(Aquí no pegamos los ojos)
Mi vida
Charquito de agua turbia
Burbuja de jabón
Mi ultimo refugio
Mi ultima ilusión
No quiero que te vayas
Cada da más y más
Mi vida
Lucerito sin vela
Mi sangre de la herida
No me hagas sufrir mas
(Aquí no pegamos los ojos)
(Aquí no pegamos los ojos)
Mi vida
Overall Meaning
Manu Chao's song "Mi Vida" is a melodious and emotive piece in which he laments the pain he's feeling from a hurtful relationship that is slowly coming to an end. The song communicates the woes of a man who is in love with a woman, who is like a shining star without her light. Manu Chao describes her love like a bullet, hitting him unexpectedly but leaving a wound that cannot be healed. He compares their love to a murky puddle in a back alley, where it's easy to get lost and consumed in the darkness.
In the second verse, Manu Chao expresses his desire to hold on to his relationship and not let it slip away. The woman is all he has left and his last source of joy, life and hope. He sings of her love being like a soap bubble or his last refuge, where he can protect himself against the harsh realities of the world. He begs her not to leave him and to stay with him for his own peace of mind and comfort.

Line by Line Meaning
Mi vida
My life
Lucerito sin vela
A small light without a candle
Mi sangre de la herida
My blood from the wound
No me hagas sufrir más
Don't make me suffer anymore
Bala perdida
A stray bullet
Por la gran vía
Through the main street
Charquito de arrabal
A little puddle in the outskirts
No quiero que te vayas
I don't want you to leave
No quiero que te alejes
I don't want you to distance yourself
Cada día más y más
More and more each day
Charquito de agua turbia
A little murky water puddle
Burbuja de jabón
A soap bubble
Mi ultimo refugio
My last refuge
Mi ultima ilusión
My last hope
Aquí no pegamos los ojos
Here we don't close our eyes
Lyrics © O/B/O APRA AMCOS
Written by: Jose-Manuel Chao

Lyrics Licensed & Provided by LyricFind
To comment on or correct specific content,
highlight it
Genre not found
Artist not found
Album not found
Search results not found
Song not found