Na-na na na naaa na na na naa
yee
(Na-na na na naaa na na naa)
Chayera pani timlai aafno banauna sakina khai kina kina
Chayera pani timlai aafno vanna sakina khai kina kina
Sayed
maya ma yestai huncha ki -x8
(Na-na na na naaa na na naa)
Sa-pa-na haru sajayethe tara pura garna maile sakina
derai maya layethe tara timilai aafno banauna sakina
khai kasari (kasari) samhalu aafu lai
khai kasari (kasari) sahu dhuka lai
Maya ma yestai huncha ki -x8
(Na-na na na naaa na na naa)
Yee...,
Dukha Lagcha timlai aafno banauna sakina
maile aafno banauna nasakeni timlai vulne chaina kahile
mero vitri man ko kuna ma luki rahanechau jahile
hamro yo maya lai metauna sakdaina kasaile
yo juni ma timlai aafno banauna sakina
yesto paristiti aaula maile kaile sochina
timi bahek aru kasailai choko maya lahina
sajayeko tiye sapana pura garna payena
yestai raixa vagya vani chitta maile bujayexu
aarko janma timrai hune kasam maile khayexu
katai mero yad aayo vane ek sapana samji vuli dinu
ishwor sanga prathana cha timi sadai khusi hunu
Sayed,
Maya maa yestai hunchaa ki -x8
(Na-na na na naaa na na naa)
Yeee
(Na-na na na naaa na na naa)
Uploaded by: Ashesh :)
Contributed by Matthew C. Suggest a correction in the comments below.
To comment on specific lyrics,
highlight them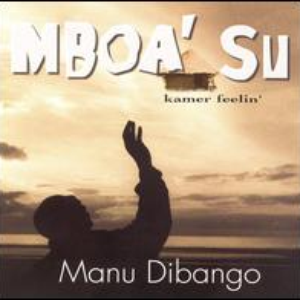 Manu Dibango (Emmanuel N'Djoké Dibango, December 12, 1933 in Douala, Cameroon-March 24, 2020 in Paris, France) was a Cameroonian saxophonist and vibraphone player. Leaving Cameroon to France to study, he got to study music where he enrolled for piano lessons. Though a piano student, Manu fell in love with his friend and classmate's instrument, the saxophone. Not having a keyboard at home to rehearse his music lessons, he spent time using his friend's saxophone which has today become his longest companion.
Read Full Bio
Manu Dibango (Emmanuel N'Djoké Dibango, December 12, 1933 in Douala, Cameroon-March 24, 2020 in Paris, France) was a Cameroonian saxophonist and vibraphone player. Leaving Cameroon to France to study, he got to study music where he enrolled for piano lessons. Though a piano student, Manu fell in love with his friend and classmate's instrument, the saxophone. Not having a keyboard at home to rehearse his music lessons, he spent time using his friend's saxophone which has today become his longest companion. He developed a musical style fusing jazz and traditional Cameroonian music. He is a member of the Yabassi ethnic group, though his mother was a Douala.

He has collaborated with many musicians, including Fela Kuti, Herbie Hancock, Bill Laswell, Bernie Worrell, Ladysmith Black Mambazo, and Sly and Robbie. In 1998 he recored the album CubAfrica with Cuban artist Eliades Ochoa .

His Soul Makossa is often considered the first disco record (Jones and Kantonen, 1999). Prominent and loved by his country, he just celebrated his 50th musical anniversary in Cameroon, where he was greatly supported by the wife of the president of Cameroon.

Manu Dibango was the sole African who exposed African traditional music to the western world. His style took the world by storm when the American superstar, Michael Jackson took Manu's Soul Makossa which featured in Jackson's album in You wanna be startin' Something.[i/] This same hit today vibrates the music chart which featuresAkon. Obviously, Jackson lost the suit and had to pay the African Saxophonist for Damage.

He has influenced so much Africans and buyam sellam has been modeled in an eclassified. cameroon jobs,accomodation, www.buyamsellam.org
Genre not found
Artist not found
Album not found
Search results not found
Song not found