Parmak izlerinde küllük hasarı ben bu defterin kötü ünlü yazarı
1001 gece boyunca sürdü masalım ruhum kadar pis ve de kirli sakalım
gözlerini kapat sus dinle sabahı bütün dilekleri bir umuda iple saralım
gecekonduda umutlar izle sarayı hayat kötü konuşur ama ninni sanalım
bazen yakınlar vuslat gibi kilometreler kusmak gibi
son sigarayı yakmak gibi gece birikip içine dolup atmak gibi
tan hala ahmak biri akıllanmayan aptal gibi
hayat acımasız sana sevgi gösterir parasını bekleyen bir kaltak gibi
hala kendine bi kadeh dolduracak nedenlerimi aralıyorsun
yada bi sigara yakıp bütün gece yapamadıklarına mı içlenip de ağlıyorsun
bilmiyorsun karanlık gölgeni haklarken güneşe bakmıyorsun
bilmiyorum bu şehir gibi beni çok fazla yanlış anlıyorsun
arada sırada deniyorum yaşamayı biraz kalp atışlarımı yokluyorum
yolumu bulamam içime kapanıp ecele kadar ölümü canıma takıp da zorluyorum
yok bi yolu devamı cinnetin kanatlarından topluyorum
güneşi mi söndürdün oysaki ben karanlıktan korkuyordum
bırak sana yağsın yağmur benimle kalsın kar
içimdeki yangılar yardım dayandım yar
hiç sorma bi tarifi yok metanetim yok
bi tarifi yok- yok...
köprüler yıkık şehirler saks mavisi
saçların aynı tonda kalmış göz ferin kar tanesi
kalbin torpido gözünde bekler lağım faresi
ne kadar makul olur sen giderken bahar gelmesi
bak yine başlıyor biryerden sarsıntılar bırak gözlerin bana baksın biraz
yağmur kokumuzu dindirsin gemi batsın içeriye dalsın sular
sen yokken dünya susar ve sen bir gülsen ağlar bu zat
vedalarsa fazla gel gitli bütün bu zihnim kanlar kusar
saat gitmez gerisin geri belki bunalıpda gidesin gelir
nispeten şarapla konuşur elin herkes der sana delisin deli
kalabalıkta yalnız kal bi fotoğraf karesinde anlat beni
bazen ruhun çarmağa gerilir ama her anı saklar deri
hala çok yitik yanım tetikte parmak var çekip yanıl
dudaklarımda o sinir tadı ve kaburgam daki şiir kabı
biraz empati kur mesela kalbine sapla şu şırıngayı
çektiğin acıları bi kenara topla hepsi yanımda şirin kalır
Contributed by Leah V. Suggest a correction in the comments below.
To comment on specific lyrics,
highlight them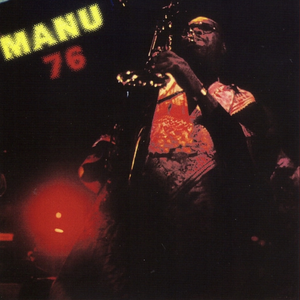 Manu Dibango (Emmanuel N'Djoké Dibango, December 12, 1933 in Douala, Cameroon-March 24, 2020 in Paris, France) was a Cameroonian saxophonist and vibraphone player. Leaving Cameroon to France to study, he got to study music where he enrolled for piano lessons. Though a piano student, Manu fell in love with his friend and classmate's instrument, the saxophone. Not having a keyboard at home to rehearse his music lessons, he spent time using his friend's saxophone which has today become his longest companion.
Read Full Bio
Manu Dibango (Emmanuel N'Djoké Dibango, December 12, 1933 in Douala, Cameroon-March 24, 2020 in Paris, France) was a Cameroonian saxophonist and vibraphone player. Leaving Cameroon to France to study, he got to study music where he enrolled for piano lessons. Though a piano student, Manu fell in love with his friend and classmate's instrument, the saxophone. Not having a keyboard at home to rehearse his music lessons, he spent time using his friend's saxophone which has today become his longest companion. He developed a musical style fusing jazz and traditional Cameroonian music. He is a member of the Yabassi ethnic group, though his mother was a Douala.

He has collaborated with many musicians, including Fela Kuti, Herbie Hancock, Bill Laswell, Bernie Worrell, Ladysmith Black Mambazo, and Sly and Robbie. In 1998 he recored the album CubAfrica with Cuban artist Eliades Ochoa .

His Soul Makossa is often considered the first disco record (Jones and Kantonen, 1999). Prominent and loved by his country, he just celebrated his 50th musical anniversary in Cameroon, where he was greatly supported by the wife of the president of Cameroon.

Manu Dibango was the sole African who exposed African traditional music to the western world. His style took the world by storm when the American superstar, Michael Jackson took Manu's Soul Makossa which featured in Jackson's album in You wanna be startin' Something.[i/] This same hit today vibrates the music chart which featuresAkon. Obviously, Jackson lost the suit and had to pay the African Saxophonist for Damage.

He has influenced so much Africans and buyam sellam has been modeled in an eclassified. cameroon jobs,accomodation, www.buyamsellam.org
Genre not found
Artist not found
Album not found
Search results not found
Song not found