Last thing that I said to you
in the driveway muttering profane
'I never want to see your face again' (repeats)
But I will leave the light on
Leave the light on
In case you're coming back
Change my heart and count the days
All I remember all I remember is 'we'
Things fall to pieces
Hold the reasons for another day
But I will leave the light on
Leave the light on (repeats)
In case you're coming back
But I will leave the light on
Leave the light on (repeats)
In case you're coming back
I saw your car in the street
I saw you looking back
Why does everything end up like that?
I saw your car in the street
I saw you looking back
Why does everything wind up like that?
But I will leave the light on
Leave the light on (repeats)
In case you're coming back
Contributed by Aria M. Suggest a correction in the comments below.
To comment on specific lyrics,
highlight them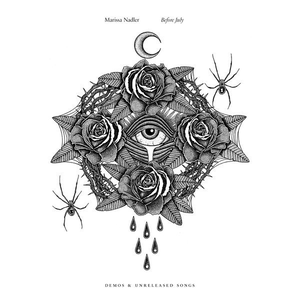 Leave the Light On - Demo
Marissa Nadler is an American dream folk musician and singer-songwriter. She plays six string guitar, 12 string guitar, piano, ukelele, banjo, and voice.
Nadler studied painting at the Rhode Island School of Design, where she began her performing career after writing songs for many years.

The foundation of her sound is her haunting mezzo-soprano, and a delicate 6-string acoustic guitar, often accompanied by a variety of instruments, including electric guitar, theremin, and piano.
Read Full Bio
Marissa Nadler is an American dream folk musician and singer-songwriter. She plays six string guitar, 12 string guitar, piano, ukelele, banjo, and voice.
Nadler studied painting at the Rhode Island School of Design, where she began her performing career after writing songs for many years.

The foundation of her sound is her haunting mezzo-soprano, and a delicate 6-string acoustic guitar, often accompanied by a variety of instruments, including electric guitar, theremin, and piano. Nadler writes strange, yet classic, melancholy songs. Her voice is often bathed in a wash of reverb and space echo and creates a ghostly, atmospheric feeling to the music.

She has American Gothic leanings; her songs often take place in an imagined, idealistic time with a cast of characters of her own creation.

Official Facebook: http://www.facebook.com/pages/Marissa-Nadler/300932499775
Bandcamp: http://marissanadler.bandcamp.com/
Genre not found
Artist not found
Album not found
Search results not found
Song not found