Harborview Hospital
Mark Lanegan Lyrics
Jump to: Overall Meaning | Line by Line Meaning
I walked by Harborview hospital
I heard the agnus dei
Oh sister of mercy
I've been gone too long to say
And all around this place I was a sad disgrace
They're singing, they're singing
Away up on the hill
They're building, they're building
A mystical union, beautiful and still
But down here in the dirt they'll say it doesn't hurt
The devil's ascended
Upon some crystal wings
In the citadel lightning
Splits a cloud of butterflies and fiends
And with a vacant stare i'll leave a flower there
They're riding, they're riding
A hell hound down the hill
They're sinking, they're sinking
Into the ocean, beautiful and still
And yet it's hard to leave in wealth or poverty
I walked by Harborview hospital
And stopped at Ninth and James
Oh sister of mercy
I've been down too far to say
Are they supposed to be as sick as you and me?
Overall Meaning
In Harborview Hospital by Mark Lanegan, the lyrics explore themes of isolation, despair, and struggle. The first verse highlights the protagonist's separation from his past, and his sense of loss. Despite hearing the "agnus dei" and "sister of mercy," he feels out of place, "a sad disgrace," perhaps due to some past mistakes which led to his isolation.
The second verse turns towards a more apocalyptic tone, with the devil's ascendance on "crystal wings" and lightning in the citadel splitting a "cloud of butterflies and fiends." The protagonist's reaction to this scene is one of detachment, as he "leaves a flower there" with "a vacant stare." This detachment could be interpreted as a form of escapism or a coping mechanism for the struggles he is facing.
In the final verse, the protagonist reflects on his own circumstances, wondering if the others in the hospital are "supposed to be as sick as you and me." This line highlights the universal struggle that humans face with health, both physical and mental, making this song accessible to a broad audience.

Line by Line Meaning
I walked by Harborview hospital
The narrator is physically present near a hospital named Harborview
I heard the agnus dei
The narrator hears the hymn 'Lamb of God' being sung or played in the background as they walk by the hospital
Oh sister of mercy
The narrator addresses a female figure, possibly a nurse or symbolically representing mercy
I've been gone too long to say
The narrator has been away for a long time and cannot confidently express their thoughts or feelings
And all around this place I was a sad disgrace
The narrator feels ashamed or embarrassed by the state of their surroundings
They're singing, they're singing
People can be heard singing nearby
Away up on the hill
The singing is coming from a hill that is a distance away from the narrator
They're building, they're building
Construction work is being carried out by people
A mystical union, beautiful and still
The construction is creating something that is mysterious and serene
But down here in the dirt they'll say it doesn't hurt
Despite the serene construction, people in the vicinity claim that there is still pain or difficulty
The devil's ascended
An evil force has risen up
Upon some crystal wings
The evil force appears to have risen using an unorthodox method, described metaphorically as crystal wings
In the citadel lightning
A fortress-like structure is struck by a bolt of lightning
Splits a cloud of butterflies and fiends
As a result of the lightning strike, a group of distinctly good and evil beings are separated
And with a vacant stare i'll leave a flower there
The narrator leaves a flower at the location and appears to do so passively, without much emotion
They're riding, they're riding
People are travelling on something
A hell hound down the hill
The thing people are riding on is metaphorically described as a hell hound
They're sinking, they're sinking
The thing people are riding on appears to be going underwater
Into the ocean, beautiful and still
The underwater destination is serene and beautiful
And yet it's hard to leave in wealth or poverty
Despite the serene setting, it is difficult for people to leave regardless of their financial status
And stopped at Ninth and James
The narrator comes to a stop at an intersection named Ninth and James
Are they supposed to be as sick as you and me?
The narrator questions whether individuals at the hospital are of the same physical and mental state as the narrator themself
Lyrics © O/B/O APRA AMCOS

Lyrics Licensed & Provided by LyricFind
To comment on or correct specific content,
highlight it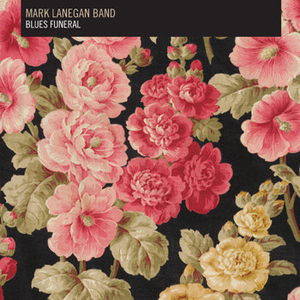 Mark William Lanegan (November 25, 1964 – February 22, 2022) was an American singer, songwriter, and poet. First becoming prominent as the lead singer for the early grunge band Screaming Trees, he was also known as a member of Queens of the Stone Age and The Gutter Twins. He released 12 solo studio albums, as well as three collaboration albums with Isobel Campbell and two with Duke Garwood. He was known for his baritone voice, which was described
Read Full Bio
Mark William Lanegan (November 25, 1964 – February 22, 2022) was an American singer, songwriter, and poet. First becoming prominent as the lead singer for the early grunge band Screaming Trees, he was also known as a member of Queens of the Stone Age and The Gutter Twins. He released 12 solo studio albums, as well as three collaboration albums with Isobel Campbell and two with Duke Garwood. He was known for his baritone voice, which was described as being "as scratchy as a three-day beard yet as supple and pliable as moccasin leather" and has been compared to Tom Waits, Leonard Cohen, and Nick Cave.

Lanegan began his musical career in 1984 with Screaming Trees, with whom he released seven studio albums and five EPs before their disbandment in 2000. During his time with the band, he also started a solo career and released his first solo studio album, The Winding Sheet, in 1990. He subsequently released a further 10 solo albums, which received critical recognition but only moderate commercial success. Following the end of Screaming Trees, he became a frequent collaborator of Queens of the Stone Age, and was a full-time member between 2001 and 2005 during the Songs for the Deaf and Lullabies to Paralyze eras.

Lanegan collaborated with various artists throughout his career. In the 1990s, he and Kurt Cobain recorded an album of Lead Belly covers that was ultimately never released. He also joined Layne Staley and Mike McCready in the band Mad Season, and formed the alternative rock group The Gutter Twins with Greg Dulli in 2003, as well as contributing to releases by Moby, Bomb the Bass, Soulsavers, Tinariwen, The Twilight Singers, Manic Street Preachers, and Unkle, among others.

Lanegan struggled with addiction to drugs and alcohol throughout his life, but had been sober for over a decade at the time of his death. Encouraged by his friend Anthony Bourdain, he released the memoir Sing Backwards and Weep in 2020. He followed this up in 2021 with the memoir Devil in a Coma, which focused on his near-death experience with COVID-19. He and his wife Shelley Brien left the U.S. in 2020 and settled in the Irish town of Killarney, where he died two years later at the age of 57. No cause of death was revealed.

Studio albums
The Winding Sheet (1990)
Whiskey for the Holy Ghost (1994)
Scraps at Midnight (1998)
I'll Take Care of You (1999)
Field Songs (2001)
Bubblegum (2004)
Blues Funeral (2012)
Imitations (2013)
Phantom Radio (2014)
Gargoyle (2017)
Somebody's Knocking (2019)
Straight Songs of Sorrow (2020)
Genre not found
Artist not found
Album not found
Search results not found
Song not found