Ieri ho fatto un sogno in cui sogni che
Io suono un coito per te
Quando sei confusa fra la gente e
Guardi le miei mani che
Incantevolmente
Scuotono le corde del tuo corpo
E fra le mie mani ti fai fradicia e scorrevole
E mi scivoli con stridere amplificabile
(gridano le casse in risonanza sesso-stereo
Se faccio presa è un amplesso shock-sidereo).
Tu sei beautiful guitar that plays "sexy-queenbee".
Ieri ho fatto un sogno in cui sogni che
Ti senti avvinta a me,
Ma non sai che anch'io ti vorrei.
Io ti vorrei.
Tu sei beautiful girl that sings "sexy-queenbee".
E non vedi che son dietro le tue spalle rosee
E non senti che il mio desiderio è sui loro petali
(scende leggero fra le concavità violacee),
Ma la trama del sogno prevede che restiamo immobili.
E sul palco la musica si fa frenetica
Dalla tua sensualità empatica.
E sul palco la musica si fa frenetica
Perché noi siamo sensualità selvatica. Selvatica.
Io ti vorrei.
Contributed by Alyssa L. Suggest a correction in the comments below.
To comment on specific lyrics,
highlight them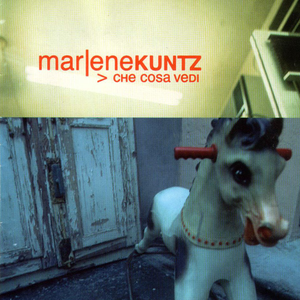 Italian rock band. Marlene Kuntz music is an original convergence of 80's noise, post-punk and dark rock (Sonic Youth, Gun Club, Wire, Swans, Einstürzende Neubauten) and poetic influences close to Nick Cave and Scott Walker, mixed up with personal twilight tendencies in troubled ballads.
Currently Marlene Kuntz members are Cristiano Godano, Riccardo Tesio, Luca Bergia, Davide Arneodo and Luca Lagash Saporiti.
Genre not found
Artist not found
Album not found
Search results not found
Song not found