A painter's waiting for the show
what's he to see
A poet's waiting tor a film
what's he to taste
Clouds of metal cover Ihe sky
they're movin' fast - they're rushing by
hurrying through the latenight-show
velocity makes the moment glow
Pirates and gamblers are taking the harbour
the gentlemen already left the stage
wine and rum and dirty hands and faces
grab for the might- right by the night
I'm like a deaf-jailed in a skin of rubber
see like a blind what's on my mind
swimming across the lake of origin
clingin' to the last cloud that's left in the sky
Pirates and gamblers are taking the harbour
the gentlemen already left the stage
wine and rum and dirty hands and faces
grab for the might - right by the night
Noone gets inspiration ol this
slow corrupted ana motionless mess
newsreports on state of the fall
all got phones but noone to call
jets and trains and noone escapes
trips to pain - knights without brain
tricks to gain the most - the main
A gambler's waiting for a dime ...
What's he to gain
Contributed by Aaron W. Suggest a correction in the comments below.
To comment on specific lyrics,
highlight them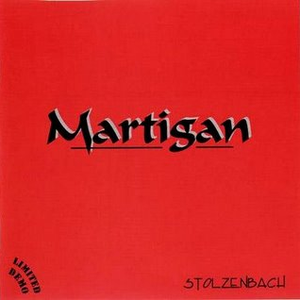 The Story so far..........

Martigan was founded in March 1994 by the keyboarder Oliver Rebhan. He used his contacts in the local music-scene to unite different musicians in a new band.
Rather than aiming at any commercial success the members of the band chose to write and perform music that met their personal preferences.

The work of 2 weeks composing together with Kai Marckwordt, Jürgen Edlinger, Axel Schütze and Alex Bisch can definetly be named as "Progressive Rock". The first track was born - PAINTER.
Read Full Bio
The Story so far..........

Martigan was founded in March 1994 by the keyboarder Oliver Rebhan. He used his contacts in the local music-scene to unite different musicians in a new band.
Rather than aiming at any commercial success the members of the band chose to write and perform music that met their personal preferences.

The work of 2 weeks composing together with Kai Marckwordt, Jürgen Edlinger, Axel Schütze and Alex Bisch can definetly be named as "Progressive Rock". The first track was born - PAINTER.
In the end of 1994 they recorded their first demo CD using two DAT recorders. This recording, produced during only at two weekends, served as master-tape for Martigans first Album.

The album was named after the village where the bands first rehearsals took place: Stolzenbach
Martigan then met cologne music-producer Rudolf Nepix who got interested in their music and encouraged them to start recording a second CD called "Ciel Ouvert", which was released on the Label FLOH DUR in 1996 .

Additionally, a Maxi-CD "Simplicius" came out in early 1997

You will find all CD's on the website www.martigan.com
– Take a look at the Fansit to !: www.martigan-progrock.com........

Several concerts and gigs followed. A highlight in Martigans history up to now was a concert as support act of the Canadian Progressive Rock Band SAGA in Cologne.
Guitar-player Juergen Edlinger left the group in the mid of 1998 because he became father for the second time :-)
To fill in for Juergen, Björn Bisch - Brother of the drummer Alex Bisch joined the band. He grasped the essence of Martigans music very fast and by adding his own "grain of salt" the music became even more impulsive.

The years 1999 and 2000 were dedicated to the composition of new songs and the work on various draft recordings.
In 2000 Axel Schuetze left the band - he became a father too ;-)
Peter Kindler took over the bass instead and gave Martigans music an absolutely new dimension by deeper modulation ;-) Our new album "Man of the Moment" was released in 2002.

At the end of 2008 the Bassplayer Peter leaved the band in case of personal circumstances.
Since begin of 2009: Out now – the new album VISION is out !!! Enjoy it !!!!
Martigan has a new guy on bass: Oliver Baumann. Welcome !

initial members
Oliver Rebhan (1994 - present)
Kai Marckwordt (1994 - present)
Alex Bisch (1994 - present)
Jürgen Edlinger (1994 - 1998)
Axel Schütze (1994 - 2002)

current members
Kai Marckwordt - Lead Vocals, 12 String Guitar, Saxophone
Oliver Rebhan - Keyboard, Backing Vocals
Alex Bisch - Drums, Backing Vocals
Björn Bisch - Guitar
Oliver Baumann - Bass

former members
Jürgen Edlinger (1994-1998) Guitar
Axel Schütze (1994–2002) Bass
Peter Kindler (2002–2008) Bass

Discography

Studioalben
Stolzenbach (1994; Eigenvertrieb),
Ciel Ouvert (1996; Floh Dur),
Man of the Moment (2002; Floh Dur),
Vision (2009; Floh Dur),

DVD
Martigan Live DVD (2004; Floh Dur),

Maxi CD
Simplicius Maxi CD (1997; Floh Dur),

Weblinks
Martigan official Website
Martigan official Fansite
Martigan official Myspace Site
Martigan official Facebook Site
Genre not found
Artist not found
Album not found
Search results not found
Song not found