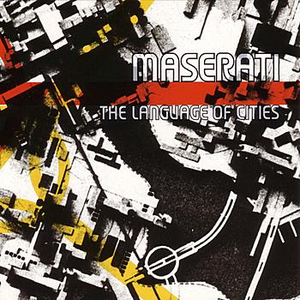 A Common Interest in Silence
Maserati is a band from Athens, Georgia, United States whose sound has been described as a combination of post-rock and psychedelic influences. Their music is instrumental, relying on the standard rock instrumentation of guitar, bass, and drums. They are currently signed to Temporary Residence Limited, based in Brooklyn, New York.

The band formed in January 2000 and in 2001 self-released their debut EP, 37:29:24. They released a full-length, The Language of Cities, on Kindercore Records in 2002.
Read Full Bio
Maserati is a band from Athens, Georgia, United States whose sound has been described as a combination of post-rock and psychedelic influences. Their music is instrumental, relying on the standard rock instrumentation of guitar, bass, and drums. They are currently signed to Temporary Residence Limited, based in Brooklyn, New York.

The band formed in January 2000 and in 2001 self-released their debut EP, 37:29:24. They released a full-length, The Language of Cities, on Kindercore Records in 2002. In 2003, they released the Confines of Heat split EP/DVD (also on Kindercore Records) with Gainesville, Florida's The Mercury Program.

After a Japan tour in 2004, drummer Phil Horan left the group. Matt Cherry also left the group temporarily, replaced by Tristan Wraight. They released a 7" and a split CD with Cinemechanica and We Versus the Shark on Hello Sir Records in 2004.

In early 2005, Matt Cherry re-joined the band and Jerry Fuchs stepped in on drums. The group began pursuing more of a psychedelic and space rock-influenced sound and signed with Temporary Residence in 2007, releasing the full-length Inventions for the New Season. In 2008 they issued a 12" featuring remixes of songs from Inventions for the New Season by Thee Loving Hand and Justin Van Der Volgen. They followed this with a split LP with Zombi in early 2009, and a rarities collection, Passages, on Temporary Residence later that same year.

On November 8, 2009, at around 1am, Fuchs fell down an elevator shaft to his death in Williamsburg, Brooklyn. ABC reported that he "was trying to jump out of a broken elevator when a piece of his clothing caught on something". The drummer was attending an invite-only party to raise funds to send poor children to school in India. He was 34 years old.

On August 11, 2010, it was announced that Maserati would be releasing Pyramid of the Sun, their first new album since the death of drummer Jerry Fuchs, on November 9 via Temporary Residence Ltd. According to a press release, the extra time and care that went into the record was in an effort to honour and preserve Fuchs's final works.

Throughout late 2010 and early 2011, the band has been touring consistently throughout Europe and the United States with Anthony Paterra (Zombi, Majeure) on drums.

In March 2012, Maserati completed work on Maserati VII, which was released on October 2, 2012 on Temporary Residence Ltd. Engineered by Kevin Ratterman in Louisville, Kentucky, it is their first record with drummer Mike Albanese (Cinemechanica, Shannon Wright) and prominently features Steve Moore of Zombi, contributing both synth lines and mixing the record.

Josh McCauley now plays in Athens post-rock band A.Armada.

Members:

Coley Dennis - guitars;
Matt Cherry - guitars;
Chris McNeal - bass;
Mike Albanese - drums.

Former members:

Steve Scarborough - bass;
Anthony Paterra - drums;
Jerry Fuchs - drums;
Phil Horan - drums.

Touring members:

Josh McCauley - guitars;
Tristan Wraight - guitars.

http://www.ihaveadagger.net
Genre not found
Artist not found
Album not found
Search results not found
Song not found