Talking to stone,
Listening to birds
With no more to say,
I kissed my fingers
And touched the red dirt
Wandering away
Through the moon-colored field
My heart was a weight
Of rage and sorrow
That longed to be healed
Then I started running
To feel more alive;
To wake up my senses
That slowly had died
And I wondered if angels
Were singing that night
Nothing's the same
The colors aren't bright
Since I kissed your face
And slowly whispered
My last goodbye
Thinking of Jesus
At Lazarus's side
That heavenly sadness,
The shadows of light
His eyes saw the city
Where all is made right
And I heard that angels
Were singing that night
The angels were singing
As we sat and cried
Each tear was a chorus;
A sacred reprise
And I finally was grieving
That long goodbye
And I heard the angels
…Singing that night
Contributed by Joseph F. Suggest a correction in the comments below.
To comment on specific lyrics,
highlight them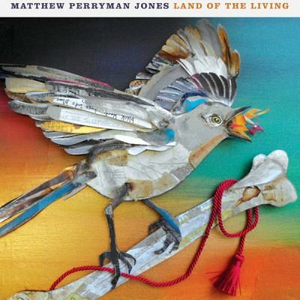 Matthew Perryman Jones (born 1973) is an American singer and songwriter.

Jones began performing in 1997, debuting at Eddie's Attic in Decatur, GA, but he soon relocated to Nashville. In 2000 he released Nowhere Else But Here followed by an EP, For the Road, in 2003. Released in 2006, Throwing Punches in the Dark was produced by Neilson Hubbard (Glen Phillips, Garrison Star) and met with high critical praise. Jones re-teamed with Hubbard for Swallow the Sea, which was released in 2008.
Read Full Bio
Matthew Perryman Jones (born 1973) is an American singer and songwriter.

Jones began performing in 1997, debuting at Eddie's Attic in Decatur, GA, but he soon relocated to Nashville. In 2000 he released Nowhere Else But Here followed by an EP, For the Road, in 2003. Released in 2006, Throwing Punches in the Dark was produced by Neilson Hubbard (Glen Phillips, Garrison Star) and met with high critical praise. Jones re-teamed with Hubbard for Swallow the Sea, which was released in 2008. His music has found a home on Film and TV with over 30 placements on shows such as Grey's Anatomy, Bones, One Tree Hill, Pretty Liars & Private Practice.

MPJ has shared the stage with Shawn Colvin, Patty Griffin, Paula Cole, as well as being a staple feature in the nationally acclaimed "Ten Out of Tenn. Collective" with fellow artists, Katie Herzig, Erin McCarley, Butterfly Boucher, Andrew Belle and others.

Jones released his third full-length record, Land of the Living, on May 29, 2012.

Jones released The Waking Hours in September 2018.

Website https://www.mpjmusic.com/
Genre not found
Artist not found
Album not found
Search results not found
Song not found