I'd Do Anything for Love
Meat Loaf Lyrics
And I would do anything for love
I'd run right into hell and back
I would do anything for love
I'll never lie to you and that's a fact
But I'll never forget the way you feel right now
Oh no, no way
And I would do anything for love
But I won't do that
No, I won't do that
And some days it don't come easy
And some days it don't come hard
Some days it don't come at all, and these are the days that never end
And some nights you're breathing fire
And some nights you're carved in ice
Some nights you're like nothing I've ever seen before or will again
And maybe I'm crazy, oh, it's crazy and it's true
I know you can save me, no one else can save me now but you
As long as the planets are turning
As long as the stars are burning
As long as your dreams are coming true
You better believe it
That I would do anything for love
Oh, I would do anything for love
Oh, I would do anything for love
But I won't do that
No, I won't do that
I would do anything for love
Anything you've been dreaming of
But I just won't do that
I would do anything for love
Anything you've been dreaming of
But I just won't do
And some days I pray for silence
And some days I pray for soul
Some days I just pray to the God of sex and drums and rock 'n' roll
And maybe I'm lonely, that's all I'm qualified to be
That's just one and only, one and only promise I can keep
As long as the wheels are turning
As long as the fires are burning
As long as your prayers are coming true
You better believe it
That I would do anything for love
And you know it's true and that's a fact
I would do anything for love
And there'll never be no turning back
But I'll never do it better than I do it with you, so long, so long
And I would do anything for love
Oh, I would do anything for love
I would do anything for love
But I won't do that
No, no, no, I won't do that
Will you raise me up? Will you help me down?
Will you get me right out of this Godforsaken town?
Will you make it all a little less cold?
I can do that
Oh, oh, now I can do that
Will you cater to every fantasy I got?
Will you hose me down with holy water, if I get too hot?
Will you take me places I've never known?
I can do that
Oh now, I can do that
I know the territory, I've been around
It'll all turn to dust and we'll all fall down
Sooner or later you'll be screwing around
I won't do that
No, I won't do that
Anything for love
But I won't do that
Lyrics © CARLIN AMERICA INC, Round Hill Music Big Loud Songs, Warner Chappell Music, Inc.
Written by: Jim Steinman

Lyrics Licensed & Provided by LyricFind
To comment on specific lyrics,
highlight them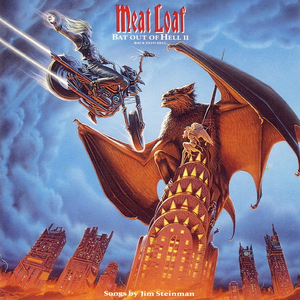 I'd Do Anything for Love (But I Won't Do That)
From the album Bat Out of Hell 2, the album that brought Meat Loaf back to fame in the '90s, this song was a massive hit and topped the chart around the globe.Unconventionally 12 minutes long.

Perceived ambiguity of "that"

Each verse mentions two things that he would do for love, followed by one thing that he will not do. The title phrase repetition reasserts that he "won't do that" previously stated one thing. Each mention of "that" is an anaphoric reference to the particular promise that he made earlier in the same verse.
Read Full Bio
From the album Bat Out of Hell 2, the album that brought Meat Loaf back to fame in the '90s, this song was a massive hit and topped the chart around the globe.Unconventionally 12 minutes long.

Perceived ambiguity of "that"

Each verse mentions two things that he would do for love, followed by one thing that he will not do. The title phrase repetition reasserts that he "won't do that" previously stated one thing. Each mention of "that" is an anaphoric reference to the particular promise that he made earlier in the same verse.

* "But I'll never forget the way you feel right now ..."
* "But I'll never forgive myself if we don't go all the way tonight ..."
* "But I'll never do it better than I do it with you ..."
* "But I'll never stop dreaming of you every night of my life ..."

In addition, the female vocalist predicts two other things that he will do: "You'll see that it's time to move on" and "You'll be screwing around". To both of these, he emphatically responds, "I won't do that!"

Some people misunderstand the lyrics, claiming that the singer never identifies what "that" thing is, which he will not do. Jim Steinman predicted this confusion during production and the confusion is encouraged by the fact that what the lyrics identify as things the singer wouldn't do for love, aren't things it would make any sense for someone to do for love in the first place. How could "forgetting the way you feel right now" be something I do for love? An early episode of the VH1 program Pop-up Video made this claim at the end of the song's video: "Exactly what Meat Loaf won't do for love remains a mystery to this day." A reviewer writing for Allmusic commented that "The lyrics build suspense by portraying a romance-consumed lover who pledges to do anything in the name of love except "that," a mysterious thing that he will not specify." The reviewer concludes that the mystery is revealed during the closing stages of the song, incorrectly implying that all references of "that" refer to the female vocalist's predictions at the end. Others assume that "that" is an exophoric reference to a sex act.

Meat Loaf says that the question, "What is 'that'?" is one of the most popular questions he is asked. In his 1998 VH1 Storytellers special, he even explained it on stage using a blackboard and a pointing stick. In a 1993 promotional interview, Jim Steinman states that the definition of "that" is fully revealed in the song in each of the several verses in which it is mentioned.

It's sort of is a little puzzle and I guess it goes by - but they're all great things. 'I won't stop doing beautiful things and I won't do bad things.' It's very noble. I'm very proud of that song because it's very much like out of the world of Excalibur. To me, it's like Sir Lancelot or something - very noble and chivalrous. That's my favorite song on the record - it's very ambitious.

Jimmy Steinman always said, "You know what? Nobody's gonna get it." And he was right.
—-Meat Loaf
Genre not found
Artist not found
Album not found
Search results not found
Song not found