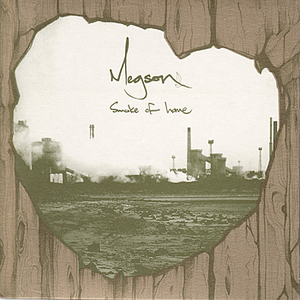 Everynight When The Sun Goes In
Megson are an English folk duo composed of husband and wife Stu Hanna and Debbie Hanna (nee Debbie Palmer).

The duo began in Cleveland, England. Moving to London in 2003, they quickly made a name for themselves on the folk circuit. By 2005 they had graduated to appearing at the Cambridge Festival. They were then invited to support Seth Lakeman on tour and picked up ringing endorsements from both Seth and from Radio 2's Bob Harris. They are becoming one of the major names in the bubbling UK folk/contemporary scene.
Read Full Bio
Megson are an English folk duo composed of husband and wife Stu Hanna and Debbie Hanna (nee Debbie Palmer).

The duo began in Cleveland, England. Moving to London in 2003, they quickly made a name for themselves on the folk circuit. By 2005 they had graduated to appearing at the Cambridge Festival. They were then invited to support Seth Lakeman on tour and picked up ringing endorsements from both Seth and from Radio 2's Bob Harris. They are becoming one of the major names in the bubbling UK folk/contemporary scene.

Debbie Palmer (now Debbie Hanna) provides a clasically-trained voice to match Stu Hanna's brilliant musicianship to stunning effect. The Megson sound is unique, refreshing and winning admirers both within and beyond the music industry.

Recordings commenced with "On the Side" in 2004 - a top quality mixture of folk classics and self penned more contemporary folk. In 2006 the EP "Megson" was released with new and live tracks -and shows a distinctive cutting edge sound which is clearly maturing into something very special indeed. In July 2007 the second full album, "Smoke of Home" was released (with production assistance from Sean Lakeman - ex Equation) - now followed in late 2008 by a homage to the folk songs of their home town - "Take Yourself a Wife".

After two albums looking back towards their roots maybe Megson should now return to the contemporary edged folk which won them such aclaim and which gave them such a fresh sound in a very competitve music genre? But Megson probably don't care - they are not in this for audience but for quality - and there is loads of that in whatever they do.

Megson are enchanting to see live - good looking, incredibly professional and nice people!
www.megsonmusic.co.uk
Genre not found
Artist not found
Album not found
Search results not found
Song not found