I am thinking it's a sign that the freckles
In our eyes are mirror images and when
We kiss they're perfectly aligned
And I have to speculate that God himself
Did make us into corresponding shapes like
Puzzle pieces from the clay
And true, it may seem like a stretch, but
Its thoughts like this that catch my troubled
Head when you're away when I am missing you to death
When you are out there on the road for
Several weeks of shows and when you scan
The radio, I hope this song will guide you home
They will see us waving from such great
Heights, 'come down now,' they'll say
But everything looks perfect from far away,
'come down now,' but we'll stay...
I tried my best to leave this all on your
Machine but the persistent beat it sounded
Thin upon listening
And that frankly will not fly. You will hear
The shrillest highs and lowest lows with
The windows down when this is guiding you home
Contributed by Riley T. Suggest a correction in the comments below.
To comment on specific lyrics,
highlight them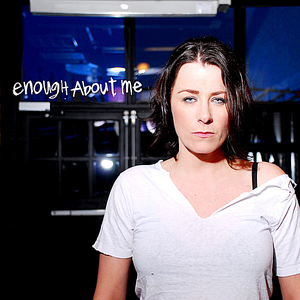 American singer-songwriter Melissa Ferrick (born September 21, 1970) emerged in 1991 as part of a group of new female alternative singer/songwriters, much in the vein of Liz Phair. Ferrick began singing in coffeehouses after dropping out of college, eventually winding up in Boston. Her major breakthrough arrived one night when she replaced Morrissey's opening act less than an hour before showtime. Ferrick's performance impressed Morrissey and he invited her to open for him during the rest of the tour.
Read Full Bio
American singer-songwriter Melissa Ferrick (born September 21, 1970) emerged in 1991 as part of a group of new female alternative singer/songwriters, much in the vein of Liz Phair. Ferrick began singing in coffeehouses after dropping out of college, eventually winding up in Boston. Her major breakthrough arrived one night when she replaced Morrissey's opening act less than an hour before showtime. Ferrick's performance impressed Morrissey and he invited her to open for him during the rest of the tour. The tour earned her a small cult following as well as a contract with Atlantic Records. She released her first studio album, Massive Blur, in 1993.

In 2000, Ferrick founded her own record label, Right On Records. The first studio album released on her own label was Valentine Heartache.

Her 2011 album was entitled "Still Right Here".

Website: www.melissaferrick.com
Genre not found
Artist not found
Album not found
Search results not found
Song not found