[Verse: 1]
I feel your presence next to me, I can't sleep, and panic while awake.
Each moment breaks my heart in two. Please take my soul where you're awake
I can't take much more of this pain
Chorus:
This heartache
Tears me apart
You're not heart with me
It's so hard to breathe
Flawless
Perfect and blessed
You were everything
That's meant for me
Verse 2:
You're speechless, breathless but I don't care. Since we're together again.
We won't be stopped they don't understand. Even if you can't breathe.
Chorus:
Bridge:
I can't take much more of this pain
Chorus:
Contributed by Sadie O. Suggest a correction in the comments below.
To comment on specific lyrics,
highlight them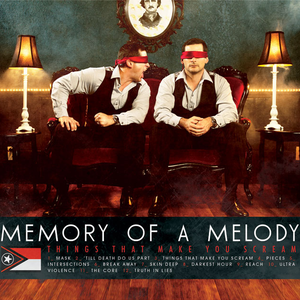 Memory of a Melody is a 5 piece from San Antonio, TX that was formed in 2008, by frontman Mario Galdos. The band began as a moderately heavy rock band but after lineup changes, and the arrival of guitarists, Wade Sigue, and Roel Castillo, Memory of a Melody's sound has developed into an intense and heavy sound that blends heavy metal guitars, thrashy drums, grooving bass, and melodic vocals to deliver a powerhouse of energy.

After winning the 2008 Kiss & Miller Lite Battle of the bands, the band grew quickly into a local success.
Read Full Bio
Memory of a Melody is a 5 piece from San Antonio, TX that was formed in 2008, by frontman Mario Galdos. The band began as a moderately heavy rock band but after lineup changes, and the arrival of guitarists, Wade Sigue, and Roel Castillo, Memory of a Melody's sound has developed into an intense and heavy sound that blends heavy metal guitars, thrashy drums, grooving bass, and melodic vocals to deliver a powerhouse of energy.

After winning the 2008 Kiss & Miller Lite Battle of the bands, the band grew quickly into a local success. The band gained early airplay with songs such as "Make Define" and "Pulse" and began to share the stage with bands such as Chevelle, 10 Years, Powerman 5000, Tantric, Adema, Cold and many more.

In 2010, the band began recording for it's first full-length record, scrapping it's previous material, and starting from scratch in an effort to create the perfect balance between energy and melody. A musical cocktail that can be heard on the album's first two releases "Mask" and "Break Away." To capture their sound, they enlisted producer Bryan Scott of Cult To Follow/Union Underground fame. The debut album, entitled "Things That Make You Scream" is set for release on September 27th, 2011, and is expected to be followed by an extensive tour schedule.


Memory of a Melody is:
Mario Galdos - vocals
Wade Sigue - lead guitar, backup vocals
Roel Castillo - rhythm guitar
Joel Martinez - bass
Robin Lopez - drums

For more info visist: www.thingsthatmakeyouscream.com
Genre not found
Artist not found
Album not found
Search results not found
Song not found