Embora a vida
não me trate com amor,
eu não me canso de viver,
não me canso de querer
ser da vida vivedor !
Mas, cada um
fia seu caminho ...
Cada qual
saiba do mal,
todo alguém
caiba no bem !
Vem,
tem quem fugindo dela
ache ela bem má ...
Sê quem siga
á vê-la bela
e com ela vá !
Agora a vida diz :
"me trate com valor,
que eu não me canso de viver,
não descanso de querer
ser a vida, vivedor ! "
Contributed by Vivian L. Suggest a correction in the comments below.
To comment on specific lyrics,
highlight them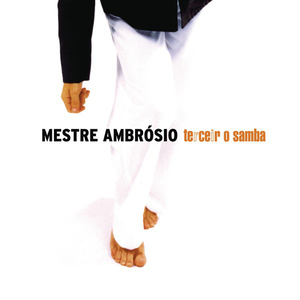 Mestre Ambrósio is a character in the Cavalo Marinho, traditional revelry of the Zona da Mata Norte of Pernambuco. The Cavalo Marinho is a variant of Bumba-Meu-Boi, a mixture of drama, music and dance. Mestre Ambrósio, or His Ambrose, or, Ambrose, is credited with introducing the various characters that appear in the game. It is therefore a symbol of diversity.

The character lends its name to the band recifense play traditional music of Pernambuco permeated by elements of several other rhythms of Brazil and the world.
Read Full Bio
Mestre Ambrósio is a character in the Cavalo Marinho, traditional revelry of the Zona da Mata Norte of Pernambuco. The Cavalo Marinho is a variant of Bumba-Meu-Boi, a mixture of drama, music and dance. Mestre Ambrósio, or His Ambrose, or, Ambrose, is credited with introducing the various characters that appear in the game. It is therefore a symbol of diversity.

The character lends its name to the band recifense play traditional music of Pernambuco permeated by elements of several other rhythms of Brazil and the world. Each member has a different musical background, ranging from classical music, through rock'n'roll, to the Cuban music and Afro rhythms.

In 1993, the first time, the trio decided to present only with traditional elements - there was thus a natural division in the repertory: Mestre Ambrósio Mestre Ambrósio Acoustic and Electric. Lacked a vocalist (Siba does not sing), and Sheena Lee joined the other "Ambrose" - the last to integrate the group were Maurício Alves and Sergio Cassiano.

The acoustic repertoire consisted of forrós "Pé-de-Serra" (rural influence), Bay Horse Marine, Cocos and instrumentation of bands Pífanos. Considering the varied musical backgrounds of the members, the reproduction of traditional could no longer be the line of work of Mestre Ambrósio Acoustic, resulting in forró "Wing-Walk". The "Wing-Walk" is the adaptation of forró Pé-de-serra "urban environment, mixed with various musical influences. Is "urban music of rural sentiment."

With the growth and recognition of the band, recording a CD was a natural step. But it was not possible to reconcile the two repertoires (acoustic and electric). The Coco and Maracatu spoke louder. With free adaptations of traditional rhythms, keeping the guitar and bass, set the profile music. Get the first CD, titled, independently produced. If Joseph and Zé Limeira Estrela Amazona, two clips of songs of this CD are run by MTV, and the success of the band begins to gain national coverage. If Zé Limeira Estrela Amazona is nominated for best video in the category Artist / Band revelation of the MTV Video Music Brazil 1996.

In 1997, after concerts throughout Europe and in Central Park, Master Ambrose moved to Sao Paulo, closed a deal with Sony and launched in the House of Fuá Cabral. Fuá is chosen best CD of the world in 1999 by critic Jon Pareles of The New York Times: "The songs rock Master Ambrose shows us the roots, history and possibilities. But above all, his leap into the future is at your tremendous vitality in the present. "

Even by Sony in 2001, it released the third CD Samba, considered more mature work and which best conveys the band's profile so far

Mestre Ambrósio is:
Hélder Vasconcelos: percussion, dance and voice
Maurício Alves: percussion, dance and voice
Mazinho Lima: bass, vocals
"O" Rocha: percussion and vocals
Sérgio Cassiano: percussion and vocals
Siba: guitarra, rabeca and voice
Genre not found
Artist not found
Album not found
Search results not found
Song not found