Every night she walks right in my dreams
Since I met her from the start
I'm so proud I am the only one
Who is special in her heart
The girl is mine
The doggone girl is mine
I know she's mine
Because the doggone girl is mine
I don't understand the way you think
Saying that she's yours not mine
Sending roses and your silly dreams
Really just a waste of time
Because she's mine
The doggone girl is mine
Don't waste your time
Because the doggone girl is mine
I love you more than he
(Take you anywhere)
Well I love you endlessly
(Loving we will share)
So come and go with me
Two on the town
But we both cannot have her
So it's one or the other
And one day you'll discover
That she's my girl forever and ever
I don't build your hopes to be let down
'Cause I really feel it's time
I know she'll tell you I'm the one for her
'Cause she said I blow her mind
The girl is mine
The doggone girl is mine
Don't waste your time
Because the doggone girl is mine
She's mine, she's mine
No, no, no, she's mine
The girl is mine, the girl is mine
The girl is mine, the girl is mine
The girl is mine, (yep) she's mine
The girl is mine, (yep) she's mine
Don't waste your time
Because the doggone girl is mine
The girl is mine, the girl is mine
Michael, we're not going to fight about this, okay
Paul, I think I told you, I'm a lover not a fighter
I've heard it all before, Michael, she told me that I'm her forever lover
You know, don't you remember?
Well, after loving me, she said she couldn't love another
Is that what she said?
Yes, she said it, you keep dreaming
I don't believe it
The girl is mine (mine, mine, mine)
Lyrics © Sony/ATV Music Publishing LLC
Written by: Michael Joe Jackson

Lyrics Licensed & Provided by LyricFind
To comment on specific lyrics,
highlight them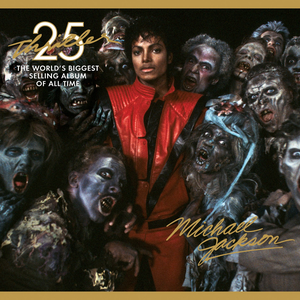 Michael Joseph Jackson (August 29, 1958 Gary, Indiana—June 25, 2009 in Los Angeles, California), was an American singer, songwriter and dancer. Dubbed the King of Pop, he is widely regarded as one of the most significant cultural figures of the 20th century and one of the greatest entertainers of all time. He was also known for his philanthropy, charitable fundraising, and lifestyle, residing in a private amusement park he called Neverland Ranch and often becoming the focus of tabloid scrutiny.
Read Full Bio
Michael Joseph Jackson (August 29, 1958 Gary, Indiana—June 25, 2009 in Los Angeles, California), was an American singer, songwriter and dancer. Dubbed the King of Pop, he is widely regarded as one of the most significant cultural figures of the 20th century and one of the greatest entertainers of all time. He was also known for his philanthropy, charitable fundraising, and lifestyle, residing in a private amusement park he called Neverland Ranch and often becoming the focus of tabloid scrutiny. Jackson's contributions to music, dance, and fashion, along with his publicized personal life, made him a global figure in popular culture for over four decades. Through his group, solo, and family work, he became one of the few artists to have been inducted into the Rock and Roll Hall of Fame twice. He was also inducted into the Dance Hall of Fame as the first (and currently only) dancer from the world of pop and rock 'n' roll. Jackson's other achievements include 39 Guinness World Records—including one for "Most Successful Entertainer of All Time"—13 Grammy Awards as well as the Grammy Legend Award and Grammy Lifetime Achievement Award, 26 American Music Awards, 16 World Music Awards and the estimated sale of up 750 million units worldwide. Winning countless awards for his humanitarian endeavors, the singer has been honored by two Presidents of the United States. He has also been named as the artist of "the Decade", "Generation", "Century", and "Millennium" and was inducted into the Songwriters Hall of Fame in 2002. Jackson has also won hundreds of other awards, making him the most awarded recording artist in the history of popular music. He is also credited for popularizing many physically complicated dance moves, such as the robot and the moonwalk, and has influenced and spawned a whole generation of a wide variety of artists including Justin Timberlake, Mariah Carey, and The Weeknd, among others.

Jackson's musical career began in 1967 as lead singer of The Jackson 5, when the group made their first recording with a local label before signing up with Motown Records in 1968. He made his first solo recordings in 1971 while still a member of the group. But it was Off the Wall (1979) which marked the start of his full-fledged solo career, and he formally parted with his siblings in 1984. In his solo career, Jackson recorded and co-produced the best-selling album of all time, Thriller (with worldwide sales over 100 million), received thirteen Grammy awards and charted thirteen #1 singles in the U.S. Throughout his four-decade career, Michael Jackson has been awarded numerous honors, including the World Music Awards Best-selling Pop Male Artist of the Millennium. He is also a double-inductee into the Rock & Roll Hall of Fame, as a member of The Jackson 5 in 1997, and in 2002 as a solo artist. He is also a member of the Songwriters Hall of Fame. In the mid-1980s, TIME magazine described Jackson as "the hottest single phenomenon since Elvis Presley". He has had a notable impact on music and culture throughout the world while also tearing down racial barriers and paving the way for modern pop music.

From 1988 to 2005, Jackson lived on his Neverland Ranch property, on which he built an amusement park and private zoo for the enjoyment of economically disadvantaged and terminally ill children. In 1993 and 2003, separate accusations of child molestation that allegedly occurred in Neverland were made against Jackson, which drew intensely negative media coverage. While he was never charged for the first case, Jackson was tried and vindicated in 2005 of the latter allegation, but moved out of the US shortly thereafter. He later returned to Las Vegas in early 2007.

In the years following his acquittal, (2005-2009) Jackson made numerous public appearances including MTV Japan's VMA awards where he accepted the legends award; the World Music Awards where he accepted the Diamond Award for selling over 100 million records; James Brown's funeral where he paid tribute and delivered a sermon; and a fan appreciation event in Tokyo, Japan, where he greeted troops at US Army base Camp Zama. In early 2008, Jackson issued Thriller 25th Anniversary, a critical and commercial success that was the second-biggest selling album of 2008 with over 2.1 million copies sold worldwide.

On June 25, 2009, Jackson collapsed at a rented home in Holmby Hills in Los Angeles, California. The cause of death is currently believed to be cardiac arrest. At the time of his death, Jackson was scheduled to perform 50 sold-out concerts to over one million people, at London's O2 arena, from July 13, 2009, to March 6, 2010. During a press conference, Jackson made suggestions of possible retirement.

In the hours following Jackson's death, his record sales increased dramatically. His seminal album Thriller climbed to number one on the American iTunes music chart, while another eight made it into the top 40. In the UK, where Jackson would have performed less than three weeks after his death, fifteen of his albums occupied the top 15 spots on the Amazon music chart. Social music network website Last.fm also saw a dramatic increase in Michael Jackson plays per hour after the announcement of his death.

On December 10, 2010, a compilation album of previously unreleased material, simply entitled Michael, was released posthumously. Featuring guest performances by Akon, 50 Cent and Lenny Kravitz, the album was certified Platinum in 18 countries but received mixed reviews from most critics. This was followed in November 2011 by Immortal, a remix album; in September 2012 by Bad 25, a 25th anniversary reissue of Jackson's 1987 hit album Bad; and by Xscape, a second compilation album released in May 2014.

Official Website: http://www.michaeljackson.com
Genre not found
Artist not found
Album not found
Search results not found
Song not found