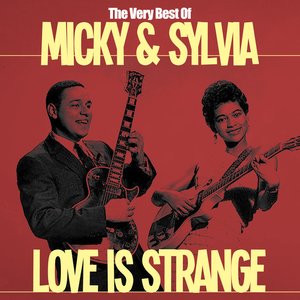 Mickey & Sylvia was an R&B duo composed of Mickey "Guitar" Baker and Sylvia Van der Pool Robinson. They were the first big seller for Groove Records. Mickey "Guitar" Baker was a music instructor, and Sylvia Robinson was one of his pupils. His guitar stylings, especially the insane soloing on "Love Is Strange", inspired a plethora of guitarists, including Sterling Morrison of the Velvet Underground. Mickey & Sylvia had a hit with "Love Is Strange" in 1957. They continued to record together until 1965. After that, Mickey had a successful career as a studio musician. Sylvia had a huge hit
Read Full Bio
Mickey & Sylvia was an R&B duo composed of Mickey "Guitar" Baker and Sylvia Van der Pool Robinson. They were the first big seller for Groove Records.

Mickey "Guitar" Baker was a music instructor, and Sylvia Robinson was one of his pupils. His guitar stylings, especially the insane soloing on "Love Is Strange", inspired a plethora of guitarists, including Sterling Morrison of the Velvet Underground.

Mickey & Sylvia had a hit with "Love Is Strange" in 1957. They continued to record together until 1965. After that, Mickey had a successful career as a studio musician. Sylvia had a huge hit (#1 R&B, #3 Pop) in 1973 with the song "Pillow Talk", and later assisted in the formation of the Sugar Hill rap label.

"Love Is Strange" appeared on the soundtrack to Dirty Dancing.
Genre not found
Artist not found
Album not found
Search results not found
Song not found
We have lyrics for these tracks by Mickey & Sylvia:



I You went away and left me long time ago And now…
I Hear You Knocking You went away and left me long time ago And now…
Let's Have a Picnic Let's have a picnic on a winter cloudy day No I…
Love is a strange Love Love is strange Lot of people Take it for a game On…
Love Is Strange Love Love is strange Lot of people Take it for a game Once y…
No Good Lover Every night I turn to you But you turn away I know…

We have lyrics for these tracks by Mickey:

Choo Choo Boogie Pardon me boy, is that the Chattanooga Choo Choo? Track twe…
I'll Be There Well, I'll Be Doggone if I would work all day And…
It Well, you're dirty and sweet Clad in black, don't look…
It's My Man Oh, the sun's gonna come up tomorow And I'm gonna live…
Love For Sale I'm just a fool for you, baby I'm just a fool…
mickey It's Mickey's countdown Oh boy Come on and count with Mick…
Por Tu Culpa Dicen que te deje de pensar Que no eres para mí Que…
You Know The Beat You give your hand to me and then you say…

We have lyrics for these tracks by Sylvia:

Anytime I've been working hard these days I go in early, come…
Automatic Lover I am your automatic lover Automatic lover I am your automati…
Bobby's In Vicksburg Fire burns in the street below Such is the fate of…
Cry Baby Cry Cry, baby, no, I don't mind You can be a baby,…
Cry Just A Little Bit Everytime you have to whisper good-bye Well I cry just a li…
Didn't I Didn't I turn you baby in? Didn't I tell you my…
Don When I said I needed you You said you would always…
Drifter Drifter, since you left me I've been cryin' every day You kn…
Eyes Like Mine You feel like it's real this new love you found Does…
Fallin' in Love Love walked right in and drove the shadows away Love walked…
I You feel so close, how could you be gone? My dream…
I'll Make It Right with You When her love turns as cold as December, When you try…
It Oh the weather outside is frightful But the fire is so…
It's Good to Be the Queen Ahh, ooh, ahh, ohh, ahh, ohh, ahh, ohh I'm Sylvia, that's…
L.A Sunshine L.A. sunshine Can't compare with candlelights and you The sc…
Mirage The milky way and the moon Made a romantic night Perfect in…
My Thing CHORUS: I don?t want nobody in the world, Messin? around wit…
No News Is Good News Every night I turn to you But you turn away I know…
Nobody Sittin' in a restaurant she walked by I seem to recall…
Pillow Talk Hey baby, let me stay. I don't care what your friend's…
Snapshot I found a ciggarette, circled with lipstick and the lingerin…
So Complete What good is a deck of cards Without the king of…
Sweet Stuff Hey there sweet stuff You're kind of getting next to my…
Sweet Yesterday A room full of memories I still feel your touch Everywhere I…
The Boy Gets Around They say behind those eyes, Beats a heart as cold as…
Tonight I'm Gettin' Friendly With The Blues We went through the house today Divided up our stuff I got…
Tumbleweed Tumbleweed, you're living a cowboy's dream Tumbleweed, freed…
You Flew in this morning on the 8-0-5 Had a couple of…
You Sure Love To Ball Ooh, baby Please turn yourself around Ooh, baby So I can lov…
You're a Legend in Your Own Mind (Ode to T.C.) You think everybody's watching As you pull up in your black…

The lyrics can frequently be found in the comments below, by filtering for lyric videos or browsing the comments in the different videos below.