Reflections
Mirror Lyrics
Through the mirror of my mind
Time after time
I see reflections of you and me
Reflections of
The way life used to be
Reflections of
The love you took from me
Oh, I'm all alone now
No love to shield me
Trapped in a world
That's a distorted reality
Happiness you took from me
And left me all alone
With only memories
Through the mirror of my mind
Through all these tears that I'm crying
Reflects a hurt I can't control
Although you're gone
I keep holding on
To those happy times
Oh, girl when you were mine
As I peer through the windows
Of lost time
Keeping looking over my yesterdays
And all the love I gave all in vain
(All the love) All the love
That I've wasted
(All the tears) All the tears
That I've tasted
All in vain
Through the hollow of my tears
I see a dream that's lost
From the hurt baby
That you have caused
Everywhere I turn
Seems like everything I see
Reflects a hurt I can't control
In you I put
All my hope and trust
Right before my eyes
My whole world has turned to dust
Reflections of
The love you took from
Reflections of
The way life used to be
In you I put
All my hope and trust
Right before my eyes
My whole world has turned to dust
Now baby, why did you do it?
Reflections
Lyrics © Sony/ATV Music Publishing LLC
Written by: BRIAN HOLLAND, EDWARD HOLLAND, EDWARD JR. HOLLAND, LAMONT DOZIER, LAMONT HERBERT DOZIER

Lyrics Licensed & Provided by LyricFind
To comment on specific lyrics,
highlight them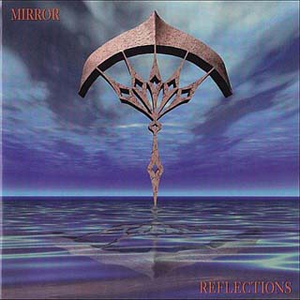 1) Mirror is a Dutch Symphonic progressive Rock band formed in 1972. At the time of its formation, the band was a four piece consisting of high school friends Kees Walravens on guitar, Johan Saanen on bass guitar and vocals, Paula Mennen on piano, organ, synthesizer and vocals, and Peter Fransen on drums. In 1973 the band expanded its line-up with the addition of Philip de Goey on saxophone, woodwinds, and oboe. Their sole album was recorded over six days at the Stable Studio in Arnhem, The Netherlands.
Read Full Bio
1) Mirror is a Dutch Symphonic progressive Rock band formed in 1972. At the time of its formation, the band was a four piece consisting of high school friends Kees Walravens on guitar, Johan Saanen on bass guitar and vocals, Paula Mennen on piano, organ, synthesizer and vocals, and Peter Fransen on drums. In 1973 the band expanded its line-up with the addition of Philip de Goey on saxophone, woodwinds, and oboe. Their sole album was recorded over six days at the Stable Studio in Arnhem, The Netherlands. The album was titled Daybreak and was released in 1976, pressed in only 500 copies. The music is mainly instrumental and is influenced by Focus, Yes, and Pink Floyd. After the release of the album Mirror toured their native Holland extensively. But internal disagreements soon led to the departure of Johan Saanen and the band finally split up in late 1976.


2) Mirror are a four piece math/post-rock band from Tokyo, Japan formed in April 2003 under the name "Journal Spy Effort" as a three piece band. They release one EP in 2004 (and a self produced-demo) under this name before deciding to change their name in November 2006 to Mirror. The 10th of July 2007 saw the release of their first full-length album "On, then, in" on the CATUNE indie label. Currently the band consists of founding members, キモトタカヒロ(Kimoto Takahiro) on guitar and カネダマサシ (Masashi Kaneda) on bass guitar. モリケンシロウ (Kenshiro Mori) and フクヤマダイスケ (Daisuke Fukuyama) both joined the band in January 2007 and play second guitar and drums respectively completing the current four member line-up. Past drummers were Satoshi Shimomura, from April 2003 to December 2004, and Taisuke Okura, from December 2004 to January 2007.

3) Cinematic, electronic pop music from Vancouver based Thomas Anselmi's multi-media show MIRROR, featuring Depeche Mode singer Dave Gahan, Warhol superstar Joe Dallesandro, Bowie pianist Mike Garson, and introducing chanteuse Laure-Elaine and teen actress Frances Lawson.

4) Mirror is the collaborative effort between Andrew Chalk and Christoph Heemann that existed from 1999 - 2005, with occasional participation of guest artists such as Andreas Martin and Jim O'Rourke on some releases and live events.

5) Mirror (sometimes rendered as MIRЯOЯ) is an independent rock band composed of four German-American Berliners who make an eclectic mix of progressive, blues, folk, and hard rock. The core lineup consists of Jish Rogers (bass), Josh Bremer (drums), Mikey Kliegl (lead guitar & keyboard), and Hannes Hambrecht (vocals & rhythm guitar). Their first and only release to date was 2004's Shards & Raindrops EP.

6) Another Band from Moscow, Russia also goes by the name of: Mirror. http://vk.com/visualmirror and https://www.facebook.com/visualbreeze?fref=ts Are their two main Web Sites. Mike Breeze is the sole Mastermind behind two Bands: Mirror and also: Solowshow. Their Sound can be compared to the likes of Queen, X Japan, Gorky Park. Though there are two Bands with Mike Breeze....They are both active. Solowshow is more on the Acoustic Rock. Mirror is more on the Glam Rock, Glam Metal side of Music.
As of 2012 the lineup of the Band is as follows:
Mirror; 1. Mike Breeze = Vocals, Piano and Bass, Ian Weid = Drums, Ramin Andarmani = Guitar
All updated information on Mirror (The number 6 one in the above list) can be found here on their official Band Web Site: http://veddma.com/mirror/news.php Also, check out Mike Breeze's other Band Solowshow* : http://www.last.fm/music/Solowshow

UPDATED INFORMATION FOR : Mirror (Moscow):
MIRROR is a rock/metal band from Germany, founded by Mike Breeze, who was born in Moscow and moved to Germany after he graduated school.

MIRROR use lots of incfluences, such as visual kei, glam, gothic, classical music and folklore (mostly Russian), that create an original kaleidoscopic sound.

MIRROR released 2 albums:
"Shocking Debut" (2007),
"Valentine's Eve" (2012)
and 4 singles (each including non-album tracks):
"Red Dye" (2006),
"Heart Of Ice" (2007),
"Valentine" (2008),
"Glitter Critter" (2012).

MIRROR had played the first gig in 2002 and since the second gig in 2004 the line-up never changed:
Mike Breeze (vocals, piano, bass, balalaika, occasional guitars),
Ramin Andarmani (guitars, backing vocals)
Ian Weid (drums, backing vocals).

In 2005 Mike played a solo piano gig featuring mostly piano versions of Mirror songs, and Leif Astroid (aka Dancette Pleasure from German glam rock band The Pleasures) sang "Heart Of Ice" as special guest.
It worked so well that Mike and Leif decided to continue joint work in the studio, as well as on stage.

At first, it all took place as part of MIRROR recordings and live gigs, and sometimes as "Mike+Leif" live gigs - as a kind of side project.
The duet gradually evolved into a real band and the name SOLOWSHOW* was chosen.
SOLOWSHOW* concentrates on unplugged music in the studio and live, while the music is influenced by the same rock / metal, / visual kei / glam / goth kaleidoscope like MIRROR's music, plus lots of drama and cabaret elements.

SOLOWSHOW*'s line-up never changed since its first appearance in 2005:
Mike Breeze (piano, acoustic guitar, vocals),
Leif Astroid (lead vocals, keyboards, occasional percussion).

SOLOWSHOW* released an album that was titled after the band's style with the self-created word "Visuacoustic" (2012).
After that, the band immediately started working on the 2nd album...

The single "The Won" (2014) was first aired on 23. May 2014, Friday, ~6 pm CET (Berlin time) - ~midnight EST (Pennsylvania time) on American DJ CyberMusicLover's show on Power92-Radio.com (also aired via Nokia, Nobex, Global, Virtual Radio, Radio Tuna, Tunein Radio, iTunes).

SOLOWSHOW* constantly tour all over Germany and sometimes in Mike's home country - Russia, but also plan to expand their territories.

MIRROR and SOLOWSHOW* official sites:
www.mirror.veddma.com
www.solowshow.veddma.com
www.youtube.com/visualmirror
Genre not found
Artist not found
Album not found
Search results not found
Song not found