You grabbed your keys, ran out the door
You couldn't take it anymore
There's no around, there's only through
And me concerned, with where I stood
I didn't see you as I should
And the measure of the space between
It's you and me and we're keeping it all
We're taking the hits and we're not gonna fold
So just stay close to me, it's where you'r suppose to be
Everybody bleeds, but we hold on
We raise a curtain, set the scene
I never planned to be so mean
And I don't want to anymore
I took a drive to clear my head
Went over everything you said
It's the same, this old routine
It's you and me and we're keeping it all
We're taking the hits and we're not gonna fold
So just stay close to me, it's where you'r suppose to be
Everybody bleeds, but we hold on
We hold on…
It's you and me and we're keeping it all
We're taking the hits and we're not gonna fold
So just stay close to me, it's where you'r suppose to be
Everybody bleeds, but we hold on
Contributed by Isabelle D. Suggest a correction in the comments below.
To comment on specific lyrics,
highlight them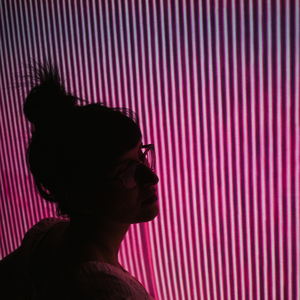 Singer, songwriter and producer Latifah Phillips opens her heart and soul on Moda Spira, an album marked by an uncommon emotional honesty and melodies brimming with tenderness. Her intimate vocals are complimented by music that wraps you in its comforting warmth and draws you into the embrace of the heart's deep core. "In Latin, moda spira means the continual act of breathing," Phillips says. "I began writing to explore what intimacy means, in all its beautiful and maddening aspects.
Read Full Bio
Singer, songwriter and producer Latifah Phillips opens her heart and soul on Moda Spira, an album marked by an uncommon emotional honesty and melodies brimming with tenderness. Her intimate vocals are complimented by music that wraps you in its comforting warmth and draws you into the embrace of the heart's deep core. "In Latin, moda spira means the continual act of breathing," Phillips says. "I began writing to explore what intimacy means, in all its beautiful and maddening aspects. There are times in relationships that are so intense, you find yourself saying, 'Just keep breathing!' Like loving, breathing is something you have to do everyday to feel alive. Moda Spira felt like the perfect title for this project."

The songs on Moda Spira evolved during a period of intense emotional turmoil that led Phillips to a greater understanding of her personal and musical journey. "Loving someone has deep challenges, because we're all a mess, but it's a worthy path. The songs flowed out of a scary, hard, complicated, wonderful, growing and loving season. I'd capture ideas on a voice memo, or record melodies walking down the street, whenever I had a moment of inspiration. After two years, I had a full record."

As the music evolved, Phillips began collaborating with producer and multi-instrumentalist Jordan Brooke Hamlin (Indigo Girls, Lucy Wainwright). Together, they crafted arrangements and finished writing songs that embraced '90s R&B, '80s pop and cinematic indie rock. They stayed open to finding new sounds that moved them. "We discovered a lot of new sounds and techniques," Phillips says. "Some were terrible; some were amazing," she laughs. "We kept the amazing stuff."

The songs on Moda Spira follow a relationship as it moves through infatuation, passion, familiarity and tribulation, finally emerging triumphant, infused with a renewed belief and hope in the growing process of learning to love yourself and others. "She Whispers" opens the album with warm, wistful piano tones and the gentle heartbeat of a kick drum, suggesting the calm before the storm. Jordan's aggressive guitar and a funky percussion loop back a vocal full of hopeful melancholy as Phillips embraces the light slowly emerging from the darkness. "Love is the light no shadow can touch," Phillips says. "It's the faith that the darkness can not consume you."

"In the Fight" describes the dawning realization that intimacy, despite it joys, is never an easy path. "Opening yourself exposes everything, good and bad," Phillips says. "You have to decide how to reveal the things that often go unsaid." This tension is expressed by a swirling, multi-tracked vocal, chiming piano and cinematic washes of synthesizer. A thumping, hypnotic kick drum loop gets more and more funky as Phillips takes the song home with a fervid vocal. Ominous keyboards support Phillips on "Playback," the darkest song on the album. "When you're in conflict, you have to be careful about the words you say," Phillips says. "You can apologize, but can't unsay what has been said." The song grows chaotic and intense as it progresses, mimicking the frustration of a quarrel, with waves of competing vocals and drum loops. The smooth groove of "Bet on Me" pays tribute to Sade and other R&B icons, with muted guitar, subtle bass and bubbly toms. "I wanted to get a sonic sensibility that referenced some of my favorite artists," Phillips says. "I especially love Jordan's bluesy, B.B. King style guitar solo on the coda."

Near the end of the album, Phillip's hushed piano drifts into "Stillness," a classically flavored instrumental that provides a moment to reflect and absorb the emotions she's been stirring up. The slowly unfolding, waltz-like sonata has a soothing effect, suggesting the effortless slide into peaceful, dreamless sleep.

"Shaking the Walls" is pure pop, the album's most jubilant track. Its dreamy verses build to a soaring bridge, marked by multi-tracked, call and response vocals, accented by live tom toms that suggest the crumbling of the walls that keep lovers from making genuine connections. Phillips shows her gospel roots on "The Hard Way." Her hushed vocal, and sustained notes from her Juno Arp, cast a hypnotic spell, as she slips into a soft moan to express feelings beyond words. The track concludes with her multi-tracked vocals, mimicking the ecstasy of a Sunday morning choir, promising unconditional support, even in life's darkest moments. "We'd like to believe we don't have to learn life's lessons the hard way," Phillips says, "but nobody's perfect. We all learn the hard way."

Phillips has a long resume that includes time as a solo artist and work with Page CXVI, a band that reinterprets traditional hymns, the indie rock band Autumn Film and Sola-Mi, an experimental trio. She has produced albums for indie artists, including A Boy & His Kite, helping them place "Cover Your Tracks" on the soundtrack for Twilight: Breaking Dawn, Part II. Her songs have been featured on One Tree Hill, The Gates, Lifetime Films and the film The House at the End of the Street. She's also composed incidental music for MTV and E! Moda Spira is her return to solo performing. She plans to support the album with selected dates, both alone and with multi-media pop up shows, featuring video, dancers, live painting and other surprises.

"Moda Spira is my first solo venture in ten years," Phillips says. "The songs are all dear to me, so I gave myself permission to be vulnerable. If you're feeling down and lost, this record will let you know that you're not alone and help you to keep moving forward."
Genre not found
Artist not found
Album not found
Search results not found
Song not found