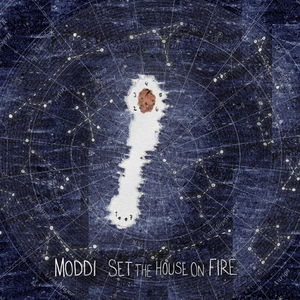 Pål Moddi Knutsen (born February 18, 1987) is a Norwegian musician from the island Senja. Moddi is self-taught, counting accordion and acoustic guitar as his main instruments. His music has been described as a blend of folk music, pop and post-rock.

www.moddi.no
Genre not found
Artist not found
Album not found
Search results not found
Song not found
For An Unborn
Moddi Lyrics
We have lyrics for these tracks by Moddi:



7! That your friends hid beneath the same flag as your…
A Sense Of Grey Don't ask if you don't wanna know There's no one…
Ardennes ...but I still find cracks in this thin crust small stains…
Blå Kveill Se, no stijlne aille båran og det skjømmest mens æ ror. Det…
Eli Geva The dogs of war are loose again Cold blows the wind…
En sang om fly Eg vil se verden, sånn som alle ainner heller gjere nån…
Floriography Our veins are too thin for all our blood to…
Grønt Lauv I Snyen Eg har en liten åker en åker der eg sår men lang…
Heim Kanskje va det nån som ropte og kanskje va det bære…
House by the Sea They say home is the place where your heart is Then…
Let the Spider Run Alive As you wake up the lights are all out the air…
Magpie Eggs Looks like you've been eating magpie eggs again 'Cause your…
Mannen I Ausa Mannen i Ausa Yst utpå yttersia av Senja bodde to…
Moonchild I ran away with all the rain Still dripping from my…
Noens Ark Har du hørt historia om gamle Noahs ark om då fast…
Nordnorsk Julesalme Velsegna du dag over fjordan, velsegna du lys over land Vels…
Northern Line The ink wouldn't dry and the snow didn't melt so I…
One Minute More "One step, you're just one step from perfection" she held…
Poetry I'll bury my downcast hours in transparent ink Tie myself t…
Rubbles These rivers are rain from a summer gone by Dragging the…
Silhouette ...and then came the waves on our boats on our boats the…
Smoke It's there, it's where, it begins, And it's calling your na…
Soon You'll Be Somebody Else if you keep changing yourself than soon youll be somebody el…
Stuck in the Waltz I knew I'd heard it before as I fell to…
The Architect My god where have you gone? I've been looking for you…
Togsang Leite mot nord, i mot nord førr å finne deg Vind…
Vi Slakta Sau Vi slakta sau. Vi lærte ord som marlake og bottlangsbror. Kv…

The lyrics can frequently be found in the comments below, by filtering for lyric videos or browsing the comments in the different videos below.