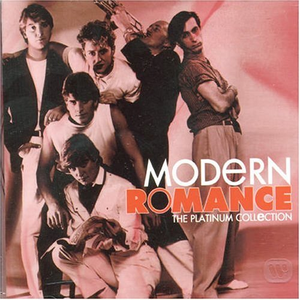 Modern Romance first hit the UK charts in 1981. They came into being after The Buzzards (formerly punk band The Leyton Buzzards) split in 1980. Long time friends Geoffrey Deane and David Jaymes, who had formed The Leyton Buzzards in 1976, joined forces with John Du Prez, Robbie Jaymes, Paul Gendler and Andy Kyriacou to create an irresistible blend of funk and salsa. Deane left in 1982 to chase a solo career. He ended up as a writer and was the screenwriter for the hit film Kinky Boots.
Genre not found
Artist not found
Album not found
Search results not found
Song not found
We have lyrics for 'after all this time' by these artists:



B.B. Seaton So many long years since our paths in life have…
Babbie Mason After all this time together Looking back across the years T…
Brandon Jenkins After all this time, I'm still haunted by your memory usual…
Carole King Ooh hoo I get a feelin' Every night when you come home Th…
Charley Pride After all this time I should be over you I…
Darden Smith Talk about love, talk about living Talk about trying to be…
Itchyworms Walking away, From what I thought would never end Looking o…
John Hiatt After all this time I'm glad your loving me 'cause after a…
Jonathan Peters feat. Sylver I close my eyes I don't want to see no more Because…
Kings Road At the end of the street By the park carved in…
Merry Clayton Ooh, I get a feeling every night When you come home That…
Rodney Crowell There were trains And we out-run 'em There were songs And…
Simon Webbe After all, the broken stones That were thrown, for no good…
Snape Why do I push you aside? I never feel alive I was…
The Beautiful Girls 'romeo' said juliette, 'could you take me away from this?' …
Think Out Loud We used to think our love would be a fantasy But…
Tony Hadley Your promises are perfect Courage makes us strong Holding …
Webbe Simon After all, the broken stones That were thrown, for no good…
Wesley Park & Smith Talk about love, talk about living Talk about trying to be…
When Tigers Fight You'd better believe it - playing a role Love it…
Winger If I said that I need you Will it make you…



We have lyrics for these tracks by Modern Romance:



Ay Ay Ay Ay Moosey Verse 1 Now When I Hear Those Trumpets And Congas Start…
Band of Gold Now that you're gone All that's left is a band of…
Best Years of Our Lives Best years of our lives I ask you the questions but…
Don't Stop That Crazy Rhythm The music's getting closer stay around, just wait and see Ge…
Everybody Salsa Verse 1 Now what's that crazy rhythm coming from the street …
Just My Imagination Each day through my window I watch her as she…

The lyrics can frequently be found in the comments below, by filtering for lyric videos or browsing the comments in the different videos below.