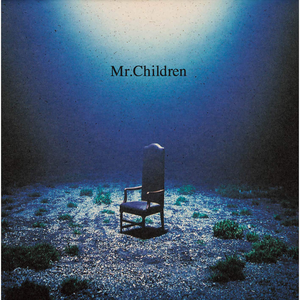 Mr.Children or Misuchiru as they are known to their fans is a famous Japanese po…
Read Full Bio ↴
Mr.Children or Misuchiru as they are known to their fans is a famous Japanese pop/rock group formed in 1989 by Kazutoshi Sakurai, Kenichi Tahara, Keisuke Nakagawa, and Hideya Suzuki.

Mr.Children is one of the most popular bands in Japan. They made their major debut in 1992 with the release of their first album, "EVERYTHING", but it wasn't until one of their singles was used as a drama theme song, like their fourth single "Cross Road", that they started getting noticed. They got their big break in 1994 with the release of their fifth single, "innocent world", which made record sales and earned the Japan Record Award in 1994. Their fourth album, "Atomic Heart", which was released in the same year, is still their top selling album to date. Since then, all their singles have been number one hits in the Oricon charts like "Tomorrow never knows" and "Namonaki-uta", and many of them became million sellers, and they've produced other noteworthy albums.

In 1997, they took a long vacation, and came back to the Japanese music scene the next year with the single "Owari-naki-tabi."

Their sound is essentially a blend of light pop and classic rock. But due to the band's inclination to experiment with various music styles, their sound is constantly evolving. They have delved into various types of rock as well as jazz, blues, folk, country, and dance. Despite this constant change, however, their music has progressed successfully, proving them to be a versatile band that can last.

The main force behind the band is their singer and songwriter, Kazutoshi Sakurai, who composes almost all of their songs. The rest of the band include Kenichi Tahara on guitar, Keisuke Nakagawa on bass, and Hideya Suzuki (Jen) on drums and backing vocals. They also have supporting musicians on keyboards, guitar, brass instruments (trumpet and saxophone), and computer programming for their tours because they usually embellish their recordings.

It must be noted that a good part of what makes Mr.Children's songs unique is Sakurai's remarkable vocal ability. His vocal range is higher than the typical male range, and he sings with a noticeable Western style. Also, it is because he is influenced by the great classic rock artists of the '60s and '70s (in particular, the Beatles and the Rolling Stones) that the band's music usually has a classic rock feel. But being the vocalist of the band doesn't prevent him from sometimes sharing guitar solos with Tahara, or playing them by himself. He also plays the piano and harmonica proficiently.

Tahara and Nakagawa are the quietest members of the group, often choosing to remain in the background when the band appears on TV shows. Jen seems to be the most extroverted member who takes his top off onstage at any opportunity. He also always matches Sakurai's sense of humor. They are all very talented musicians who make vital contributions to the band.

On December 31, 2004, their song "Sign," was again awarded the Japan Record Award, ten years after the first.

Mr. Children has a long-time association with the Toys Factory record label.
Jump to: Overall Meaning ↴ Interesting Facts ↴ Line by Line Meaning ↴
あのニュースキャスターが人類を代弁して喋る
"また核実験をするなんて一体どういうつもり?"
愛にしゃぶりついたんさい
愛にすがりついたんさい
やがて来る"死の存在"に目を背け過ごすけど
残念ですが僕が生きている事に意味はない
愛せよ目の前の不条理を
憎めよ都合のいい道徳を
そして僕に才能をくれ
見えない敵にマシンガンをぶっ放せ Sister and Brother
正義も悪もない この時代を行進していく兵士です
殺人鬼も聖者も凡人も共存してくしか ないんですね
触らなくたって神は祟っちゃう
救いの唄は聞こえちゃこないさ
参考書を持って挑んだんじゃ一生 謎は解けぬ
良識を重んじてる善人がもはや罪だよ
愛せよ目の前の疫病を
憎めよ無能なる組織を
そして僕にコンドームをくれ
僕は昇りまた落ちてゆく 愛に似た金を握って
どうせ逆らえぬ人を殴った 天使の様な素振りで
毒蜘蛛も犬も乳飲み子も共存すべきだよと言って
偽らざる人がいるはずないじゃん
この現実に目を向けなさい
Oh... Yeah...
愛せよ単調な生活を
鏡に映っている人物を
憎めよ生まれてきた悲劇を Oh...
飼い慣らされちまった本能を
そして事の真相をえぐれ
見えない敵にマシンガンをぶっ放せ Sister and Brother
天に唾を吐きかけるような行き場のない怒りです
宗教も科学もUFOも信じれるから悲惨で
絡まりあって本心偽って
めくるめくのevery day
僕は昇りまた落ちていく
何だってまかり通る世界へ Oh...
Overall Meaning
The first line of the song, "That news anchor speaks on behalf of humanity," sets the scene for a song that touches on themes of societal injustice, the futility of life and war, and the human condition. The lyrics further describe the sense of dissonance and despair that many feel when faced with the harsh realities of society. The line "It's a shame that there's no meaning behind me being alive," encapsulates this feeling of disillusionment.
The song also deals with the necessity of love and hate in an unjust and imperfect world, with the lyrics urging the listener to embrace the irrational and to use their talents to affect positive change. The final lines of the song invite us to confront harsh truths, with the idea that true reality can be discovered by challenging our base instincts and delusion.
Overall, マシンガンをぶっ放せ is a poignant and thought-provoking song that touches on many powerful themes and emotions.
Interesting facts about the song:
Interesting Facts
Note: This section uses generative AI, which can be inaccurate.


Line by Line Meaning
あのニュースキャスターが人類を代弁して喋る
Speaking on behalf of humanity, that newscaster says, 'What are you thinking conducting nuclear tests again?'
愛にしゃぶりついたんさい
I was addicted to love.
愛にすがりついたんさい
I clung to love.
やがて来る"死の存在"に目を背け過ごすけど
Even though I try to avert my gaze from the impending 'presence of death' that will soon arrive,
残念ですが僕が生きている事に意味はない
It's a shame, but there is no meaning to my existence.
愛せよ目の前の不条理を
Love the absurdity in front of your eyes.
憎めよ都合のいい道徳を
Hate the convenient morals.
そして僕に才能をくれ
And give me talent.
見えない敵にマシンガンをぶっ放せ Sister and Brother
Shoot a machine gun at unseen enemies, sisters and brothers.
正義も悪もない この時代を行進していく兵士です
We are soldiers marching through an era with neither justice nor evil.
殺人鬼も聖者も凡人も共存してくしか ないんですね
We have no choice but to coexist with murderers, saints, and ordinary people.
触らなくたって神は祟っちゃう
If you don't touch it, God will still punish you.
救いの唄は聞こえちゃこないさ
I can't hear the song of salvation.
参考書を持って挑んだんじゃ一生 謎は解けぬ
If you confront it with textbooks, the mystery will remain unsolved forever.
良識を重んじてる善人がもはや罪だよ
A good person who values common sense is now a crime.
愛せよ目の前の疫病を
Love the epidemic in front of your eyes.
憎めよ無能なる組織を
Hate the incompetent organization.
そして僕にコンドームをくれ
And give me a condom.
僕は昇りまた落ちてゆく 愛に似た金を握って
I rise and fall again, holding money similar to love.
どうせ逆らえぬ人を殴った 天使の様な素振りで
I hit someone I can't resist anyway, pretending to be like an angel.
毒蜘蛛も犬も乳飲み子も共存すべきだよと言って
Saying that even poisonous spiders, dogs, and nursing babies should coexist.
偽らざる人がいるはずないじゃん
There must be someone who is truly genuine.
この現実に目を向けなさい
Look at this reality.
愛せよ単調な生活を
Love the monotonous life.
鏡に映っている人物を
Love the person reflected in the mirror.
憎めよ生まれてきた悲劇を Oh...
Hate the tragedy of being born, oh...
飼い慣らされちまった本能を
Tame the instinct that has been accustomed.
そして事の真相をえぐれ
And dig up the truth.
天に唾を吐きかけるような行き場のない怒りです
This is an anger with nowhere to go, spitting into the sky.
宗教も科学もUFOも信じれるから悲惨で
It's tragic because I can believe in religion, science, and UFOs.
絡まりあって本心偽って
Twisted, falsifying true feelings,
めくるめくのevery day
Dizzying every day.
僕は昇りまた落ちていく
I rise and fall again.
何だってまかり通る世界へ Oh...
To a world where whatever happens is accepted, oh...
Contributed by Gavin G. Suggest a correction in the comments below.
To comment on or correct specific content,
highlight it
Genre not found
Artist not found
Album not found
Search results not found
Song not found