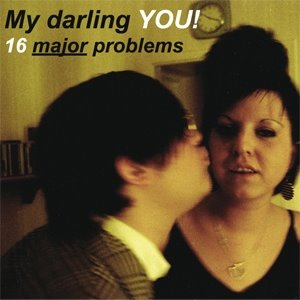 My darling YOU! is Christoffer and Klas, from Göteborg and Alingsås, where they both grew up. They play pop music on guitar, bass, organ and drums and synthesizer. According to Klas, the inspiration for their music is "nights out, nights at home, and the day after".
Genre not found
Artist not found
Album not found
Search results not found
Song not found
We have lyrics for 'New Year's Eve' by these artists:



Adrenalin O.D. Light went on but not in time - she's still…
Brooke Fraser It's been a loud year and I really need the…
Casket Lottery I'm not going outside today, I'm not sure that its…
Color Theory Spent a lonely day on an empty street Perfect hideaway…
Dayroom Standing alone on the corner of midnight Thinking up somethi…
First Aid Kit Well it's a new year, with it comes more than…
Five Iron Frenzy It's New Years Eve and I'm full of empty promises,…
Golden Birds We met on a rooftop swimming up for oxygen It overlooked…
Jim Cuddy I came down the stairs and saw you standing there looking …
Kashmir New year's eve Fine dark suits Paper hats Les grands salutes…
Last Week New year's eve of this past year Was the start…
LUV and SOUL 振り返れば 去年の今も こうして 二人で 歩いていたね 少し伸びた髪と 交わす言葉が なんとなく変わったけど 繋いだ …
M.o. [Verse 1] Why do some things stay the same, when some…
Mal Blum It's a happy new year I'm making guacamole You couldn't even…
Nina Gordon Normally I'd be French-twisting my hair And selecting the ri…
ninagordon Normally I'd be french-twisting my hair And selecting the r…
Pain of Salvation [Music: D.Gildenlow] 'Only the tame birds have a longing. T…
POS So once again Another New Year's Eve will ease our pain Fa…
Richard Pryor Maybe it's much too early in the game But I thought…
Sam Bisbee I'd been sick for the last three days Laid out in…
Senses Fail Clip my angel wings I'm a coward I'm a liar and a…
Snoop Dogg Feat. Marty James [Chorus] We're having a good day Let's make it a great nig…
The Casket Lottery I'm not going outside today, I'm not sure that its…
The Knife All new evening You woke up yesterday Now I love you Al…
The Pillows 愛のないアンハッピーエンド 僕の物語は キミがいないまま終わるのかな 長い夢を見てる そう君と二人 当たり…
The Walkmen The music's loud, in your room, Turn it down. There's a…
Tom Waits The door was open, I was seething Your mother burst in…
Walkmen The music's loud, in your room, Turn it down. There's a…
Wild Light There's a faith that comes along with this Senses on the…



We have lyrics for these tracks by My darling YOU!:



Midsummer Party I fell asleep on the stairs I'd lost my keys, so…
please don't talk to me I fall in love so easily I don't want love so I kill all my friends I…

The lyrics can frequently be found in the comments below, by filtering for lyric videos or browsing the comments in the different videos below.