Tables Turned
Neck Deep Lyrics
I felt the weather getting better, but I couldn't feel my feet
I always felt so cold in your company
I guess that maybe we should settle this
Blame it all on me
I don't care anymore, won't you please just let me be?
Bend the rules until they break
You always knew just how to make me fall to me knees
I felt so sick, ill at ease
But I'm getting better
And I hope that this time you finally see
That you can't get away with everything
I moved on and the world opened up for me
The thought of you use to make me cave in
Gave you a chance but you threw it all away
The tables turned and there's nothing left to say
Done being a wall you lean against
Just needed some time so I could
Open up my window
Let the air clear out my head
Think how fast the years go and all the things I left unsaid
Another old regret that I'll hide beneath my bed
I guess some distance was the best cure for this
But rest assured it's not you I miss anymore
And I don't care where you lay your head at night
Because with you it's all swings and roundabouts
Gave you a chance but you still wouldn't hear me out
And I hope that it kills you I'm happy now
I hope you hate the taste of your own medicine
Those skeletons buried in my head
And all the thoughts I have of you make me wish we never met
And I don't care where you lay your head at night
I know I won't miss the smell of you in my room
You presumed that I'd feel the same
Drive home and think about the things I said
You never learn from this you just expect
You are my hesitant smile
You are my crippling doubt
You're everything that I hide about myself
You are every lesson I've learned with every leaf that I've turned
The very reason why I won't let this happen again
I found the side of myself I thought I left behind
And I'll do the same with you this time
Contributed by Olivia A. Suggest a correction in the comments below.
To comment on specific lyrics,
highlight them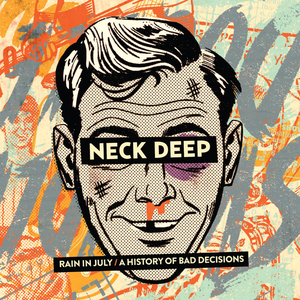 Neck Deep are a Welsh pop punk band from Wrexham who formed in 2012 when vocalist Ben Barlow met former lead guitarist Lloyd Roberts. On 19 April 2012 the duo posted the song "What Did You Expect?" online under the name Neck Deep. According to Roberts, Barlow "literally said, 'What about Neck Deep [as the band name]?' and that was that." The name comes from the Crucial Dudes' song "Boom, Roasted". "What Did You Expect?" soon gained attention online.
Read Full Bio
Neck Deep are a Welsh pop punk band from Wrexham who formed in 2012 when vocalist Ben Barlow met former lead guitarist Lloyd Roberts. On 19 April 2012 the duo posted the song "What Did You Expect?" online under the name Neck Deep. According to Roberts, Barlow "literally said, 'What about Neck Deep [as the band name]?' and that was that." The name comes from the Crucial Dudes' song "Boom, Roasted". "What Did You Expect?" soon gained attention online. This resulted in the duo adding guitarist Matt West, who also played in Spires, and drummer Dani Washington, who was aware of Wrexham's local music scene. Bassist Fil Thorpe-Evans joined shortly after leaving Lincoln melodic hardcore band Climates. "I Couldn't Wait to Leave 6 Months Ago " was posted online on 8 June. On 11 June, it was announced the band had signed to US label We Are Triumphant. The band recorded more songs with Seb Barlow in the attic of Ben's home.

The band released an EP, Rain in July, in September 2012, which gained the band even more attention from people. According to Barlow, "People took notice and demanded that we play shows." The band supported With the Punches and Me Vs Hero in the UK in December. 3 December date of tour was the band's live debut. At their second show the band signed with a manager. The band toured the UK supporting Hacktivist in February 2013. Also in February the band released the A History of Bad Decisions EP as a "pay what you want" download. The band and their tour manager went on a holiday to Florida. The group ended up playing two shows that were "crazy and sold out and packed", according to Thorpe-Evans. Videos of the shows ended up online, which were seen by Hopeless Records. Hopeless got in contact with the band's manager who put the label in contact with the band. The band signed to Hopeless in August 2013. Being signed to the label was "a dream come true" for the band.

The band released their debut album, Wishful Thinking, on 14 January 2014. Up until this point, the band was a "fun, part-time entity", according to Barlow. With the release of the album, the band became a full-time thing, according to Barlow: "Fuck it, let's do this properly". The success of the album resulted in Thorpe-Evans, West and Roberts quitting their jobs, Washington turning down a place at the Academy of Contemporary Music, and Barlow dropping out of university. Following the release of Wishful Thinking, Neck Deep began 2014 with a full UK headline tour and also toured the UK as the main support for We Are the in Crowd, before a headline tour covering the US with Knuckle Puck, Light Years and Misguided by Giants. The band were announced to perform on 2014 edition of Vans Warped Tour. The band's two EPs were remixed and remastered as part of the compilation Rain in July / A History of Bad Decisions, released on Hopeless on 17 June. It was released to capitalise on the band's popularity at the time. Barlow said that this compilation would be "definitive release of these songs". The band hoped that the new fans that enjoyed Wishful Thinking "will enjoy the chance to check these songs out now that we've had a chance to improve how they sound!"21 The band won the Kerrang! Award for Best British Newcomer 2014, beating nominees Blitz Kids, Bury Tomorrow, Lonely the Brave, and Decade. The band headlined the Intercontinental Championships Tour, along with Knuckle Puck (USA), Seaway (Canada) and Trophy Eyes (Australia), and touring the UK. The tour was set to start January 2015 and run through February.

On 27 April 2015 the band made a post on their Facebook page consisting of nothing more than "Can't Kick Up the Roots. 12.05.15". This post turned out to be a song and the release date of 12 May. A few days later on 4 May, the band made another Facebook post stating the name of their new album, Life's Not out to Get You. The release date of this album was 14 August. On 10 May, "Can't Kick Up the Roots" was premiered on UK radio station BBC Radio 1 and was met with lots of praise by fans, with the band then stating that the song's music video and pre-orders for the album would be available on 12 May. The band played all dates of the 2015 edition of Vans Warped Tour. On 19 July, "Gold Steps" was premiered live on Daniel P. Carter's BBC Radio 1 rock show. The album made No.10 on Billboard's Top Album Sales list, and the band made No. 67 on the Artist 100 list.

On 22 August 2015, allegations of sexual misconduct against guitarist Lloyd Roberts were made, in which Roberts was accused of sending inappropriate photos to an underage girl. Roberts denied these allegations. The band responded that they were aware of the situation and asked for "a moment to get to the bottom of this." One day later, they clarified that Roberts would be "stepping down" from his position in the band as he did not want to tarnish the band's reputation as a result of these allegations. He states, "I'm now looking to put this horrendous chapter in my life behind me as I instead look forward to the future. For me, that means doing the one thing I love the most – writing and recording music." On 13 October 2015, Roberts released a statement which explained that the police had cleared him of all charges, stating that they "found no case" to back up the allegations made against him. In the same statement, Roberts hinted that there are no plans for him to return to the band. On 17 December 2015, Sam Bowden, of Climates and Blood Youth, officially joined the band as their new lead guitarist.

On 27 June 2016, the band began writing new material for the band's third album. They began working on the album in the studio eight months after writing the band's new music on 21 February 2017. On 15 January 2017, the band's vocalist, Ben Barlow, stated that a band should always show progression in its music and they are certainly aware that is what they want to do in the band's third album. In an interview with the lead singer, Barlow explains how his father's passing influenced his motivation for writing Neck Deep's most recent album. Ben connects his father's death and the album by stating, "It's definitely opened my mind up creatively, it's gonna be a little ball of inspiration that I can kind of pick at, I guess." On 5 April 2017, the band finished the album and is set to release it on August 18 of the same year. On May 21st Neck Deep released two new songs along with music videos for them. "Where Do We Go When We Go" and "Happy Judgement Day". It was also announced the band worked with Neal Avron and Mike Green on their new album. The band's lead singer, Ben Barlow was quoted saying to Alternative Press "The Peace and the Panic is about how we've grown up and experienced life in the last couple of years.". He also commented on two of the new tracks on the album, including the track "Happy Judgement Day" of which Barlow commented, ".is on the panic side, and really, that song is a comment on the current social and political climate.". He also stated "Where Do We Go When We Go" is the last track on the record, and we feel it summarises our mood well. Very directly, the message is: "Fuck all this shit, fuck all the noise, let's just make something of ourselves before our time is up."

On 4 September 2018, bassist Fil Thorpe-Evans announced the departure from the band. He said that Neck Deep has been a dream coming true but he wanted to pursue his career as a producer.

On 10 September 2018 Neck Deep released a music video for the song "Torn". (Originally made famous by Natalie Imbruglia.) This was the lead single for the Hopeless Records charity compilation album for mental health awareness and suicide prevention, called "Songs That Saved My Life".

********

Neck Deep - Orange County, California - 90's Hardcore

"Neck Deep was an active hardcore band in the Orange County scene of the early '90's. They played some shows with bands like Function, Blackspot and Outspoken. Recorded a 7" in 1992 that contained the tracks "Crossfire" and "Columbus Day" (both tracks can be downloaded free @ http://neckdeep.bandcamp.com/).

Members: ETHAN GUERAMI MATT LENNON CLAY GUCCIONE ALEX OUZONIAN RYAN KELLER CHRIS MITCHELL JASON HAMPTON KELLY NELMS

Label: STATIC/INSTA-NOISE

Sites: http://www.myspace.com/neckdeep1 | http://neckdeep.bandcamp.com/
Genre not found
Artist not found
Album not found
Search results not found
Song not found