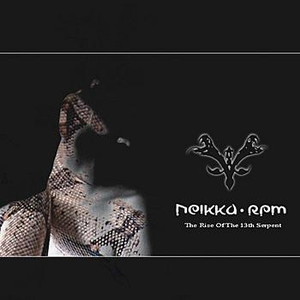 The alluring Industrial N ' Beats act Neikka RPM first appeared on the scene in 2001. A steady stream of high-profile compilation appearances ultimately led up to their first full-length album, "The Gemini Prophecies". A debut album that quickly attained cult-status for the band and placed Neikka RPM on music charts all over the world, sparked countless compilation invitations and generated an onslaught of magazine interviews. "The Gemini Prophecies" still continues to storm a year after its release
Read Full Bio
The alluring Industrial N ' Beats act Neikka RPM first appeared on the scene in 2001. A steady stream of high-profile compilation appearances ultimately led up to their first full-length album, "The Gemini Prophecies". A debut album that quickly attained cult-status for the band and placed Neikka RPM on music charts all over the world, sparked countless compilation invitations and generated an onslaught of magazine interviews. "The Gemini Prophecies" still continues to storm a year after its release, fuelled by their international club mega-hit "Here's Your Revolution" (also released as a single). What would become Neikka RPM happened by a twist of fate, a chance meeting of two strangers. Dominique and Richard were drawn to each other on Valentine's Day amongst the shifting shadows of a New York Goth club, and hours of wine-soaked conversation revealed that they were both possessed and lured by the same sonic obsession. They quickly began recording together taking a strange and haunting journey into a world of vicious beats and venomous seduction. The music of Neikka RPM is a dark-pulse of fury resonating from within the underground catacombs of New York. Their sound, a unique mixture of ultra-aggressive soundscapes and Dominique's bewitching vocals, has been described by one reviewer as "a beautiful wave of destruction that stays with you long after the CD ends." Neikka RPM is the creator of a pounding club-floor sonic assault that sounds much like a fusion between the raw-energy of Front 242 (Re:Boot), the sexy shimmer of Starseeds and the hard-electronica attitude of Prodigy (Fat of the Land)…one can only succumb to the frenzy beneath the crush of each club-destroying track. The stairway to descend even further into the wicked world of Neikka RPM has recently been unearthed…follow me. "Rise of the 13th Serpent", Neikka RPM's next full-length album will strike with a vengeance in 2006.

Releases:
[Oct. 27 2006] NEIKKA RPM - "The Rise of the 13th Serpent" CD
[Oct. 27 2006] NEIKKA RPM - "The Rise of the 13th Serpent" 2CD ltd box
[Apr. 05 2004] NEIKKA RPM - "The Gemini Prophecies" CD
[Apr. 05 2004] NEIKKA RPM - "The Gemini Prophecies" 2CD
[Mar. 04 2004] NEIKKA RPM - "Here's your revolution" EPCD


-Alfa-Matrix.com
Genre not found
Artist not found
Album not found
Search results not found
Song not found
We have lyrics for 'Voyeur' by these artists:



Acretongue Concealed within the dark A ghost that's not a part Detach…
Alambik Sens-tu les chaînes qui t'entraînent vers le bas? Tous tes g…
Baths You might just sit and Talk a bit But if I'm a…
Belo Prepare a mesa do café Esse teu cheiro de mulher Eu tô…
BLINK 182 (dude ranch) And when the day ends I'm sure she feels sorrow The…
Blond:ish feat. Thomas Gandey You're good from far but you're far from good I watch nearby…
Dany Bédar Y'a une chandelle dans la chambre La femme et la flamme…
Depswa I see you coming in And it's as if I've…
Elton John I'm looking, I'm looking back I'm trying to imagine this and…
Fish Track down a satellite, beam in the action Life lies bleedi…
Gal Costa Voyeur, Eu vou seguindo você, Na sua dança, na sua leveza; E…
Hungry Lucy I walked to the door And I wasn't sure How I'd find…
Ignite the Fire Want to You come around when you want to Stay for awile…
James Blake I don't mind, it was all me I don't mind, it…
James Blake (Bear Face Bootleg Edit) I don't mind, it was all me I don't mind, it…
Kelli Ali got my hands in my pockets and a head for…
Kim Carnes When voices through the thin walls Speak of aberrant behavio…
Lizzy Borden I watch you only, I wish you only knew, I…
Matthew Koma Oh Oh! Oh Oh! Oh Oh! Oh Oh! She thros his arms arounds her…
My Darkest Hate 19 inch Feel the thrill Your window shows One more pill …
Otep He has a webcam And he likes to video himself He…
PHIXX Are you licking your lips in anticipation Are you watching …
Razón de Ser Miras, lo palpas, no vives solo cosas Te vez bien aunque…
Renato Zero Sempre meno gente, si lascia avvicinare, toccare Muori per…
Renaud Hantson Boulevard des rôdeurs solitaires Les rues grises comme en A…
Rosenstolz Weiß genau dass du mich siehst Weiß genau wie dir geschieht…
Surveillance Voyeur, I feel you watching Collecting data With lifeless …
The M Machine Don't worry girl I follow you wherever you're going I promis…
Venom Virgin little schoolgirls Dirty little nurse Teachers, whore…

The lyrics can frequently be found in the comments below or by filtering for lyric videos.