The evening fog was rolling in.
It was getting hard to see.
The old white car edged down the road,
Headed for the Double E.
She was bringin' down dinner for Grandpa.
It was crawlin' with vitamins
And tender as a mother's love,
Tender as a mother's love.
When she saw the TV masts.
The side door was open, there were three TVs,
Grandpa's face was on every one.
He was talking to a woman with a microphone.
She was sexy and her hair was all done.
Sun Green came down and met Grandpa then.
"My you're such a beautiful girl.
Mother Earth needs more like you.
You should go out now, see the world."
"What's Grandpa doin' on the TV?
I've got his dinner in the car.
All these vans have blocked our way,
But we can carry it, it's not too far."
Lyrics © OBO APRA/AMCOS

Lyrics Licensed & Provided by LyricFind
To comment on specific lyrics,
highlight them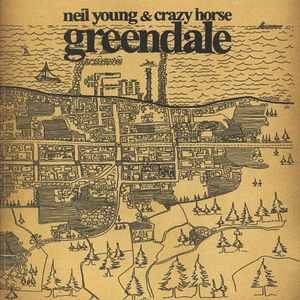 Canadian singer and songwriter Neil Young includes his personal garage band Crazy Horse ("second best backing band in the world") to make raw and unpolished rock. Their gritty style of rock has influenced countless artists and music styles.

Crazy Horse is best known for its long association with Young, despite having released five albums of its own over a 19-year span. It has been co-credited with Young as Neil Young and Crazy Horse on 15 albums, "Americana" and "Psychedelic Pill" from 2012 being the latest.
Read Full Bio
Canadian singer and songwriter Neil Young includes his personal garage band Crazy Horse ("second best backing band in the world") to make raw and unpolished rock. Their gritty style of rock has influenced countless artists and music styles.

Crazy Horse is best known for its long association with Young, despite having released five albums of its own over a 19-year span. It has been co-credited with Young as Neil Young and Crazy Horse on 15 albums, "Americana" and "Psychedelic Pill" from 2012 being the latest.

The band recorded a concept album entitled "Greendale" (2003) that told the story using metaphors of murder and crime to represent the destruction of a small town community. The final song "Be The Rain" is one of Neil's classic epics, pleading for the world to be like the rain -- recycle and conserve to save our planet.

Discography: the studio albums "Everybody Knows This Is Nowhere" (1969), "Zuma" (1975), "Rust Never Sleeps" (1979), "Re-ac-tor" (1981), "Life" (1987), "Ragged Glory" (1990), "Sleeps With Angels" (1994), "Broken Arrow" (1996), Greendale (2003), "Americana" (2012), Psychedelic Pill (2012) and live albums "Live Rust" (1979), "Weld" (1991), "Year of the Horse" (1997), "Live at the Fillmore East" (2006)
Genre not found
Artist not found
Album not found
Search results not found
Song not found