When the red light shines
On the streets of hate,
Where the devil dines,
Who knows what he ate.
"It's a simple thing
Trying to stay afloat,"
The captain said,
Without his boat.
Some things are getting better,
Other things a little worse.
It's a situation
Much like a curse.
"It's the devil's sidewalk,
It's the devil's door
I've tried to avoid it,"
Said the captain on the shore.
There's a garden growing
And a million weeds,
With no way of knowing
Who's done which deed.
"That's an honest tale,"
Said the helmsman to the mate,
About a woman delicious
And a matter of fate.
Big wheel keep rollin'
Down on me.
"One thing I can tell you,
Is you got to be free."
John Lennon said that.
And "I believe in love."
And I believe in action
When push comes to shove.
"Who cares what you believe,"
Said the captain, amazed.
"If you stood in my shoes
Your eyes would be glazed."
So, my fair damsel
Won't you take your leave?
Are you headed for the country?
Where you wear the green sleeves.
Where the children laugh
And the old folks sing,
And the church bell tolls
For a miraculous thing.
Where the big red furnace
Just glows and glows.
Where the big heart beats.
Where the big wheel rolls.
Lyrics © OBO APRA/AMCOS

Lyrics Licensed & Provided by LyricFind
To comment on specific lyrics,
highlight them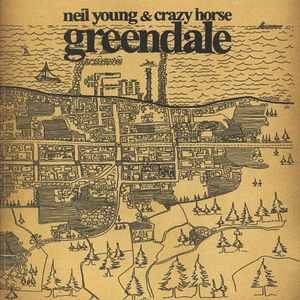 Canadian singer and songwriter Neil Young includes his personal garage band Crazy Horse ("second best backing band in the world") to make raw and unpolished rock. Their gritty style of rock has influenced countless artists and music styles.

Crazy Horse is best known for its long association with Young, despite having released five albums of its own over a 19-year span. It has been co-credited with Young as Neil Young and Crazy Horse on 15 albums, "Americana" and "Psychedelic Pill" from 2012 being the latest.
Read Full Bio
Canadian singer and songwriter Neil Young includes his personal garage band Crazy Horse ("second best backing band in the world") to make raw and unpolished rock. Their gritty style of rock has influenced countless artists and music styles.

Crazy Horse is best known for its long association with Young, despite having released five albums of its own over a 19-year span. It has been co-credited with Young as Neil Young and Crazy Horse on 15 albums, "Americana" and "Psychedelic Pill" from 2012 being the latest.

The band recorded a concept album entitled "Greendale" (2003) that told the story using metaphors of murder and crime to represent the destruction of a small town community. The final song "Be The Rain" is one of Neil's classic epics, pleading for the world to be like the rain -- recycle and conserve to save our planet.

Discography: the studio albums "Everybody Knows This Is Nowhere" (1969), "Zuma" (1975), "Rust Never Sleeps" (1979), "Re-ac-tor" (1981), "Life" (1987), "Ragged Glory" (1990), "Sleeps With Angels" (1994), "Broken Arrow" (1996), Greendale (2003), "Americana" (2012), Psychedelic Pill (2012) and live albums "Live Rust" (1979), "Weld" (1991), "Year of the Horse" (1997), "Live at the Fillmore East" (2006)
Genre not found
Artist not found
Album not found
Search results not found
Song not found