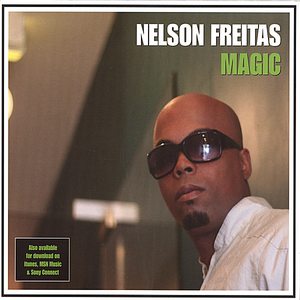 Nelson Freitas is born and raised in the Netherlands, with creativity and talent he constantly tries to refresh the world of Zouk music.

Barely a teenager, Freitas learned to entertain through the art of hip-hop and throughout the years the flexibility of his talent allowed him to flow with changing vibes of the music industry. Once a break-dancer, then the front man of the infamous group Quatro Plus, a producer, a writer, a singer, engineer and now he is the owner of GhettoZouk Music
Read Full Bio
Nelson Freitas is born and raised in the Netherlands, with creativity and talent he constantly tries to refresh the world of Zouk music.

Barely a teenager, Freitas learned to entertain through the art of hip-hop and throughout the years the flexibility of his talent allowed him to flow with changing vibes of the music industry. Once a break-dancer, then the front man of the infamous group Quatro Plus, a producer, a writer, a singer, engineer and now he is the owner of GhettoZouk Music, a label created by Nelson Freitas with artists as Chelsy Shantel & William araujo. With his roots connected to the Cape Verde islands and his passion for the hip-hop culture inspired Freitas to take on a challenge to change the contemporary sound of the Cape Verdean music.



In 1997 the compilation CD of "MOBASS Presents" was released featuring the track, "Hoje em Dia" (Now a Days), which officially launched Quatro Plus (formally known as Quatro) in the market. As one of the lead singers of the group, Quatro Plus went on to release three successful albums "4-Voz" (Four Voices) in 1998, "Bem Conche" (Get to Know Us) in 2002 and "Ultima Viagem" (Last Voyage) in 2005.

In almost a decade, Freitas has earned what's rightfully his as he is of the most admired and respected producers, singers and writers in the Cape Verdean as well as the zouk music industry. With a blend of Cape Verdean Kriol and English lyrics, a twist of R&B and hip-hop incorporated with zouk and traditional Cape Verdean music.With al these ingredients Nelson made his solo album called " Magic " In October 2006.The album sold over 25.000 copies world wide.

With new creative input and even more experience the second album " My life " is a fact. The album promises to bring yet another dose of creativity and talent as the 12 track album aims to live-up to his previous album " magic " or even surpass it. featuring artists on the album will be William Araujo, Mc Knowledje, Laisa Sanches & Anselmo Ralph.
Genre not found
Artist not found
Album not found
Search results not found
Song not found
Magia
Nelson Freitas Lyrics


We have lyrics for 'Magia' by these artists:



- rosana ft. jesus navarro de reik Es el agua, es el viento El resumen de todo lo…
/a/ Magia mis labios tienen magia Dejarme darte un beso Y lo d…
Abraham Mateo Nunca he sentido nada igual contigo. Hay algo más allá de…
Angélica Sol de verão Queimando no meu corpo Meu coração Voando le…
Asgarth Magia eta zaldunak Bizi ziren munduan Gerlari bat jaio ome…
Chiclete Com Banana É bem bom abrir o coração, uo uo magia. Bom…
Djavan Reserve o mito da magia Só pra você Reserve o…
Farben Lehre Wszystko co piękne rzadko tak się zdarza Błąkamy się po śle…
Grachi que pasa de repente estoy bailando que pasa con migo que…
Gustavo Cerati Tal vez parece que me pierdo en el camino, Pero me…
Jerry Rivera Magia mis labios tienen magia Dejarme darte un beso Y lo d…
Kalafina いつか君が瞳に灯す愛の光が 時を超えて 滅び急ぐ世界の夢を 確かに一つ壊すだろう 躊躇いを飲み干して 君が…
Kalafinaカラフィナ Itsuka kimi ga hitomi ni tomosu ai no hikari ga Toki…
La Franela Mil años de soledad y tanto desierto Hicieron del muerto, p…
Los Rakas Y yo la quiero como nunca he querido a otra ella…
Macucos Magia Flutua comigo nesse som Igual folha seca quando ca…
Massimo Ranieri Questa notte vorrei Che i mie pensieri fossero parole Che …
Molella Magia (ad libitum)…
Ornella Vanoni The look of love Is in your eyes A look your smile…
OV7 Ya no digas nada No busques palabra Te invito a volar Por to…
Pablo Herrera Una madrugada de raíz como un espejismo yo me vi…
Paps 'N' Skar (A.Viale/D.Scrpulla/E.Cozzi/R.Gallo Salsotto) Canterò al …
Platero y tú Cada vez me pesan más los huesos Todo es gris, ya…
Rasta Chinela No seu olhar sinto a magia De quem ama de verdade A…
Rosana Es el agua, es el viento El resumen de todo lo…
Rosana Arbelo Es el agua, es el viento Es resumen de todo lo…
Saurom Vuestro sentir, me hechizó Vuestro vigor, me atrapó Cada acc…
Sergio Vargas Vámonos!! Yo me pregunto que magia hay en ti mujer Que d…
Shakira Magia, siento magia, Desde hace poco algo nuevo nace en mi …
Sin Bandera Creadora de paz, guerrera que das, Fuerza a este mundo…
Stony Tu sais qui c'est? Tell me whisper in my ear Everything you…
Tierra Santa Al fin acabó la mentira Nunca más en la vida volveré…
Trashnos Mírame soy lo que ves solo un preso de mis propias…
Various Artists Mil años de soledad y tanto desierto Hicieron del muerto, p…



We have lyrics for these tracks by Nelson Freitas:



Beautiful Lie Welcome to this thing called life It should be so easy but…
Bem Pa Mi foi um coza estronhe primera vez k nos oie cruza sala…
Bo é kel amjer Un fala ma bo Bo fala ma mi Tao bonito Oh no... Un compr…
Bo é nha melódia Hmmmmm! Yeah Yeah!!! Bo ke nha melodia... Eih girl Ove di n…
Bo Tem Mel It's like one plus one equals two You'd like me, I…
Broken Heart Oceans so deep, rivers of water Grey skies, no sun shining …
Deeper "Oh Yeah" (Nelson).."Sushi raw"..I've been waiting for this …
Faze Amor Ma Bo Sentado N'ta pensa na bo Na bos odjos E na bo corpo Sexy Cum…
I Love You Ye... Nelson... Miss Jane... Un ca ta estranha Si bo crê la…
King of the World Ela é gostosa Ela é perigosa Ela é fofa Ela é doce Ela é…
Mind of It's Own I thought me and you had a good thing going…
Miúda Linda Ela é a miúda mais linda Que eu já vi na…
Na Bô Kaza Mi sentod bem tranquilo Na nha caza tudo sozinho Ta pensá o…
Nha Primere Amor Ontem in encontrá ma bó e no falá, ma bu ca…
Rebound Chick Got my swagga right I'm off to the club tonight To find…
Saia Branca É bu maneira sensual ke tchomam pa bu foi bu presença ke poi…
Sienna Bo entra na nha vida Foi um milagre deus trazen Menina tao…
Simple Girl I'm in the club Moët Chandon in my cup Beautiful ladies al…
Só Mais uma Vez Eu e tu Tu e eu Bó ma mi You and I Só mas…
Só Mas Um Vez Eu e tu Tu e eu Mi ma Boo You and I Só mais…
Só mi ku bo Ye... Nelson... Miss Jane... Un ca ta estranha Si bo crê la…
Something Good This can be the start of something good Don't you think?…
True Love Just you know why Why you and I Will by and by Know…
You're Beautiful You're beautiful I gotta go, my love But I'll be back real…
You're So Hot Been around the world, Met a few girls, but never one like…
You're beautiful You're beautiful I gotta go, my love But I'll be back real…

The lyrics can frequently be found in the comments below, by filtering for lyric videos or browsing the comments in the different videos below.

Help us build the world's largest lyrics collection by contributing lyrics in the comments below.