Good bye baby
I will miss you so
So long darling
I've got to let you go
Sorry my sweet symphony
I just can't follow through
I gotta move on, on
On to someone new
And so do you
So good bye
Good night to you
Honey dew, dew dew dew
Dew dew dew, dew dew dew
Honey don't call me up
And try to make me cry
Cause it ain't gonna work like that
Cause girl I ain't the crying type
Boo-hoo oh do I gotta sho-bi-do-do-do
To make you move on, on, on to someone new
Honey dew, so good bye and good night to you
Honey dew, dew dew dew
Dew dew dew, dew dew dew dew
Dew dew dew dew dew dew dew
Dew dew dew dew dew dew dew
Dew dew dew dew dew dew dew
Dew dew dew dew dew dew dew
Dew dew dew dew dew dew dew
Lyrics © Warner/Chappell Music, Inc.
Written by: Christofer Drew

Lyrics Licensed & Provided by LyricFind
To comment on specific lyrics,
highlight them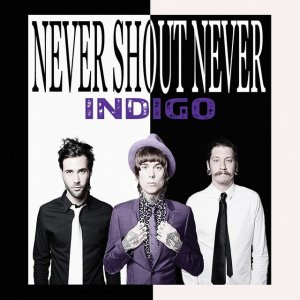 Never Shout Never is an American powerpop band from Joplin, Missouri, originally formed in 2007 as a solo project by musician Christofer Drew Ingle (born February 11, 1991).

Drew showed the world that with the help of MySpace and great word of mouth, anyone with worthwhile work ethic and talent can start a monumental snowball effect towards success. After recording an EP by himself in his basement, NeverShoutNever! became an instant online success story, averaging over 40,000 online plays a day, and headlining shows throughout the Midwest.
Read Full Bio
Never Shout Never is an American powerpop band from Joplin, Missouri, originally formed in 2007 as a solo project by musician Christofer Drew Ingle (born February 11, 1991).

Drew showed the world that with the help of MySpace and great word of mouth, anyone with worthwhile work ethic and talent can start a monumental snowball effect towards success. After recording an EP by himself in his basement, NeverShoutNever! became an instant online success story, averaging over 40,000 online plays a day, and headlining shows throughout the Midwest. In early July, he was positioned in the top spot on the MySpace unsigned artist listing, and his first official release, the YIPPEE EP (July 29th), was followed up by a performance on TRL's "on your radar" segment the very next day.

Drew started his climb to stardom in mild fashion. He learned to play the guitar from a friend early in his teen years. Then, his parents bought him a Macintosh computer for Christmas and with some sound-editing software, Drew was on his way to stardom.

As of November 17, 2008, the official spelling of Ingle's alias became NeverShoutNever! It had previously been listed as Never Shout Never on iTunes and his management company's site. An official statement regarding the reason behind the spelling change has not been made available. In an interview, Ingle revealed that there is no longer an exclamation point after his name and that he will spell NeverShoutNever as one word when he is feeling happy, but three words when he isn't. Warner Bros. Records is spelling his name as "Never Shout Never" for the upcoming release.
After experimenting with a couple of other names, Drew settled on Never Shout Never, the name of one of his songs, to represent him musically.

Ingle follows a strict vegan diet. His music career caused him to drop out of his high school, Joplin Senior High, before graduation.

Albums

* What Is Love? (January 26, 2010)
* Harmony (August 23, 2010)
* Time Travel (September 20, 2011)
* Indigo (November 13, 2012)
* Sunflower (July 2, 2013)
* Recycled Youth - Volume One (March 3, 2015)
* Black Cat (August 7, 2015)

EPs

* demo-shmemo (February 29, 2008)
* The Yippee EP (July 29, 2008)
* Me & My Uke EP (January 27, 2009)
* The Summer EP (June 23, 2009) U.S. #57
* Never Shout Never - EP (December 8, 2009)
* Melody - EP (July 27, 2010)
Genre not found
Artist not found
Album not found
Search results not found
Song not found