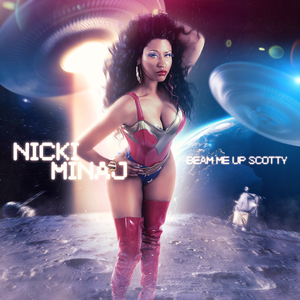 Onika Tanya Maraj, born on December 8th, 1982, better known by her stage name Ni…
Read Full Bio ↴
Onika Tanya Maraj, born on December 8th, 1982, better known by her stage name Nicki Minaj, is a Trinidadian-American, rapper and singer-songwriter signed to a joint venture between Lil Wayne's Young Money Entertainment and Universal Motown. After releasing several mixtapes and building substantial buzz online her debut album, Pink Friday, was released on November 22, 2010. In October 2010, Minaj became the first female to have seven songs simultaneously chart on the Billboard Hot 100.
Minaj has been creating mixtape tracks since 2004 and appeared in XXL magazine. In 2008 she won the Female Artist of the Year award at the Underground Music Awards.
Pink Friday's lead buzz track, Massive Attack, features singer-rapper Sean Garrett and was released on April 13th 2010, peaking at #19 on the Billboard Top Heat-seekers Songs chart. Your Love, the album's second single, was released on June 1st following a premature leak. The song peaked at #14 on the Billboard Hot 100 and at #1 on the Rap Songs chart, thus becoming Minaj's most successful single release at the time.
The follow up to Minaj's number one album Pink Friday, Pink Friday: Roman Reloaded also debuted at the top of the charts. The album contained the multi-platinum single Star-ships. Minaj's latest album The Pink print was released in 2014. The single Anaconda peaked at number 2 on the Billboard charts, thus becoming her highest solo single entry to date. She now has 2 #1 songs becoming the first Female Rapper to have 2 consecutive #1 songs and the 2nd Female Rapper to have a #1 debut.
Nicki Minaj has a total of 135 entries on Billboard Hot 100 chart, the most ever for a female artist. She had made history becoming one of the few artists who has 100 or more billboard entries. She won the best female hip-hop artist award at the BET awards every year from 2010 to 2017.
Minaj also holds the most critically acclaimed rap verse ever by a female (Monster).
Minaj has reached 100 million total records sold worldwide, making her the first female rapper to achieve this and making her the 3rd most certified Female Artist in history (As of 7/11/20)
After 4 months of a social media hiatus and 1 year without solo music, Nicki Minaj returned with 2 singles in Spring 2018, "Barbie Tingz" and "Chun-Li". The latter song reached the Top 10 of the Billboard Hot 100, becoming her 16th single to do so. The singles preceded her upcoming 4th studio album "Queen" which was released on August 10th. On August 14th, Nicki Minaj released a new single from her album titled "Barbie Dreams". Listening to her fans, she made "Good Form" a single.
Minaj emerged in the Latin Scene in 2019 with her song Tusa which is a collaboration with Karol G which has spent 6 consecutive months at #1 on the Billboard Argentina Charts thus becoming the longest running #1 on the Billboard Argentina Chart. The song debuted at #1 on the US Hot Latin Songs chart making it the first song with 2 female lead artist to debut on top. The song is 21x Latin Diamond by RIAA in the US making it one of the highest certified latin songs. Minaj spawned her first three U.S. number one singles with her remix of Doja Cat's "Say So", her collaboration with 6ix9ine, "Trollz", and her solo single "Super Freaky Girl", becoming the first female rapper in 22 years to debut at number one with the latter two. She became the first female artist to have one hundred Billboard Hot 100 entries and has twenty U.S. top ten singles. With the re-release of her Beam Me Up Scotty (2009) mix-tape, Minaj has the highest debut for a female rap mix-tape on the U.S. Billboard 200 chart, peaking at number two.
Often cited as the "Queen of Rap" and the "Queen of Hip Hop" by several media outlets, Minaj is also one of the best-selling music artists, with more than 100 million records sold worldwide. Several media outlets have described her as one of the most influential rappers of all time, and Billboard ranked her as the top female rapper of the 2010s, and seventh among the top female artists. Her various accolades include eight American Music Awards, five MTV Video Music Awards (including the Michael Jackson Video Vanguard Award in 2022), six MTV Europe Music Awards, twelve BET Awards, four Billboard Music Awards, a Brit Award, and three Guinness World Records.
Jump to: Overall Meaning ↴ Interesting Facts ↴ Line by Line Meaning ↴
Aphilliates, nigga, pay attention, biatch
See I know you didn't see this comin'
Dj Holiday, Usual Suspect, right
It's like when I feel really crazy
This crown feel so good on my head right now
I just get on my broom and fly away
Y'all niggas gotta step your weight up
I go real, real far away
Let's go Nicki (Holiday Season)
Young Money
Since I run the streets and all that, right
That's, that's, that's just what we do
It's only right that I bring you
The baddest chick in the streets right now
(Damn son, where'd ya find this?)
Southside Jamaica, Queens
(This is a World Premiere)
(Young Money's own) You know it's like
When I feel really crazy (me sayin' the time is on)
(Nicki the Ninja) I just get on my broom and fly away
(A.k.a rap bitches step your game up)
I go real, real far away
Young Money
(I'm done talking) That's, that's
(I'ma let my sister get at y'all) That's just what we do
Hope you paying attention, let' go (the Aphilliates nigga, holla at yo' boy)
You know, I mean we, we, wear straight jackets
And we, we, we, we stay in, you know, in padded rooms
And you know, and fly away (uh, yeah, yo) (get 'em Nicki)
I just came out of the motherfuckin' old school
Got my Mac notebook with the Pro tools
Y'all bitches ain't ready for Nicki Lewinsky
Bad, woof, woof, flyer then a Frisbee
So I'm up in Mandalay eating Mangos
Keep a couple pink toes in my sandals
Got some bangles all over my ankles
Such a star, they singing the Start Spangle
Ba-ba-ba-ba-ba-ba-banner (Banner)
I am the Rap Hannah
Mo-Mon-Montana, so fix your Antenna
I keep three hoes, But don't call me Santa
And I'm, and I'm flyer then reindeer in the winter (in the winter)
I getss crazy, I-I gets crazy
I-I gets crazy, I-I gets crazy
I getss crazy, I-I gets crazy
I-I gets crazy, I-I gets crazy (uh, uh, yo)
Yo, so I got a bad bitch mentality
'Cause I just came from another Galaxy
I be with the president up in the White House
If we in the Oval Office then the it's lights out
'Cause I am the Wicked Witch, I'm' the Nickster
And I keep a bad bitch on my GSX-R
But I leave her in a second for a thicker
Rockstar little mama with a guitar
I mean I'm Nicki L-M-N-O-winsky
I mean my name ring Bells like Tinky
I mean Tinker, tell that niqga link her
'Cause I'm' looking for some good Brains from a Thinker
I getss crazy, I-I gets crazy (uh, thinker)
I-I gets crazy, I-I gets crazy (thinker)
I getss crazy, I-I gets crazy (thinker)
I-I gets crazy, I-I gets crazy
(the Aphilliates, nigga, holla at yo' boy)
One, two, third Floor, hospital gown
Niqgas is doors and I knock niqgas down
Straight jacket crooked, I hear you lookin'
I promise I'm hard, and I swear you pussy
I ain't crazy, no, yes I am
Right up in the Coo-Coo nest I land
I'm fly, now eat may bird shit
Yeah I'm' crazy, crazy about your bitch
Wild animal on my bewildered shit
I love brain so I'm' lookin' for a nerd bitch
It's' Nicki Minaj, the superb witch
And Weezy F. Baby, no, Weezy F. (Crazy)
I getss crazy, I-I gets crazy
I-I gets crazy, I-I gets crazy
I getss crazy, I-I gets crazy
I-I gets crazy, I-I gets crazy
Uh, when I do it, it get did-ed, I was fixing my fitted
Pull up in a 6 Series, she was fixing your Civic
When I do it, it gets done, two sticks in my bun
Pull up in a 6, hun, you was fixing to run, ho, yeah
Uh-huh, uh-huh, uh-huh, uh-huh, you know
You know my name is Nicki Minaj, trick
Let's get it (uh, yo)
Yeah, alright
I gets crazy, I gets crazy
I gets motherfuckin', motherfuckin' crazy
Crazy, crazy, that's what my name is
My name means crazy in cr-crazy language
Overall Meaning
In "I Get Crazy" by Nicki Minaj, she is announcing to her fans that she is the reigning queen of crazy. The lyrics are a culmination of Minaj's unique style and boasts of her explosive personality. In the first verse, she declares that when she feels crazy, she just puts on her crown and flies away on her broomstick. Throughout the song, she announces that she is the baddest chick on the streets and encourages others to step up their game. She emphasizes her bad girl mentality, making it clear that she has no problem switching up her current love interests for someone else who catches her eye. Minaj also highlights her unique nickname, Lewinksy, which references President Clinton's infamous affair with an intern named Monica Lewinsky.
In the second verse, Minaj emphasizes her crazy mentality and the fact that she is from another galaxy. She jokes about being with the president in the White House and the possibility of turning off the lights if they're in the Oval Office. She also talks about leaving her current flame for someone who is "thicker" and epitomizes rockstar-style personality. In the third verse, Minaj gets more explicit about her love of sex and describes herself as a "wild animal." She wants her potential partners to be smart and nerdy, claiming to be "crazy" about the prospect of getting together with someone very intelligent. Overall, the lyrics showcase Nicki Minaj's unique way of putting her sexuality and wild personality into her music.
Facts about the song "I Get Crazy":
Interesting Facts
Note: This section uses generative AI, which can be inaccurate.


Line by Line Meaning
Aphilliates, nigga, pay attention, biatch
Attention, this is a message to the people of Aphilliates
See I know you didn't see this comin'
I know this came unexpected
It's like when I feel really crazy
When I am feeling overwhelmed
This crown feel so good on my head right now
I am on top of the world right now
I just get on my broom and fly away
I just escape my problems
Y'all niggas gotta step your weight up
You need to improve yourselves
I go real, real far away
I distance myself from negativity
Since I run the streets and all that, right
I am dominant in my environment
That's, that's, that's just what we do
That's a way of life for us
It's only right that I bring you
It is appropriate that I share
The baddest chick in the streets right now
I am the most powerful woman here
Southside Jamaica, Queens
I come from Southside Jamaica, Queens
Hope you paying attention
I hope you are listening
You know, I mean we, we, wear straight jackets
We are unconventional
And we, we, we, we stay in, you know, in padded rooms
We are locked in our own thoughts
I just came out of the motherfuckin' old school
I am fresh out of the past
Got my Mac notebook with the Pro tools
I have access to advanced technology
Y'all bitches ain't ready for Nicki Lewinsky
You are not prepared for my power
Bad, woof, woof, flyer then a Frisbee
I am incredibly attractive
So I'm up in Mandalay eating Mangos
I am relaxing in luxury
Keep a couple pink toes in my sandals
I am stylish and fashionable
Got some bangles all over my ankles
I have expensive jewelry
Such a star, they singing the Start Spangle
I am admired and celebrated
Ba-ba-ba-ba-ba-ba-banner (Banner)
My presence commands attention
I am the Rap Hannah
I am the entertainer
Mo-Mon-Montana, so fix your Antenna
I have a commanding voice
I keep three hoes, But don't call me Santa
I have multiple sexual partners
And I'm, and I'm flyer then reindeer in the winter (in the winter)
I am more attractive than seasonal icons
I getss crazy, I-I gets crazy
I am crazy powerful
Yo, so I got a bad bitch mentality
I have a powerful personality
'Cause I just came from another Galaxy
I am unique and powerful
I be with the president up in the White House
I have important connections
If we in the Oval Office then the it's lights out
When I am in control, everything stops
'Cause I am the Wicked Witch, I'm' the Nickster
I have a powerful image
And I keep a bad bitch on my GSX-R
I have a powerful posse
But I leave her in a second for a thicker
I will abandon my friends for power
Rockstar little mama with a guitar
I associate with powerful people
I mean I'm Nicki L-M-N-O-winsky
I am powerful and famous
I mean my name ring Bells like Tinky
My name is well-known
I mean Tinker, tell that niqga link her
I am assertive
'Cause I'm' looking for some good Brains from a Thinker
I need intelligent companionship
One, two, third Floor, hospital gown
I have been in mental institutions
Niqgas is doors and I knock niqgas down
I am powerful and intimidating
Straight jacket crooked, I hear you lookin'
I am unconventional and unique
I promise I'm hard, and I swear you pussy
I am strong and dominant
I ain't crazy, no, yes I am
I am powerful and unpredictable
Right up in the Coo-Coo nest I land
I don't fit in with societal norms
I'm fly, now eat may bird shit
I am powerful and above others
Yeah I'm' crazy, crazy about your bitch
I am powerful and have romantic interests
Wild animal on my bewildered shit
I am powerful and dangerous
I love brain so I'm' lookin' for a nerd bitch
I need intellectual companionship
It's' Nicki Minaj, the superb witch
I am a powerful entertainer
Uh, when I do it, it get did-ed, I was fixing my fitted
I am a skilled artist
Pull up in a 6 Series, she was fixing your Civic
I have access to luxury vehicles
When I do it, it gets done, two sticks in my bun
I am a powerful entity
Pull up in a 6, hun, you was fixing to run, ho, yeah
I am intimidating and superior
You know my name is Nicki Minaj, trick
I am a well-known personality
I gets motherfuckin', motherfuckin' crazy
I am powerful and uncontrollable
Crazy, crazy, that's what my name is
I am known for being unpredictable and powerful
My name means crazy in cr-crazy language
My name is synonymous with insanity
Lyrics © MIZAY PUBLISHING, Universal Music Publishing Group, Kobalt Music Publishing Ltd., Warner Chappell Music, Inc.
Written by: Rondell Edwin Turner, Dwayne Carter, Onika Tanya Maraj

Lyrics Licensed & Provided by LyricFind
To comment on or correct specific content,
highlight it
Genre not found
Artist not found
Album not found
Search results not found
Song not found