The river flows underground
Crone stand and wipes her brow
She is wiser than the world would know
She sees thought Hades eyes
And hears to her surprise
Demeter crying for her daughter dear
Persephone picked the flower bright
Dark Earth swallowed her out of sight
Persephone picked the flower bright
The river flows underground
Crone hears the hidden sound
She is singing the maiden's song
She knows both the living and the dead
Rules where others fear to tread
Accepted the fruit and then she returned to sky
Welcomed by daylight in Earth mother's arms
Spring returned, forever youthful her charms
Still no one would risk to speak her name
Contributed by Caroline M. Suggest a correction in the comments below.
To comment on specific lyrics,
highlight them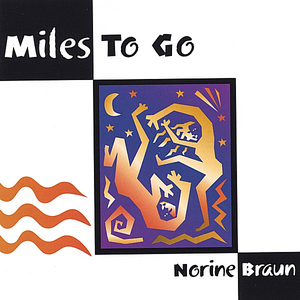 Canadian pop/rock singer and songwriter Norine Braun was born in Ottawa and is now a Vancouver based singer-songwriter who has been called "jazzed up, funk tinged pop." That should tell you how her music defies conventional categorization. Built on a solid foundation of soul, Norine experiments with forms from ambient pop to jazz and rock. Braun herself is an interesting mixture of equal parts Sade, Blondie, Bjork and Norah Jones. Smooth one minute and rocking out the next.
Read Full Bio
Canadian pop/rock singer and songwriter Norine Braun was born in Ottawa and is now a Vancouver based singer-songwriter who has been called "jazzed up, funk tinged pop." That should tell you how her music defies conventional categorization. Built on a solid foundation of soul, Norine experiments with forms from ambient pop to jazz and rock. Braun herself is an interesting mixture of equal parts Sade, Blondie, Bjork and Norah Jones. Smooth one minute and rocking out the next. It's a rare quality, and one that Braun capitalizes on to keep things compelling, a genuine musical chameleon.

Braun has accumulated an extraordinary discography of unpretentious, personal songs anchored by her sweet, confident voice and genteel composition. She crafts tuneful, friendly songs with subtle but effective arrangements, dynamic and graceful and memorable.

Now, Braun is back with her sixth CD, Evolution of the Blood Star, and on these thirteen tracks Braun shows an even greater depth and maturity. Evolution of the Blood Star expands on her penchant for ambient soul pop, and shows this gifted songstress taking bold steps on her soulful journey into self-exploration. The jazz torch song, "Skylight," is evocative and inspirational, anchored by gentle classical piano and a melody as delicate as flower petals. The title track Evolution of the Blood Star truly inspires and intrigues with its contagious hook and neo B-52s landscape.

Artsy and fun, thoughtful and savvy, Norine Braun will zing to the heart of any listener.

AWARDS:
Female SInger-Songwriter of The Year Jazz Category for Crystallize (Next Wave CD) -LA Music Awards 2006

Artists For Literacy International Songwriting Competition Winner for Conformity 451.

StoneWall Society 2004 Pride In The Arts Musician Award Winner for Now and Zen CD

Kweevak CD of the Year Award 2003 for Norine Braun and The Mood Swings cd
Genre not found
Artist not found
Album not found
Search results not found
Song not found