My eyes open with dawn. The sun shines on my face. I will die someday, until that day, I embrace the knowing.
Lyrics © OBO APRA/AMCOS

Lyrics Licensed & Provided by LyricFind
To comment on specific lyrics,
highlight them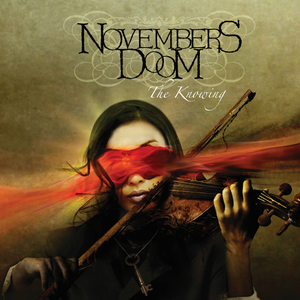 Novembers Doom is one of the earliest U.S. death/doom metal bands that are still active today. The band is from Chicago, Illinois. They are currently signed to Prophecy Productions.

Novembers Doom formed in 1989, but it was not until 1992 that Novembers Doom would receive some attention in the metal world. An early deal with Regress Records, of Italy, allowed Avantgarde Records to hear the band. This demo (Her Tears Drop) was heavy, combined with moods of darkness and despair.
Read Full Bio
Novembers Doom is one of the earliest U.S. death/doom metal bands that are still active today. The band is from Chicago, Illinois. They are currently signed to Prophecy Productions.

Novembers Doom formed in 1989, but it was not until 1992 that Novembers Doom would receive some attention in the metal world. An early deal with Regress Records, of Italy, allowed Avantgarde Records to hear the band. This demo (Her Tears Drop) was heavy, combined with moods of darkness and despair. The two songs would lead to the release of the band's full length debut CD, Amid Its Hallowed Mirth on Avant Garde and Nuclear Blast. Exploring and expanding, the band added female backing vocals and continued its thick, eerie brand of metal. A compilation track for Pavement Music soon followed. In 1997, Novembers Doom released the EP For Every Leaf That Falls. The album was well received, leading to favourable reviews and response worldwide. Novembers Doom has since released their second full length album Of Sculptured Ivy and Stone Flowers, with Martyr Music Group. This new offering had received rave reviews.

In May of 2000, Novembers Doom entered the recording studio once again, to record the follow up to Of Sculptured Ivy and Stone Flowers. The band has recorded The Knowing with Studio One's Chris Djuricic. The CD is an extension of the previous material, only taking steps in new directions to enhance their already original sound.

In July of 2000, Novembers Doom officially became a member of Dark Symphonies. Realizing the bands potential, they constructed a deal with Martyr Music Group, to include the band on its roster, releasing The Knowing to the public.

Now, with their third full length release receiving praise, and a European licensed release of the CD through Pavement Music, Novembers Doom secured themselves more attention than before.

To Welcome the Fade

In October 2002, Novembers Doom entered the studio to begin work on their second full length of new material for Dark Symphonies. The band's fourth full length album would be entitled To Welcome the Fade, only this time they recruited the talents of the Grammy Award-winning producer, Neil Kernon. Kernon, best known for his work with acts like Hall & Oates, Kansas, Yes, Queensrÿche, Judas Priest, and more recently Nevermore and Cannibal Corpse, brought a new power and clarity to the sound of the band. This album was chosen as the Number One metal album of 2002 in Metal Maniacs magazine by one of its head editors, Novembers Doom was also a featured cover story on their January 2003 issue.

Signing with The End

In 2004, a successful tour in North America with The Gathering eventually leading to a signing with The End Records that summer. The band entered the studio in the fall to record their fifth album, The Pale Haunt Departure. This time around the band enlisted the help of the very respected producer and artist Dan Swanö (Edge of Sanity, Bloodbath and Nightingale) for the mixing duties, and the mastering went to metal guitarist and producer James Murphy (Testament, Obituary and Disincarnate).

In March 2005, The Pale Haunt Departure was released with a tour supporting it. Novembers Doom continues to forge ahead, meshing diverse musical styles and textures in the pursuit of always creating a new and unique listening experience with each new release, while retaining their heavy sound and dark lyrics.

The Novella Reservoir

In June 2006, the band's sixth full-length album, The Novella Reservoir, was announced on The End Records' website. The album will contain eight tracks. It is a follow-up to The Pale Haunt Departure.

Discography

* Her Tears Drop (Demo 1995)
* Amid Its Hallowed Mirth (Full-length 1995)
* For Every Leaf That Falls (EP 1997)
* Of Sculptured Ivy and Stone Flowers (Full-length 1999)
* The Knowing (Full-length, 2000)
* To Welcome the Fade (Full-length 2002)
* Reflecting In Grey Dusk (Best of/Compilation 2004)
* The Pale Haunt Departure (Full-length 2005)
* The Novella Reservoir (Full-length 2007)
* Into Night's Requiem Infernal (Full-length 2009)
* Aphotic (Full-length 2011)
* Bled White (Full Length 2014)
* Hamartia (Full Length 2017)
Genre not found
Artist not found
Album not found
Search results not found
Song not found