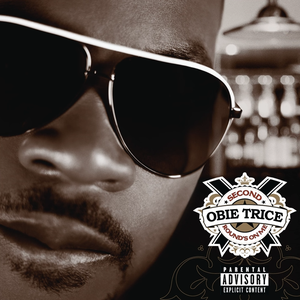 Obie Trice III (real name, no gimmicks, born November 14, 1977) is an American r…
Read Full Bio ↴
Obie Trice III (real name, no gimmicks, born November 14, 1977) is an American rap artist and songwriter. He began rapping at the age of 11, and is most known for his time spent signed to Shady Records. He also has his own record label, Black Market Entertainment.

Obie Trice III was born and raised in Detroit, Michigan by his mother, along with three brothers. He is of African American and German descent. Trice was given a karaoke machine by his mother when he was eleven and he used it to rhyme over instrumentals from artists such as N.W.A. By the age of fourteen, he was attending rap battle spots around Detroit, notably including the Hip Hop Shop.

Obie Trice went by the name of Obie 1 during this time, but when he first met Proof, who was about to introduce him at the Hip Hop Shop, Proof asked him, "What's your name? Your real name, no gimmicks." He was then introduced as Obie Trice, and has kept his real name as his rap name. Trice was introduced to Eminem through D12 member Bizarre. Hot Rapper: Obie Trice. Rolling Stone. Accessed January 22, 2008. Later, Trice received a call from his manager informing him that he would be having dinner with Eminem, and later that night they went to a Kid Rock party.

Before first major release, early years on Shady Records

As an acquaintance of D12 member Bizarre, Obie was signed after a personal introduction to Eminem allowed him to impress the Detroit rap legend in-person. The general public were first introduced to Obie on D12's Devil's Night album on a skit. His one-line opener ("Obie Trice: Real name, no gimmicks" - taken from his song "Rap Name" and referring to the lack of a rap pseudonym) on Eminem's lead single; "Without Me", off the critically-acclaimed and commercially successful The Eminem Show increased public awareness of his name and slogan. Obie also appeared in the video for the song, body-slamming a dummy representing Moby. Appearances on DJ Green Lantern's official Shady Records Invasion mixtape series, allowed him to further his public recognition.

In 2002, Trice appeared in 8 Mile as one of the rappers in the Chin Tiki parking lot scene. Trice also has a featured appearance as Big Pimpin' in the Detroit made independent feature film Life Goes On, which will premiere at the Cannes International Film Festival in May 2006.

A short while before the first Invasion mixtape was released, he became involved in the Eminem-Benzino beef after being called out by Benzino with the line "Obie Trice/You's a buster" in a diss-track directed at Eminem and Shady Records. In response to Benzino, Obie released the track "Welcome to Detroit City" (a track over the beat from Cam'ron's song "Welcome to New York City") on the first Invasion mixtape. He also joined his label-mates in the highly publicised Ja Rule-50 Cent beef but never received a direct response from Ja Rule.

Cheers
His debut album Cheers was released on September 23, 2003 with its first single "Got Some Teeth" being well received on radio in a number of countries. He also released the songs "Don't Come Down" and "The Set Up". The album consists of 17 tracks with production from Eminem, Dr. Dre, Timbaland, Mike Elizondo, Emile, Fredwreck and Denaun Porter. Artists featuring on Cheers include Busta Rhymes, Eminem, Dr. Dre, Nate Dogg and D12 among others. The album was eventually certified platinum by the RIAA.

Second Rounds On Me
As of 2005 he has begun work on his second album, entitled 2nd Rounds On Me, which was expected later that year. Never making the 2005 calendar mark, Obie set sights on releasing it in 2006. Although the album will be released by Shady Records, it will feature a lineup primarily comprised of local Detroit rappers with decreased presence from Eminem and other Shady/Aftermath artists.

Shooting
On December 31, 2005, Trice was shot twice while driving on the Lodge Expressway by Wyoming Avenue in Detroit. One of the bullets entered his skull. Trice was able to drive off the expressway, where his girlfriend waved down police. He was taken to Providence Hospital and released later that day. Doctors are still contemplating whether or not to remove the bullet which entered his head, as it may be too dangerous to operate.

Leaving Shady Records, current situation

Obie Trice left Shady Records on June 26, 2008, because of a dispute because Interscope claimed they would not fund another Obie Trice CD. This news was first put into circulation by Hip-Hop blog Urban Lookout; a few days after they broke the news, a track (Giants) leaked confirming the rumor. Even though Obie has left Shady Records, Eminem's manager Paul Rosenberg says that Eminem and Obie are still close friends, and that Eminem will still work with Obie Trice on future projects.

Discography:

Cheers (2003) - Platinum
2nd Rounds On Me (2006) Released:August 15, 2006

Featured/Other songs:

"Doe Ray Me": D12 and Obie Trice
"Love Me": Eminem, 50 Cent and Obie Trice
"Drips": Eminem and Obie Trice
"Spend Some Time": Eminem, 50 Cent, Stat Quo and Obie Trice
"Adrenaline Rush": Obie Trice
"Fok de Macht": The Opposites and Obie Trice
"Loyalty": D12 and Obie Trice
"Doctor Doctor": Bizarre and Obie Trice
"72nd & Central": Proof, J-Hill and Obie Trice
"Stay Bout It": Obie Trice and Stat Quo
"Growing Up in the Hood": The Game and Obie Trice
"Hennessey": 2Pac and Obie Trice
"Drama Setter": Tony Yayo, Eminem, and Obie Trice
"It Has Been Said": Eminem, Diddy and Obie Trice
"War": Trick Trick and Obie Trice
"Hustler": 50 Cent and Obie Trice
"Get That Money": 50 Cent, Obie Trice, and Lloyd Banks
"Get That Money (remix)": 50 Cent, Obie Trice, Lloyd Banks, and Krondon
Jump to: Overall Meaning ↴ Line by Line Meaning ↴
Since they wanna know
Since they wanna know
(I said)
Since they wanna know
Here's the formula on O, now let's go
(All I want is what's mine, I don't care who I hurt)
Since they wanna know
(All I want is what's mine, I don't care who I hurt)
Since they wanna know
Second rounds on me
Obie Trice, Emil hit 'em, let's go
Ob Trice, the giant, standing a 5'8" stature
Back with a second album, supplying ya Fear Factor
But Joe ain't the host my nigga, you have the access to the most
Noted flow on Shady's faction
And I ain't being cocky, if so accept my apology
Except, know I process my thoughts logically
First weeks sales tops the toll from tsunami
But haters like the L, it's the white boy behind me
But you couldn't inhale a flow that's more grimy
It would still prevail if another label sign me
Obie so timely, must Obie remind 'em
The first nigga to shine solo from the place ya find 'em
Native Detroiter, ghetto reporter, hit you wit some
Heavy metal for supporting what ya caught us
A little something different from the homie from Michigan
Basically, Obie's ripping on any instrument he's given, come on
(All I want is what's mine, I don't care who I hurt)
Since they wanna know
(All I want is what's mine, I don't care who I hurt)
Since they wanna know
(End what's right and why am I immature?)
Since they wanna know
(All I want is what's mine I don't care who I hurt)
Since they wanna know
Four niggas in a whip
All fo' say they ain't fucking with Trice shit
Somebody's lying, I'm undenying, denying me means that
The driver got influence over you on certain things
Be distinguished just 'cause you ain't feeling his favorite emcee
Don't mean you speak no English
Hop out the car, catch the bus
At least you be established as the man that you are
I hate to take it so far and so tedious
But niggas bleed like bitches, I'm truly believing this
Once a month, they wake up
With a Obie tampon inserted in they nuts
Give em the flux 'cause my bucks is up
And no this ain't eBay, so please be easy
Gotta be delusional to think Obie is losing yo
Let 'em get a whiff of some shit, they quick to abuse it though
(All I want is what's mine, I don't care who I hurt)
Since they wanna know
(All I want is what's mine, I don't care who I hurt)
Since they wanna know
(End what's right and why am I immature?)
Since they wanna know
(All I want is what's mine I don't care who I hurt)
Since they wanna know
Peep what O's selling when I hit 'em with Van Halen
But it's just a man from the ghetto rebelling
Rebel without a 'cause, 'cause I'm in them Superman drawers
Running around the shack momma had us living
Now ya mans living a inch from truly killing 'em
A dude or ambition, a gift, given from the man who invented 'em
When the system scrooged just like Lil' Tim and Em'
Will bless the child who maneuvers the censors, then
Spitting venom, have them same dudes interested in him
My visions unlimited, music's my outlet, I rock a outfit
For all the foul shit I witnessed, make it my business
To get a listener of one clear description
If you hearing them, you would catch what I'm pitching
Guarantee to serve your addiction, come on
(All I want is what's mine, I don't care who I hurt)
Since they wanna know
(All I want is what's mine, I don't care who I hurt)
Since they wanna know
(End what's right and why am I immature?)
Since they wanna know
(All I want is what's mine I don't care who I hurt)
Since they wanna know
Overall Meaning
The song "Wanna Know" by Obie Trice addresses the rapper's haters who question his talent and his ability to create good music. The repeated lines of "since they wanna know" serve as a response to the criticism Trice receives from the public. The lyrics argue that Trice is confident in his music, and he is not afraid to hurt others in the process of achieving his success. Trice asserts that he is a giant, not influenced by anyone, and he can rip any instrument given to him.
Trice also addresses the notion that people who don't like a particular rapper are often dismissed as not understanding the language or the style of hip-hop. He says that one should not be embarrassed to take the bus if they don't vibe with Trice's music. To him, not feeling someone's music doesn't mean the person doesn't speak English or understand hip-hop.
In the end, the song "Wanna Know" is Obie Trice's reply to his detractors. He asserts his confidence in his music in the face of criticism and maintains that he will continue to make his music, regardless of how others feel about him.

Line by Line Meaning
Since they wanna know
Since people are curious and want to know about Obie Trice's life and career
Since they wanna know
Reiterating that the song is in response to people's curiosity about Obie Trice
('I said') Since they wanna know
Obie Trice emphasizes that he is speaking directly to those who want to know about him
Here's the formula on O, now let's go
Obie Trice is giving his signature sound and style, and suggesting everyone to get on board with his music
Second rounds on me Obie Trice, Emil hit 'em, let's go
Obie Trice is leading a second round of music and urging Emil to join him
Ob Trice, the giant, standing a 5'8" stature
Obie Trice presents himself as a giant of the rap industry, despite his relatively small stature
Back with a second album, supplying ya Fear Factor
Obie Trice is releasing a second album and supplying listeners with a dose of excitement and thrill
But Joe ain't the host my nigga, you have the access to the most Noted flow on Shady's faction
Obie Trice's flow is one of the most recognizable on Eminem's Shady Records label
And I ain't being cocky, if so accept my apology Except, know I process my thoughts logically
Obie Trice claims to not be arrogant but instead thinks logically and deliberately
First weeks sales tops the toll from tsunami But haters like the L, it's the white boy behind me
Obie Trice's first week of album sales have exceeded even the toll of the tsunami disaster in 2004, but people are still critical of him because of Eminem's success
But you couldn't inhale a flow that's more grimy It would still prevail if another label sign me
Despite his reputation for being 'grimy', Obie Trice's flow and appeal would still succeed on any label
Obie so timely, must Obie remind 'em The first nigga to shine solo from the place ya find 'em
Obie Trice reminds people that he was the first person to achieve huge success as a solo artist from his hometown of Detroit
Native Detroiter, ghetto reporter, hit you wit some Heavy metal for supporting what ya caught us A little something different from the homie from Michigan Basically, Obie's ripping on any instrument he's given, come on
Obie Trice boasts about being a native of Detroit and a reporter of the ghetto, offering a unique perspective in his music. He can rap effectively over any beat.
Four niggas in a whip All fo' say they ain't fucking with Trice shit Somebody's lying, I'm undenying, denying me means that The driver got influence over you on certain things
Obie Trice is suspicious that all four people in a car claim to not like his music, suggesting that the driver's opinions influenced them
Be distinguished just 'cause you ain't feeling his favorite emcee Don't mean you speak no English Hop out the car, catch the bus At least you be established as the man that you are
Obie Trice believes that people should be able to have different tastes in music without looking down on others. He urges those who don't like his music to hop out of the car and be true to themselves.
I hate to take it so far and so tedious But niggas bleed like bitches, I'm truly believing this Once a month, they wake up With a Obie tampon inserted in they nuts
Obie Trice makes a crude comparison between men who dislike his music and women on their menstrual cycle. He thinks they are influenced by something other than their own taste.
Give em the flux 'cause my bucks is up And no this ain't eBay, so please be easy Gotta be delusional to think Obie is losing yo Let 'em get a whiff of some shit, they quick to abuse it though
Obie Trice is successful and gaining wealth, so he brushes off criticisms as baseless. He thinks that those who talk negatively about him haven't really listened to his music.
Peep what O's selling when I hit 'em with Van Halen But it's just a man from the ghetto rebelling Rebel without a 'cause, 'cause I'm in them Superman drawers Running around the shack momma had us living
Obie Trice is a man from the ghetto who is selling his unique brand of music. He is rebelling against societal expectations and norms as someone without an explicit goal. He reminisces about the place he grew up.
Now ya mans living a inch from truly killing 'em A dude or ambition, a gift, given from the man who invented 'em When the system scrooged just like Lil' Tim and Em' Will bless the child who maneuvers the censors, then
Obie Trice warns that someone close to him is very close to doing something terrible. He credits his drive and ambition to genetics and getting into music, and how the music industry is a scary place.
Spitting venom, have them same dudes interested in him My visions unlimited, music's my outlet, I rock a outfit For all the foul shit I witnessed, make it my business To get a listener of one clear description If you hearing them, you would catch what I'm pitching Guarantee to serve your addiction, come on
Obie Trice says that he can captivate even those who don't like his music through lyrical 'venom'. He is confident in his vision and spends his time fashionably. He wants to expose more fans to his music without compromising his artistic vision.
Lyrics © Universal Music Publishing Group, Sony/ATV Music Publishing LLC, Capitol CMG Publishing, REACH MUSIC PUBLISHING
Written by: EMILE HAYNIE, WILLIAM JONES, OBIE TRICE, DENNIS WEBBER

Lyrics Licensed & Provided by LyricFind
To comment on or correct specific content,
highlight it
Genre not found
Artist not found
Album not found
Search results not found
Song not found