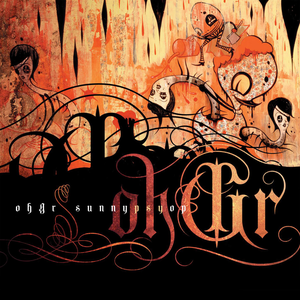 ohGr is a band formed by Nivek Ogre, of Skinny Puppy, and musician/engineer Mark Walk. Although the pedigree of the group's members might suggest otherwise, ohGr is not strictly an industrial group, as it draws from elements of synth-pop/electro-pop, metal, and even hip hop.
Unlike Ogre's earlier Skinny Puppy work, ohGr has a more conventional structure to its music as well as a lighter tone, lyrically and musically.
The band was officially formed in 2001
Read Full Bio
ohGr is a band formed by Nivek Ogre, of Skinny Puppy, and musician/engineer Mark Walk. Although the pedigree of the group's members might suggest otherwise, ohGr is not strictly an industrial group, as it draws from elements of synth-pop/electro-pop, metal, and even hip hop.
Unlike Ogre's earlier Skinny Puppy work, ohGr has a more conventional structure to its music as well as a lighter tone, lyrically and musically.
The band was officially formed in 2001, although the material for the first album, Welt dates back to the mid-nineties, having been held up due to legal trouble with American Records. The first work produced by the band was actually the soundtrack for the computer game 'Descent II', but it was a number of years before their first album was released. Welt was originally the title of the group, a long standing acronym from early Skinny Puppy years when, shortly after Bill Leeb (of Front Line Assembly) left the band, Ogre graffitied "Wilhelm Eats Lunch Today" around Vancouver due to their then-acrimonious split. It was then refined to the less antagonistic "When Everyone Learns Truth". It was later discovered that in the interval, the name had been taken by a Californian punk band.

ohGr's third album titled Devils in my Details was released on October 17th, 2008 in Germany, October 20th in the United Kingdom, and October 21st in the United States. ohGr toured in support of the album release during the autumn of 2008. At Comic-Con 2008, Ogre announced that Bill Moseley will be contributing to the new ohGr album, as a result of them becoming friends through Repo! The Genetic Opera. It was tentatively revealed in a chat with the band that an album of B-sides from Devils in my Details (entitled "D-Sides") and an album of unreleased material from the 1990s (entitled "Dfault") was due to be released. In October 2009 a link to www.wdihtf.com appeared on Skinny Puppy's website. When users sign up to the mailing list they receive a link to the song COLLIDOSKOPE which starts with many different voices saying "Welcome to Collidoskope".
Genre not found
Artist not found
Album not found
Search results not found
Song not found
PawsEE
Ohgr Lyrics
We have lyrics for these tracks by Ohgr:



101 Feeling like I am out of touch Twisted icy hands detach Se…
101_intro "laughing (slows) Kill what? Oh my god what should i s…
animist Animal resistance to the pistons of the engines in this…
bellew Contemplation over this Everything disasterous Is true T…
Chaos Assisted paradigm entrusted privately decays Behaving all c…
ChemTale The home grown homeland fix Keeps all things separate With…
collidoskope Welcome to collidoskope Everything that fueled the hope has…
comedown Once upon a time in vitro-solitude Stepping out behind the …
Cracker You think you're evil but you're not Still sucking life from…
crash Here is what I said Made up is his blanket Up above…
crash_intro 911 Operator: Fire Department, medic 33 what is the address…
Devil Sick I've lit the bridge on fire Exposed the nerves will…
DoG I live it to the matter Want it to be better I…
Earthworm Shade open canopy present in a mirror Curled like a knife…
EnDai Reach towards the thing That will never end Ask another qu…
Eyecandy porno chicks- moving eyes and pressing tits against the scre…
Feelin Chicken You're killing me with bacon, America Killing me with smog a…
Feelin' Chicken You're killing me with bacon, America, killing me with smo…
HiLO When all is said and done before and in the…
hollow Instant paper, compromise Audience stills survives Underne…
iOvNoW Are you waiting at the last post More than all the…
JaKO Only me Don't know the light from darkness Only me Don't …
Kettle Corner cut mindless Morally bankrupt Here fitting nicely …
Lusid When it's getting through I feel as if the time is…
maJiK We all believe the magic is in you 'Cause there's…
Minus Mouth of depleted is nothing caught The trap concealed in a…
nitwitz Atomic-sequence-event Zip it up clear for public What is a…
Pepper mark these arctic bones setting a better get it back to ow…
Pissage Still walking out backward Storms acid jack trip all over t…
Pore The laughing dying culture pop The famous moldy party pop …
Psychoreal "she's clenching her breasts to make 'em look bigger but i…
Shhh Every time I open my mouth I feel a little…
ShiTe (Instrumental)…
Smogharp And in the spider's belly, bones of the butterfly Flight …
Solow A pained token disaster mental reactor put it to sleep A…
Suhleap Crashes time out of place facing take off faster Ditching wo…
SunBurn In trap dog and cat who do you follow Check out…
Three See me bleed Watch me bleed Have me bleed Have me bleed …
Timebomb spoken: The witch is the mother of my dreams Suicide flies…
traGek Nervous sits within the trees Watching, watching overseas …
Water Gray no petals no introduction Gray matter for introspectio…
WaTergaTe Watergate Scenery twisted As I slip off the back of the ro…
Whitevan Just around 5 o'clock Cars are screaming around the block …
Witness mark up flies the hill left to burn immoral chill winding…

The lyrics can frequently be found in the comments below, by filtering for lyric videos or browsing the comments in the different videos below.