I kind of wanna throw my phone across the room
'Cause all I see are girls too good to be true
With paper-white teeth and perfect bodies, wish I didn't care
I know their beauty is not my lack, but it feels like that
Weight is on my back, and I can't let it go
Com-comparison is killing me slowly
I think I think too much 'bout kids who don't know me
I'm so sick of myself, rather be, rather be
Anyone, anyone else, but jealousy, jealousy started following me
Started following me
Blue eyes, see everyone getting all the things I want
I'm happy for them, but then again I'm not
Just cool vintage clothes and vacation photos
I can't stand it, oh, God, I sound crazy
Their win is not my loss
I know it's true, but I can't help getting caught up in the
Co-com-comparison is killing me slowly
I think I think too much 'bout kids who don't know me
I'm so sick of myself, rather be, rather be
Anyone, anyone else, but jealousy, jealousy
All your friends are so cool, you go out every night
In your daddy's nice car, yeah, you're living the life
Got a pretty face, pretty boyfriend too
I wanna be you so bad and I don't even know you
All I see is what I should be
Happier, prettier, jealousy, jealousy
All I see, what I should be
I'm losing it, all I get is jealousy, jealousy
Com-comparison is killing me slowly
I think I think too much 'bout kids who don't know me
And I'm so sick of myself, rather be, rather be (oh, oh)
Anyone, anyone else, jealousy, jealousy
Oh, I'm so sick of myself, I'd rather be, rather be (oh, oh)
Anyone, anyone else, jealousy, jealousy
Started following me
Lyrics © Sony/ATV Music Publishing LLC
Written by: Casey Cathleen Smith, Daniel Nigro, Olivia Rodrigo

Lyrics Licensed & Provided by LyricFind
To comment on specific lyrics,
highlight them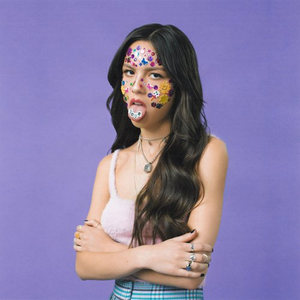 "Jealousy, Jealousy" (stylized in all lowercase) is the ninth track from Olivia Rodrigo's debut studio album, SOUR. It was released on May 21, 2021 through Geffen Records.

In the song, Rodrigo sings about the unrealistic standards society has set for young people, most notably young women, particularly on social media. The content comparison and self-hatred that social media leads to.

"Jealousy, Jealousy" debuted and peaked at #24 on the Billboard Hot 100 during the chart week of June 5, 2021.
Genre not found
Artist not found
Album not found
Search results not found
Song not found