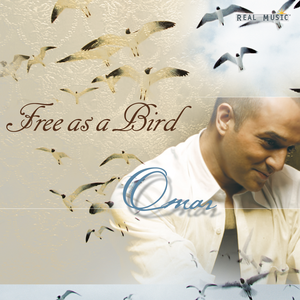 There are at least six acts by the name of Omar:

1. Omar is a UK soul ar…
Read Full Bio ↴
There are at least six acts by the name of Omar:

1. Omar is a UK soul artist of Chinese, African and Indo-Jamaican descent. Born Omar Lye-Fook (1969) in Canterbury England, Omar has been making albums since the early 1990s and his work is often compared to Stevie Wonder's work of the 1970s. After the lukewarm US sales for the LP "For Pleasure," subsequent Omar releases were only available as pricey imports. Now Omar releases his own recordings, tours the UK often, occasionally making brief tours in the US. He is often highly regarded by his US contemporaries such as Erykah Badu, Jill Scott, Common, and Stevie Wonder.
There's Nothing Like This (1990)
Music (1992)
For Pleasure (1994)
This is Not a Love Song (1997)
Best By Far (2000)
Sing, (If You Want It) (2006)
The Man (2013)
http://www.omarmusic.net

2. Omar Akram is the son of a United Nations diplomat, Omar Akram spent many of his early years traveling the world, soaking up the musical traditions of such exotic locales as Afghanistan, Cuba, France, and the Czech Republic.
By the age of 14, he was considered a piano prodigy. In his late teens, he discovered the boundary-pushing sounds of Jean Michel Jarre (France), Kitaro (Japan), and Vangelis (Greece), and began to absorb their independent musical influences. At the same time, Omar Akram remained intrigued by such classical composers as Bach and Mozart, and used much of their thematic coherence, comprehensible structure, and clear rhythmic control to craft his own original compositions.

3. Omar is a two-piece punk band rooted in Philadelphia, PA. They released a CD titled "I'm Not Mad, I'm Just Mad That You're Mad" in April 2010.
http://omar.bandcamp.com

4. Omar is an Italian singer.

5. Omar is an Uruguayan duo of DJs and producers formed by Ignacio Benedetti & Pablo Bonilla.

6. Omar was a British punk band.
http://www.myspace.com/omarband
A Day With You
Omar Lyrics
Jump to: Overall Meaning ↴ Interesting Facts ↴ Line by Line Meaning ↴
It's a lovely night
Full of colored lights
And all the stars up on the sky
Shining bright for you and I
Seems like yesterday
We're celebrating the same way
And I still can't believe
I get to be with you another Xmas Eve
Still feels like that first time
I looked you in the eyes and called you mine
The only thing I said I need
Is having you right here with me
I just wanna spend this night
Enjoying you all by my side
And I still can't believe
I get to be with you another Xmas Eve
Tonight is ours and time is slow
I'm gonna hold you close and let you know
The only gift I want this eve
Is having you right here with me
I just wanna spend this night
Enjoying you all by my side
And I still can't believe
I get to be with you another Xmas Eve
Oh I still can't believe
I get to be with you another Xmas Eve
Overall Meaning
In "A Day With You," Omar sings about spending Christmas Eve with the love of his life. The song sets a romantic tone with its description of a beautiful night filled with colored lights and shining stars, all of which serve as a backdrop to the singer's special night with his loved one. Omar reflects on past Christmases celebrated together and expresses his gratitude for being with his partner again. Despite the passage of time, Omar still feels the same excitement and passion he felt when he first fell in love, and he treasures the time he can spend with his partner.
The lyrics in "A Day With You" are simple yet powerful, conveying the joy of being with someone you love during a magical and festive time of year. The song's message revolves around the importance of cherishing loved ones and making the most of the time you have together. The lyrics evoke a sense of warmth and comfort, which make the song particularly well-suited to be played during the holidays.
Overall, "A Day With You" is a testament to the power of love and the magic of the holiday season. With its heartfelt lyrics and catchy melody, the song is sure to resonate with listeners who have experienced the joy of being with someone special during Christmas time.
Interesting facts about "A Day With You":
Interesting Facts
Note: This section uses generative AI, which can be inaccurate.


Line by Line Meaning
It's a lovely night
The night is beautiful and pleasant
Full of colored lights
There are colorful lights around that add to the beauty of the night
And all the stars up on the sky
The stars are shining and visible in the sky
Shining bright for you and I
The stars are bright and shining for both of us to see
Seems like yesterday
It feels like it was just recently when we last celebrated
We're celebrating the same way
We are marking the same occasion in a similar manner
And I still can't believe
I am still surprised and grateful
I get to be with you another Xmas Eve
That I get the chance to spend another Christmas Eve with you
Still feels like that first time
It feels like the same way we were when we first got together
I looked you in the eyes and called you mine
The moment when I declared you as officially mine is still clear in my memory
The only thing I said I need
The only thing I requested was to have you beside me
Is having you right here with me
I just need you to be by my side
I just wanna spend this night
All I want is for us to be together this night
Enjoying you all by my side
I want to have the pleasure of your company tonight
Tonight is ours and time is slow
This night is meant for us and time seems to be moving slowly in our favor
I'm gonna hold you close and let you know
I plan to embrace you tightly to show how much I care
The only gift I want this eve
The only thing I desire this evening
Is having you right here with me
Is for you to be with me tonight
Oh I still can't believe
I am still surprised and grateful
I get to be with you another Xmas Eve
That I get the chance to spend another Christmas Eve with you
Lyrics © DistroKid
Written by: iRize International

Lyrics Licensed & Provided by LyricFind
To comment on or correct specific content,
highlight it
Genre not found
Artist not found
Album not found
Search results not found
Song not found