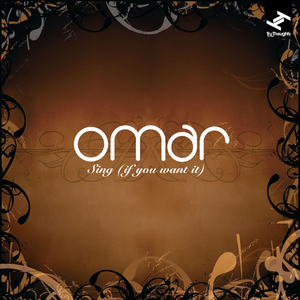 There are at least six acts by the name of Omar:

1. Omar is a UK soul ar…
Read Full Bio ↴
There are at least six acts by the name of Omar:

1. Omar is a UK soul artist of Chinese, African and Indo-Jamaican descent. Born Omar Lye-Fook (1969) in Canterbury England, Omar has been making albums since the early 1990s and his work is often compared to Stevie Wonder's work of the 1970s. After the lukewarm US sales for the LP "For Pleasure," subsequent Omar releases were only available as pricey imports. Now Omar releases his own recordings, tours the UK often, occasionally making brief tours in the US. He is often highly regarded by his US contemporaries such as Erykah Badu, Jill Scott, Common, and Stevie Wonder.
There's Nothing Like This (1990)
Music (1992)
For Pleasure (1994)
This is Not a Love Song (1997)
Best By Far (2000)
Sing, (If You Want It) (2006)
The Man (2013)
http://www.omarmusic.net

2. Omar Akram is the son of a United Nations diplomat, Omar Akram spent many of his early years traveling the world, soaking up the musical traditions of such exotic locales as Afghanistan, Cuba, France, and the Czech Republic.
By the age of 14, he was considered a piano prodigy. In his late teens, he discovered the boundary-pushing sounds of Jean Michel Jarre (France), Kitaro (Japan), and Vangelis (Greece), and began to absorb their independent musical influences. At the same time, Omar Akram remained intrigued by such classical composers as Bach and Mozart, and used much of their thematic coherence, comprehensible structure, and clear rhythmic control to craft his own original compositions.

3. Omar is a two-piece punk band rooted in Philadelphia, PA. They released a CD titled "I'm Not Mad, I'm Just Mad That You're Mad" in April 2010.
http://omar.bandcamp.com

4. Omar is an Italian singer.

5. Omar is an Uruguayan duo of DJs and producers formed by Ignacio Benedetti & Pablo Bonilla.

6. Omar was a British punk band.
http://www.myspace.com/omarband
Ghana Emotion
Omar Lyrics
Jump to: Overall Meaning ↴ Interesting Facts ↴ Line by Line Meaning ↴
Everywhere I look around I see history
The birth of man in front of me
There is so much soul going on, yeah
I wanna soak it up to the top
Take in everything
My mum and dad decided
That there was nothing here for them
They could hear the calling
Of all the drums all around them
Said goodbye and up and went
To find their fortune
Now they're living it up in a big old house
And it's got its own sea view
Yes, it real Ghana emotion
Yes, it real Ghana emotion
Wake up in the morning and I'm feeling hungry
The situation calls for food
And what better way to start your morning
With some kenke and hot pepper sauce
And some fresh fish too
Take a stroll along the beach
In the beautiful weather
Prefect place for you
If you need to get it together
Bring a friend and you can be sure
Of a wonderful moment
You'll be living it up in a place
You can think about retirement
Yes, it real Ghana emotion
Yes, it real Ghana emotion
Take a stroll along the beach
In the beautiful weather
Prefect place for you
If you need to get it together
Bring a friend and you can be sure
Of a wonderful moment
You'll be living it up in a place
You can think about retirement
Yes, it real Ghana emotion
Yes, it real Ghana emotion
I'm coming home
I'm coming home
Overall Meaning
The song "Ghana Emotion" by Omar is an ode to Ghana, its people, culture, and beauty. The first verse mentions seeing history all around and wanting to soak it all up. This could be interpreted as having a deep appreciation for the past and wanting to learn from it. The line "The birth of man in front of me" could be a reference to Ghana's rich and diverse history as a civilization that has been around for centuries. Similarly, the line "There is so much soul going on, yeah" could be interpreted as a recognition of Ghana's vibrant culture, which is known for its music, dance, and art.
The second verse talks about Omar's parents leaving their home country to find a better future elsewhere. However, the song seems to suggest that Ghana has a lot to offer and the country is worth staying in. The chorus repeats the line "Yes, it real Ghana emotion," which could be interpreted as a sort of slogan, an affirmation, or a statement of pride in Ghana.
The third and fourth verses mention food, the beach, and retirement. These are all common motifs that people associate with a good life or a relaxed lifestyle. Omar seems to be suggesting that all these things can be found in Ghana, and that one should consider this beautiful country as a place to live, retire or visit.
Overall, "Ghana Emotion" is a positive and uplifting song that celebrates Ghana's culture, history, and beauty. It reminds us that even in difficult times, there is always something to appreciate and be grateful for.
Interesting Facts:
Interesting Facts
Note: This section uses generative AI, which can be inaccurate.


Line by Line Meaning
Everywhere I look around I see history
As I observe my surroundings, I am reminded of the rich cultural heritage and traditions that have shaped this land.
The birth of man in front of me
The presence of the people, their customs and the way they interact with their environment tells a story about the origins of humanity.
There is so much soul going on, yeah
There is a lot of energy, passion and emotion being expressed through the music, dance, art and general way of life in Ghana that is captivating.
I wanna soak it up to the top
I want to fully immerse myself in this vibrant culture and absorb everything it has to offer.
Take in everything
I want to experience all facets of Ghanaian life, from the food to the beaches to the people.
My mum and dad decided
My parents made a choice to leave Ghana in search of a better life elsewhere.
That there was nothing here for them
They felt that they couldn't achieve their dreams and aspirations in their home country.
They could hear the calling
They were drawn to the sounds and rhythms of their native culture, which kept them connected to their roots.
Of all the drums all around them
The beats of the drums symbolized the heartbeat of Ghanaian life, and their presence beckoned my parents to return.
Said goodbye and up and went
They made a bold move to leave behind their familiar home and venture into the unknown.
To find their fortune
They wanted to seek out opportunities and prosperity that were beyond their reach in Ghana.
Now they're living it up in a big old house
My parents have achieved success and are now enjoying a comfortable lifestyle in a spacious home.
And it's got its own sea view
Their home provides a breathtaking vista of the ocean, which adds to their enjoyment of their surroundings.
Yes, it real Ghana emotion
This feeling of pride and connection to Ghanaian culture is authentic and deeply felt.
Wake up in the morning and I'm feeling hungry
Starting a new day in Ghana means being excited about the delicious food you will get to enjoy.
The situation calls for food
When you're in Ghana, the need for sustenance is always front and center, given the abundance of flavorful cuisine available.
And what better way to start your morning
Eating a hearty breakfast of kenke and hot pepper sauce, along with some fresh fish, is the perfect way to begin your day.
With some kenke and hot pepper sauce
This traditional Ghanaian dish is a staple that is full of flavor and satisfying.
Take a stroll along the beach
Going for a leisurely walk by the sea is a lovely way to spend some time in Ghana.
In the beautiful weather
The warm and sunny climate makes the beach an ideal spot to relax and unwind.
Prefect place for you
Ghana offers a wide range of appealing locations where you can find your own personal paradise.
If you need to get it together
Sometimes, it's important to pause and reflect, and Ghana provides a peaceful environment for introspection and renewal.
Bring a friend and you can be sure
Sharing experiences with others can make them even more enjoyable, and Ghana is a great place to create memories with friends.
Of a wonderful moment
The combination of Ghana's stunning scenery, friendly locals, and cultural richness creates many unforgettable moments.
You'll be living it up in a place
With so many opportunities for excitement and joy, Ghana is a life-affirming destination.
You can think about retirement
Ghana's blend of relaxation and adventure, combined with its affordability, makes it a perfect place to consider settling down later in life.
I'm coming home
Returning to Ghana is like returning to your roots and finding a sense of belonging and purpose.
I'm coming home
Ghana is a place of immense pride, history and culture which offers a welcoming embrace to those who want to return.
Lyrics © Kobalt Music Publishing Ltd.
Written by: Omar Lye-Fook

Lyrics Licensed & Provided by LyricFind
To comment on or correct specific content,
highlight it
Genre not found
Artist not found
Album not found
Search results not found
Song not found