This Is Not A Love Song
Omar Lyrics
Jump to: Overall Meaning | Line by Line Meaning
This is not a love song
This is not a love song
I draw the line at getting involved with anyone
I′ve been messed with all my life
I don't consider it much fun
Love is all around me but so d hard to find
People keep telling me it′s there I must be blind
This is not a love song
This is not a love song (don't get me wrong)
Every day I try to get on with my life but you get in the way
Excuse me if I'm distant I′m trying to keep love at bay
If you love me you will give me all the time that I need
Love is for some people maybe it′s not for me
I tried to sit and wait and contemplate that
You were simply a phase I had to overcome
Spend sleepless nights around you procrastinate about you
I'm thinking something simply has to be done
Who says I love you but I don′t think I do
Overall Meaning
In Omar's song "This Is Not A Love Song," he emphasizes that this is not a love song in the very first line of the song. He draws the line at getting involved with anyone due to his past experiences where he has been messed with all his life, which he does not consider much fun. Love is all around him, but he finds it so hard to find, and people keep telling him that it's there, but he must be blind.
The artist is trying to tell us that he is struggling to keep love away, and he seems to be resisting it. But his lyrics also indicate that he is open to the possibility of love. He wants space and time to think about whether love is right for him or not. Omar's song is a mix of sadness and denial; he is expressing his reluctance to love, reflecting his hesitance to put himself in such a vulnerable state again. However, towards the end of the song, he's almost challenging himself by saying, "who says I love you, but I don't think I do."

Line by Line Meaning
This is not a love song
I want to make it clear that this isn't a song about falling in love
This is not a love song
I'm repeating it because I want to emphasize that this is not about love
I draw the line at getting involved with anyone
I've decided not to get too close to anyone romantically
I've been messed with all my life
I've had a lot of bad experiences when it comes to relationships and love
I don't consider it much fun
I don't think it's enjoyable or worth the effort
Love is all around me but so hard to find
There are many people in love around me, but I can't seem to find it myself
People keep telling me it's there I must be blind
Others say that love is everywhere, but I can't seem to see it
This is not a love song (don't get me wrong)
Just to clarify again, this isn't a song about love (but don't misunderstand me)
Every day I try to get on with my life but you get in the way
I'm trying to move on with my life, but you're making it difficult
Excuse me if I'm distant I'm trying to keep love at bay
I might seem distant, but it's because I'm intentionally avoiding love
If you love me you will give me all the time that I need
If someone truly loves me, they'll understand and respect my need for space
Love is for some people maybe it's not for me
Love might work for others, but I don't think it's for me
I tried to sit and wait and contemplate that
I've spent time thinking about it and reflecting on my feelings
You were simply a phase I had to overcome
I realize that my feelings for you were temporary and I needed to get past them
Spend sleepless nights around you procrastinate about you
I've lost sleep over you and have been putting off dealing with my feelings
I'm thinking something simply has to be done
I've come to the conclusion that I need to take action and move on
Who says I love you but I don't think I do
Others might think I love you, but I'm not sure if I really do
Writer(s): Lydon John, Atkins Martin Clive, Levene Julian Keith

Contributed by Callie A. Suggest a correction in the comments below.
To comment on or correct specific content,
highlight it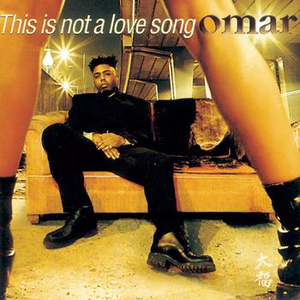 There are at least six acts by the name of Omar:

1. Omar is a UK soul artist of Chinese, African and Indo-Jamaican descent. Born Omar Lye-Fook (1969) in Canterbury England, Omar has been making albums since the early 1990s and his work is often compared to Stevie Wonder's work of the 1970s. After the lukewarm US sales for the LP "For Pleasure," subsequent Omar releases were only available as pricey imports. Now Omar releases his own recordings, tours the UK often, occasionally making brief tours in the US.
Read Full Bio
There are at least six acts by the name of Omar:

1. Omar is a UK soul artist of Chinese, African and Indo-Jamaican descent. Born Omar Lye-Fook (1969) in Canterbury England, Omar has been making albums since the early 1990s and his work is often compared to Stevie Wonder's work of the 1970s. After the lukewarm US sales for the LP "For Pleasure," subsequent Omar releases were only available as pricey imports. Now Omar releases his own recordings, tours the UK often, occasionally making brief tours in the US. He is often highly regarded by his US contemporaries such as Erykah Badu, Jill Scott, Common, and Stevie Wonder.
There's Nothing Like This (1990)
Music (1992)
For Pleasure (1994)
This is Not a Love Song (1997)
Best By Far (2000)
Sing, (If You Want It) (2006)
The Man (2013)
http://www.omarmusic.net

2. Omar Akram is the son of a United Nations diplomat, Omar Akram spent many of his early years traveling the world, soaking up the musical traditions of such exotic locales as Afghanistan, Cuba, France, and the Czech Republic.
By the age of 14, he was considered a piano prodigy. In his late teens, he discovered the boundary-pushing sounds of Jean Michel Jarre (France), Kitaro (Japan), and Vangelis (Greece), and began to absorb their independent musical influences. At the same time, Omar Akram remained intrigued by such classical composers as Bach and Mozart, and used much of their thematic coherence, comprehensible structure, and clear rhythmic control to craft his own original compositions.

3. Omar is a two-piece punk band rooted in Philadelphia, PA. They released a CD titled "I'm Not Mad, I'm Just Mad That You're Mad" in April 2010.
http://omar.bandcamp.com

4. Omar is an Italian singer.

5. Omar is an Uruguayan duo of DJs and producers formed by Ignacio Benedetti & Pablo Bonilla.

6. Omar was a British punk band.
http://www.myspace.com/omarband
Genre not found
Artist not found
Album not found
Search results not found
Song not found