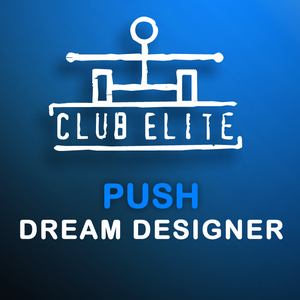 Dream Designer (8 Wonders Remix)
There are five Artists with the Name 'Push': A Belgian DJ, a two-piece band from Portland/San Diego, the band Push, the other band Push and an old soulgroup (no description available, but you can find it on some soulsamplers) with the same name.

Push (not to be confused with the band) is a pseudonym for popular Belgian DJ Mike Dierickx (M.I.K.E.). Best known for the song "Universal Nation", he has also released other singles including "The Legacy" and "Strange World". His style is primarily progressive trance.
Read Full Bio
There are five Artists with the Name 'Push': A Belgian DJ, a two-piece band from Portland/San Diego, the band Push, the other band Push and an old soulgroup (no description available, but you can find it on some soulsamplers) with the same name.

Push (not to be confused with the band) is a pseudonym for popular Belgian DJ Mike Dierickx (M.I.K.E.). Best known for the song "Universal Nation", he has also released other singles including "The Legacy" and "Strange World". His style is primarily progressive trance.

Push - Portland/San Diego
Push is a two piece band made up by Josh Wyble and Matthew Kupka. Josh and Matt both are familiar to the music scene, with Josh coming from playing drums in hardcore project Tiger Lily, and Matt being the previous singer/guitar player in Southtowne Lanes (also Dog Knights Productions). The music you hear is representative of those influences. Their debut LP 'For Sale By Owner' will be released through Dog Knights Productions in January, 2018.

Push - The Band
Push formed in late 1987 and pioneered the London " Rare Groove Scene " along with bands such as The Brand New Heavies, The Young Disciples and Soul II Soul.
Push released their first track "Traffic" on " Acid Jazz and other illicit Grooves" (1988 Polydor) this track won high critical acclaim and from this record the ACID JAZZ movement emerged.
Push toured Japan in 1989 for Gilles Peterson under the Acid Jazz banner, and with legendary London and UK shows gained a live reputation second to none. The Rhythm section of Crispin Taylor, Ernie Mckone and Mark Vandergucht were recruited by Galliano in 1990 and proceeded to tour the world selling in excess of 800,000 albums for the band.
Meanwhile the Push Sax player Jacko Peake worked with Paul Weller on his Solo projects and the Trumpeter Damon Brown became an internationally respected Jazz Musician.
Push continue with to perform in the UK and Europe cementing their reputation as awesome purveyors of hard grooving Funk.

Push - The Other Band
Punk band from Hässleholm, Sweden

PUSH - Portuguese Hardcore Band from Lisbon
Genre not found
Artist not found
Album not found
Search results not found
Song not found