Hay veces que me desespera
Tu manera de ser tan voluble
Y siento que no te conozco no no
Aunque todo el día viva contigo
Hay veces que me desespera
No poder salir de este encierro
Y otras veces me quedo cruzando los dedos
Para quedarme otra vez tan solo un momento
Hay tiempos en que quiero salir huyendo
Y otros tantos en que quiero quedarme adentro
Destrozarnos las ganas a cada momento
Y abrazar nuestra fuerza al hacer el intento
Hay veces que no se siquiera los conflictos que tienes conmigo
Hay veces que me desconcierta no saber si eres mi amigo
Hay veces que siento ganas de llorar
Y me siento tan solo en este lugar
Hay veces que tengo ganas de reír
Y junto a ti mi alegría compartir
Hay veces que no se siquiera los conflictos que tienes conmigo
Hay veces que me desconcierta no saber si eres mi amigo
A llegado el momento de decir adiós
No te preocupes no me pidas perdón
Pues solo se que esto fue un juego para ti
No te preocupes que también lo fue para mi
Hay veces que no se siquiera los conflictos que tienes conmigo
Hay veces que me desconcierta no saber si eres mi amigo
Hay veces que no se si quiera,no se quiera,
No se si quiera, no se siquiera, no se si quiera seguir aquí
Hay veces que me desespera tu manera de ser tan voluble
Aunque todo el día viva
Contigo
Lyrics © Warner/Chappell Music, Inc.
Written by: DARIO ALFREDO ESPINOSA LUNA, FRANCISCO JAVIER GONZALEZ BARAJAS, GUILLERMO HIRAM PANIAGUA LUNA, LEON FELIPE BUSTAMANTE BAEZ, LEONEL ANDRES ROSALES GARCIA, LUIS ROMAN IBARRA GARCIA, MARCO ANTONIO HUERTA HEREDIA, OMAR MISSAEL OSEGUERA CORTES, RODRIGO JOEL BO

Lyrics Licensed & Provided by LyricFind
To comment on specific lyrics,
highlight them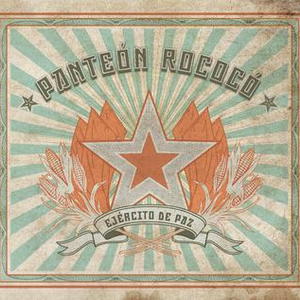 Panteón Rococó is a mexican Latin-ska band formed in Mexico City, Mexico in 1995. Despite flourishing black markets, they sold thousands of records. While being stars in Mexico, they've been touring Europe the last three years in a row, especially Germany, where their European Label Übersee Records is located.

Panteón Rococó blend several styles of popular music such as rock, punk, salsa, cumbia, mariachi, reggae, ska, and also mestizo music into a very energetic, groovy sound.
Read Full Bio
Panteón Rococó is a mexican Latin-ska band formed in Mexico City, Mexico in 1995. Despite flourishing black markets, they sold thousands of records. While being stars in Mexico, they've been touring Europe the last three years in a row, especially Germany, where their European Label Übersee Records is located.

Panteón Rococó blend several styles of popular music such as rock, punk, salsa, cumbia, mariachi, reggae, ska, and also mestizo music into a very energetic, groovy sound. As they are very political people and sympathize with the EZLN in Chiapas, some of their lyrics contain political statements, but many others are love songs.

While very popular in Mexico, they are not so known in Europe, hence their contributions and tours there.

Group Members

* Luis Dr. Shenka - vocals
* Dario Espinosa - Bass
* Hiram Paniagua - Drums
* Leonel Rosales - Guitar
* Felipe Bustamante - Keyboard
* Paco Barajas - Trombone
* Gorri - Guitar
* Missael - Saxophone
* Tanis - Percussion
Genre not found
Artist not found
Album not found
Search results not found
Song not found