Sentirse libre en estos tiempos
Es acabar con estos infiernos
Del enajene televisivo
Para poder sentirnos vivos
Un territorio pontificado
Al universo lo han cableado
Control remoto de tu destino
De tu cerebro libre asesino
Trafico de armas, de gustos pederastas, de razas, religión, enagenacion de masas
Con el paso de los años nos quieren convencer
Mas si es mito es lo que les da poder
Vamos ya despierta, ve y gritale al vecino que es hora de ir en marcha o nos borran del camino,
Vamos quítate la chaqueta mental
Se pro positivo no seas neo-liberal
Respeta tu persona
Y Respeta a tu gente
Siéntete orgulloso de tu casa y ti raíz
Fomenta la palabra
La memoria y la esperanza vamos hablala y de ella se aprendiz
Se un arquitecto de tu propia existencia. Se todas la voces que no paren de gritar.
Se la propia flor que florezca en tu jardín
Se la barricada que a esto ponga fin
No bajes la cabeza ante la desesperanza.
Convencerte del que persevera alcanza
Si no lo haces tu, nadie te abrirá cancha.
En el juego de la vida no nos sirve la arrogancia
Comprometerte con tu propio destino
Atrévete a decir no al racismo
Es hora de olvidar todo nuestro cinismo y aprender a vivir sin autoritarismos
Lyrics © Warner/Chappell Music, Inc.
Written by: DARIO ALFREDO ESPINOSA LUNA, FRANCISCO JAVIER GONZALEZ BARAJAS, GUILLERMO HIRAM PANIAGUA LUNA, LEON FELIPE BUSTAMANTE BAEZ, LEONEL ANDRES ROSALES GARCIA, LUIS ROMAN IBARRA GARCIA, MARCO ANTONIO HUERTA HEREDIA, OMAR MISSAEL OSEGUERA CORTES, RODRIGO JOEL BO

Lyrics Licensed & Provided by LyricFind
To comment on specific lyrics,
highlight them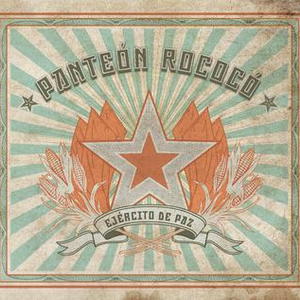 Panteón Rococó is a mexican Latin-ska band formed in Mexico City, Mexico in 1995. Despite flourishing black markets, they sold thousands of records. While being stars in Mexico, they've been touring Europe the last three years in a row, especially Germany, where their European Label Übersee Records is located.

Panteón Rococó blend several styles of popular music such as rock, punk, salsa, cumbia, mariachi, reggae, ska, and also mestizo music into a very energetic, groovy sound.
Read Full Bio
Panteón Rococó is a mexican Latin-ska band formed in Mexico City, Mexico in 1995. Despite flourishing black markets, they sold thousands of records. While being stars in Mexico, they've been touring Europe the last three years in a row, especially Germany, where their European Label Übersee Records is located.

Panteón Rococó blend several styles of popular music such as rock, punk, salsa, cumbia, mariachi, reggae, ska, and also mestizo music into a very energetic, groovy sound. As they are very political people and sympathize with the EZLN in Chiapas, some of their lyrics contain political statements, but many others are love songs.

While very popular in Mexico, they are not so known in Europe, hence their contributions and tours there.

Group Members

* Luis Dr. Shenka - vocals
* Dario Espinosa - Bass
* Hiram Paniagua - Drums
* Leonel Rosales - Guitar
* Felipe Bustamante - Keyboard
* Paco Barajas - Trombone
* Gorri - Guitar
* Missael - Saxophone
* Tanis - Percussion
Genre not found
Artist not found
Album not found
Search results not found
Song not found