Para ti las manos cruzadas
Atadas de cabo a rabo
Una mortaja roja que te cubre la boca
Los ojos amoratados y una costilla rota
La sangre que se derrama
Sobre tu rostro pide, ¡No mas!
Sobre tu rostro pide perdón
Pobre tu rostro pide, ¡No mas!
Pobre de tu rostro
Y tu pensabas que me verías doblar las manos
Pero no tomas en cuenta mi experiencia
Aliados televisivos gente desinformada
Son parte de mi equipo, de tonto no tengo nada
Un grupo de represores que viven para matar
Con bajos instintos que me dan seguridad
Ese es mi mundo neo-liberal
Y al que no le guste, me vale, me da igual
Globalizado, de ahora en adelante tu vida corre peligro en un instante
Globalizado, de ahora en adelante es bien sabido por todas partes
Lyrics © Universal Music Publishing Group
Written by: CESAR GARCIA SANCHEZ, DARIO ALFREDO ESPINOSA LUNA, FRANCISCO JAVIER GONZALEZ BARAJAS, GUILLERMO HIRAM PANIAGUA LUNA, LEON FELIPE BUSTAMANTE BAEZ, LEONEL ANDRES ROSALES GARCIA, LUIS ROMAN IBARRA GARCIA, MARCO ANTONIO HUERTA HEREDIA, OMAR MISSAEL OSEGUERA C

Lyrics Licensed & Provided by LyricFind
To comment on specific lyrics,
highlight them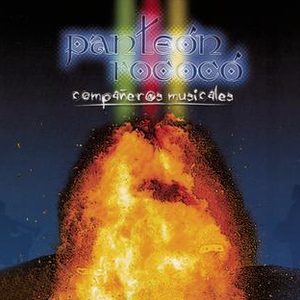 Panteón Rococó is a mexican Latin-ska band formed in Mexico City, Mexico in 1995. Despite flourishing black markets, they sold thousands of records. While being stars in Mexico, they've been touring Europe the last three years in a row, especially Germany, where their European Label Übersee Records is located.

Panteón Rococó blend several styles of popular music such as rock, punk, salsa, cumbia, mariachi, reggae, ska, and also mestizo music into a very energetic, groovy sound.
Read Full Bio
Panteón Rococó is a mexican Latin-ska band formed in Mexico City, Mexico in 1995. Despite flourishing black markets, they sold thousands of records. While being stars in Mexico, they've been touring Europe the last three years in a row, especially Germany, where their European Label Übersee Records is located.

Panteón Rococó blend several styles of popular music such as rock, punk, salsa, cumbia, mariachi, reggae, ska, and also mestizo music into a very energetic, groovy sound. As they are very political people and sympathize with the EZLN in Chiapas, some of their lyrics contain political statements, but many others are love songs.

While very popular in Mexico, they are not so known in Europe, hence their contributions and tours there.

Group Members

* Luis Dr. Shenka - vocals
* Dario Espinosa - Bass
* Hiram Paniagua - Drums
* Leonel Rosales - Guitar
* Felipe Bustamante - Keyboard
* Paco Barajas - Trombone
* Gorri - Guitar
* Missael - Saxophone
* Tanis - Percussion
Genre not found
Artist not found
Album not found
Search results not found
Song not found