Jump to: Overall Meaning | Line by Line Meaning
Una pena y otra pena son dos penas para mi
Ayer lloraba por verte hoy canto por que te vi
Cuando pases por el puente donde corre agua del río
No dejes amor pendiente como dejaste el mio
Cállate corazón cállate, cállate corazón no llores
Cállate corazón cállate, cállate corazón no digas nada
Música
Morena si tu me quieres no se lo digas a nadie
Date la vuelta y dile al corazón que calle
Cuando pases por el puente donde corre agua del río
No dejes amor pendiente como dejaste el mio
Cállate corazón cállate, cállate corazón no llores
Cállate corazón cállate, cállate corazón no digas nada
Música
Una pena y otra pena son dos penas para mi
Ayer lloraba por verte hoy canto por que te vi
Cuando pases por el puente donde corre agua del río
No dejes amor pendiente como dejaste el mio
Cállate corazón cállate, cállate corazón no llores
Cállate corazón cállate, cállate corazón no digas nada
Overall Meaning
Pastor López Y Su Combo's song Callate Corazón is a song about heartbreak and the pain that comes with it. The lyrics speak of the singer's two sorrows and how he recently cried for the person he missed and now is singing for he has seen her. The singer talks about the importance of not leaving love unfinished when walking over the bridge where the river flows. The singer wants the heart to stop crying and to not say anything in order to move on from the past and not let it ruin the present.
The verses are simple, and the message is clear. It is a plea to the heart to stop crying and feeling the agony of the past love. The chorus of the song repeats the phrase "cállate corazón" which translates to "shut up heart". This catchy phrase adds depth to the song and emphasizes the meaning behind the lyrics. This song is a classic example of how music can be used to speak to the emotions of people and connect with them in a deeply emotional way.

Line by Line Meaning
Una pena y otra pena son dos penas para mi
My heart is burdened with two sorrows.
ayer lloraba por verte hoy canto por que te vi
Yesterday I cried because I missed you, but today I sing because I saw you.
cuando pases por el puente donde corre agua del río
When you pass by the bridge over the river.
no dejes amor pendiente como dejaste el mio
Do not leave love unfulfilled like you did with mine.
cállate corazón cállate, cállate corazón no llores
Be quiet, my heart, do not cry.
cállate corazón cállate, cállate corazón no digas nada
Be quiet, my heart, do not say anything.
Morena si tu me quieres no se lo digas a nadie
Brown-skinned girl, if you love me, don't tell anyone.
date la vuelta y dile al corazón que calle
Turn around and tell your heart to be quiet.
música
Instrumental break.
Writer(s): Lanao Cotes Aquiles

Contributed by Elena W. Suggest a correction in the comments below.
To comment on or correct specific content,
highlight it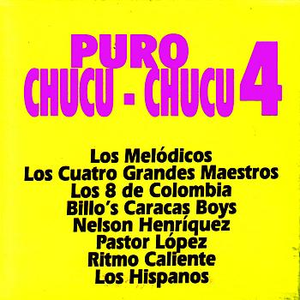 All-time great Colombian King of Cumbia but in fact its a venezuelan singer.
Genre not found
Artist not found
Album not found
Search results not found
Song not found