Quisiera Y No Quisiera
Pastor Lopez Lyrics
Jump to: Overall Meaning | Line by Line Meaning
Si yo fuera un pajarito
No pensaria en volar
Ni en vivir en tu nidito
Alla en mi soledad
Quisiera ser pajarito
Quisiera y no quisiera
Quisiera hundir el vuelo
Quisiera y no quisiera
Por besar en tu boquita
Quisiera y no quisiera
Ay lastima que no puedo
Qusiera y no quisiera
En la palma de mi mano
Yo quisiera regalarte
Para cuando estes ausente
Alzar la mano y besarte
Si yo fuera un pajarito
Quisiera y no quisiera
Si un pajarito yo fuera
Quisiera y no quisiera
Te metiera en tus sueñitos
Quisiera y no quisiera
Como un pañuelito e seda
Quisiera y no quisiera
Si yo fuera un pajarito
No pensaria en volar
Ni en vivir en tu nidito
Alla en mi soledad
Quisiera ser pajarito
Quisiera y no quisiera
Quisiera hundir el vuelo
Quisiera y no quisiera
Por besar en tu boquita
Quisiera y no quisiera
Ay lastima que no puedo
Qusiera y no quisiera
Si yo fuera un pajarito
No pensaria en volar
Ni en vivir en tu nidito
Alla en mi soledad
Quisiera ser pajarito
Quisiera y no quisiera
Quisiera hundir el vuelo
Quisiera y no quisiera
Por besar en tu boquita
Quisiera y no quisiera
Ay lastima que no puedo
Qusiera y no quisiera
Overall Meaning
The lyrics of Pastor Lopez's song, Quisiera Y No Quisiera, express conflicting feelings of love and longing. The song opens with the speaker wishing to be a bird, but not for the freedom of flight or the joy of living in a nest. Instead, the speaker wants to be able to kiss the person he loves. The repetition of "Quisiera y no quisiera" (I want to but I don't want to) suggests that the speaker is torn between his desire for this person and the pain that comes with not being able to have them.
The second stanza takes a more romantic turn as the speaker imagines being able to carry the person in the palm of his hand, kissing them whenever they are apart. The imagery of the person being like a delicate silk handkerchief suggests both their fragility and their great value.
The final stanza repeats the opening stanza word for word, emphasizing the speaker's desire to be with the person they love, even if it means sacrificing their individual freedom.
Overall, the lyrics reflect the complex emotions that come with being in love but facing obstacles that prevent the speaker from being with their beloved, resulting in a bittersweet longing.

Line by Line Meaning
Si yo fuera un pajarito
If I were a bird
No pensaria en volar
I wouldn't think about flying
Ni en vivir en tu nidito
Nor about living in your small nest
Alla en mi soledad
Alone in my solitude
Quisiera ser pajarito
I'd like to be a bird
Quisiera y no quisiera
I want to and I don't want to
Quisiera hundir el vuelo
I want to spread my wings and fly
Por besar en tu boquita
To be able to kiss your lips
Ay lastima que no puedo
Oh, what a shame I can't
En la palma de mi mano
In the palm of my hand
Yo quisiera regalarte
I'd like to give you as a gift
Para cuando estes ausente
So that when you're away
Alzar la mano y besarte
I can raise my hand and kiss you
Te metiera en tus sueñitos
I'd put you in your dreams
Como un pañuelito e seda
Like a silk handkerchief
Writer(s): Antonio Fernandez

Contributed by Jayce G. Suggest a correction in the comments below.
To comment on or correct specific content,
highlight it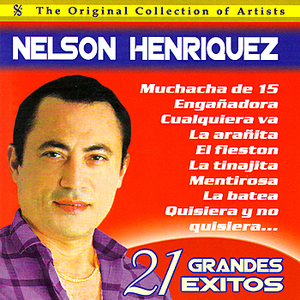 All-time great Colombian King of Cumbia but in fact its a venezuelan singer.
Genre not found
Artist not found
Album not found
Search results not found
Song not found